RESOURCES
SAFE SPORT POLICIES & RESOURCES
HELP LINE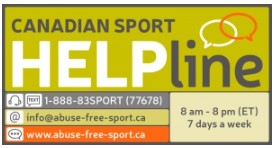 Conduct Policy
:
Commonwealth Sport Canada is committed to the Safe Sport movement and believes that all members have the right to participate in a safe environment that is free of abuse, harassment, discrimination and/or maltreatment. CSC has a
"zero tolerance"
for any form of harassment, or discrimination nor bullying and has implemented mandatory training and education for all those that participate in CSC events, programs and/or services.
Accessibility for Ontarians with Disabilities Act (AODA): CSC is committed to providing quality service to our diverse user community, including persons with disabilities. As part of our commitment to providing access to our services for all customers, we seek to remove obstacles faced by individuals with disabilities. In accordance with the AODA, CSC will provide service, both electronically and in person, in a manner that respects the dignity and independence of persons with disabilities.
Official Languages Policy: CSC is committed to the Official Languages Act and believes in free and open communication and respect for the views, roles and contributions of all individuals, including but not limited to Canadian team members, SportWORKS Officers and volunteers, throughout the Organization.
Privacy Policy: CSC respects the privacy, and values the trust, of all individuals. CSC recognizes that in order to maintain this trust, CSC must be accountable in how it collects, uses and protects the personal information of its members, athletes, officials, volunteers, staff, and other individuals with whom it comes in contact, in all its activities.
Primary Privacy Officer - Kelly Laframboise, 613.244.6868 x2
Secondary Privacy Officer - Chris Taylor, 613.244.6868 x1

Annual Reports:
2020
2019
2018
2017
2016
2015
2014
2013