Athlete Highlight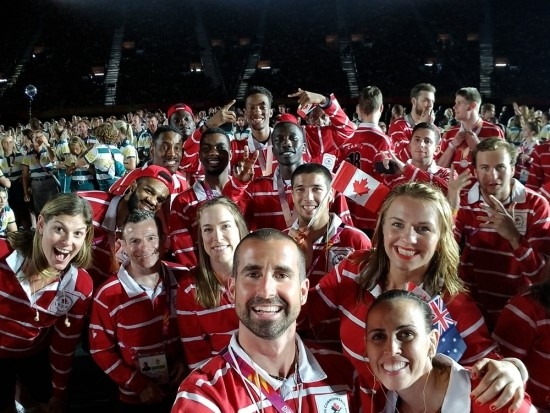 With the clock ticking and 35 days left to go until the Birmingham 2022 Games Team Canada is proud to be heading to the Games with Canada's best. Seven sports teams have already been announced; Swimming, Weightlifting, Para Athletics, Boxing, Table Tennis, Wrestling, Lawn Bowls, and more being announced every day.
On the women's side of wrestling, there are a few wrestlers in the world have the resume that Justina Di Stasio, who will compete in the women's 76kg weight class, has. Di Stasio, from Burnaby, British Columbia, won gold at the 2018 World Championships, gold at the 2019 Pan-American Games, and is a four-time Pan-American Championships gold medalist.
"My goal for the competition is to compete hard and execute the gameplan that my coaches have for me," said Justina Di Stasio. That is a big goal of mine this summer, to stay focused and stick to my game plan in whatever situations happen during my matches.
In preparation for the Commonwealth Games, boxing's Priyanka Dhillon is coming off a bronze medal performance at the 2022 AMBC Continental Championships, where she represented Canada for the first time. Tammara Thibeault is looking to improve on her previous Commonwealth Games experience, following a fifth-place finish at Tokyo 2020, a gold medal at the Continental Championships, and a gold medal at the 2022 IBA Women's World Boxing Championships.
"I feel so honoured to represent Canada! It's surreal. It's always been a goal of mine to fight internationally for team Canada and it just feels like everything is starting to fall into place this year. I'm excited to compete at the Commonwealth Games in Birmingham," says Priyanka Dhillon.
Seven Para swimmers will join 23 additional members of the Team Canada swim team, at the Sandwell Aquatics Centre. The list includes defending 100-m and 200-m backstroke Commonwealth Games Champion Kylie Masse, and returning Commonwealth medallists Kayla Sanchez and Rebecca Smith. Meanwhile, Swimming Canada's 2021 Junior Male Swimmer of the Year Josh Liendo, fresh off a three-medal performance at last year's FINA World Swimming Championships (25m) will be among the rookies to watch, as will his 15-year-old High Performance Centre – Ontario teammate Summer McIntosh, winner of four events at last month's Trials.
"I'm so excited. I love Games settings. I'm looking forward to a fun environment but I'm also there to race first," said Liendo. "It's going to be a busy summer but I'm ready for it. I'm looking to do my thing, race hard and race fast."
Paralympian and long-distance racing specialist, Josh Cassidy, will lead the team of para-athletes to the Games for athletics. Cassidy has won the Los Angeles and Boston marathon over the course of a 15-year-long career and competed at the 2010 and 2014 Commonwealth Games.
"What makes these Games so special for me," said Cassidy, "is that it's a combined major athletic event with both able bodied and para side. Getting to compete at an inclusive international event with all my teammates is truly special."
Led by six-time Commonwealth Games participant Ryan Bester, the five female and five male lawn bowling athletes will aim their sights on the podium this summer. 2022 marks the Commonwealth Games debut of twenty-two-year-old Jordan Kos (Regina, SK). Kos, a rising force on the national team since her teens, has been given the nod to play singles as veteran Kelly McKerihen (Toronto, ON) moves to skip the women's triples and fours.
"It is more than an honour and a privilege to represent Canada at the 2022 Commonwealth Games," says Kos. "It is a dream come true – especially playing lawn bowls, the game I love, with such a talented team of athletes and supportive coaching staff. I will wear the maple leaf proudly."
These sport and athlete snapshots are just a few of the many stories to be told throughout the Games Team Canada expects a roster of more than 275 Team Canada athletes that will compete in 18 Sports and 5 para sports.
List of all athletes to attend the games:
Weightlifting : https://commonwealthsport.ca/news/canadian-weightlifting-team-named-2022-commonwealth-games.html
Athletics : https://commonwealthsport.ca/news/canadian-athletics-team-named-2022-commonwealth-games.html
Boxing : https://commonwealthsport.ca/news/canadian-boxing-team-named-2022-commonwealth-games.html
Table Tennis : https://commonwealthsport.ca/news/canadian-table-tennis-team-nominated-2022-commonwealth-games.html
Wrestling : https://commonwealthsport.ca/news/canadian-wrestling-team-named-2022-commonwealth-games.html
Lawn Bowls : https://commonwealthsport.ca/news/canadian-lawn-bowling-team-named-2022-commonwealth-games.html
Swimming : https://commonwealthsport.ca/news/canadian-swimming-team-named-2022-commonwealth-games.html
Beach Volleyball : https://commonwealthsport.ca/news/featured/canadian-beach-volleyball-team-named-2022-commonwealth-games.html