Canadian Table Tennis Team Nominated for 2022 Commonwealth Games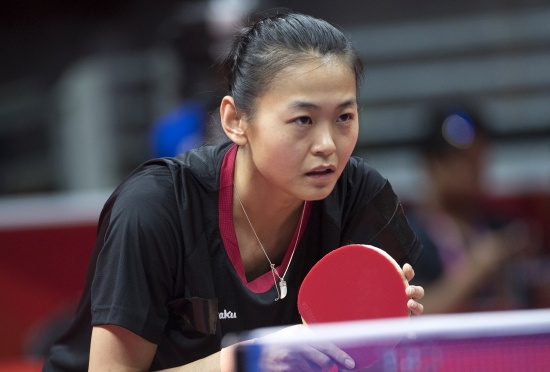 10 athletes chosen to represent Canada
OTTAWA (April 7, 2022) - Commonwealth Sport Canada (CSC) and Table Tennis Canada (TTCAN) today announced the athletes who have qualified to represent Team Canada in table tennis at the 2022 Commonwealth Games in Birmingham England taking place July 28th to August 8th, 2022.

Six of the 10 athletes were selected based on their top-3 placing at the 2022 Commonwealth Games Trials held from March 25-27, 2022 at My Table Tennis Club in Mississauga, ON, while two athletes were selected based on their overall ranking on the national team. On the para side, two ParaTT athletes were selected from each of the six Commonwealth Games Federation (CGF) regions to receive a CGF/ITTF bipartite Invitation; determined in lieu of the abandoned regional qualifiers.

"We're heading to Birmingham with a great mix of veterans and rookies on our team," commented Adham Sharara, President of Table Tennis Canada. "It's been a tough couple of years for everyone involved in sport, but I'm proud of the resilience our athletes and coaches have shown in preparing themselves to return to competition. We'll face some tough competition from England, Singapore, and India at the Games, but I'm confident that our team has the tools to challenge for the podium."

The women's team will be led by Mo Zhang from Richmond, BC who will be attending her fifth Commonwealth Games (2006, 2010, 2014, 2018, 2022). She'll be joined by top junior players Gina (Ching Nam) Fu of Toronto, and Katherine Morin of Drummondville, QC who finished first and second at the trials held in March. With a third place finish at the trials, Sophie Gauthier from Repentigny, QC rounds out the women's team. The men's team will be led by Eugene (Zhen) Wang from Aurora, ON who will be attending his third Commonwealth Games (2014, 2018, 2022). He'll be joined by Tokyo 2020 Olympian Jeremy Hazin of Richmond Hill, ON who will be making his Commonwealth Games debut, as will the other members of the men's team – Hongtao Chen of Toronto, and Edward Ly of Lachine, QC.

"Table tennis joined the Commonwealth Games as an optional sport in 2002 and based on the popularity, is now a core sport at the Games," says Scott Stevenson, Executive Director, Team Canada 2022 (Birmingham). "Birmingham will present a great opportunity for these outstanding athletes to showcase the excitement of the sport, display the depth of Canadian table tennis, and contend for medals."

Zhang will be looking to crack the top-3 in women's singles after finishing just off the podium in fourth at the 2018 Commonwealth Games. She will pair with Wang in mixed doubles where they will hope to rekindle the performance that saw them finish in 9th at the 2020 Olympic Games as they also vie for a spot on the podium. The pair advanced to the quarterfinals at the 2018 Games, where they lost to a team from India.

In men's singles, Wang lost in the quarterfinals in 2018 to the eventual men's singles gold medallist from Singapore so he too will be hoping for a good draw and to contend for a spot on the podium. Both the men's and women's teams will be looking for a top-3 finish with tough competition coming from England, India, and Singapore. The athletes that will pair up to compete in men's and women's doubles will be determined closer to the competition.

"It's always an honour to represent Canada on the international stage," said Wang who won the senior men's competition at the Commonwealth Games Trials and who also coaches Games rookie Gina Fu. "I want to pass on my experience to the younger players as well. I want to produce more and more players who are able to have top performances for Canada."

On the para side, Canada will be represented by multiple Canadian Champion Muhammed Mudassar (Wheelchair Class 3-5) and Brampton athlete Asad Hussain Syed (Standing Class 8-10).

The table tennis competition will take place at the NEC Arena from July 29th to August 8th. Medals are up for grabs in men's and women's singles and doubles, mixed doubles, and men's and women's team events. Canada did not qualify any athletes for the para table tennis competition.

Birmingham 2022 will feature 19 sports and 8 para-sports as part of its program with up to 4,500 athletes taking part. The Commonwealth Games are the only multi-sport event that feature equal standing for sport and para-sport events, and these 2022 Games will showcase the largest para-sport program ever. In addition, for the first time in its history, the Games will feature more medal events for women (135) than men (133).

The table tennis team which will represent Canada at the Birmingham 2022 includes:
2014: 5th (singles); 5th (mixed doubles); 9th (team)

2018: 5th (singles); 5th (mixed doubles); 5th (team); 9th (doubles)

2006: 4th (team); QF (singles)

2010: 6th (team); 9th (singles); 9th (doubles); 9th (mixed doubles)

2014: Bronze medallist (doubles); 5th (singles); 5th (mixed doubles); 5th (team)

2018: 4th (singles); 5th (mixed doubles); 5th (doubles); 5th (team).
The women's team will be coached by Siqian Wu, while the men's team will be coached by Dejan Papic. The team manager and assistant coach will be Maxime Surprenant. The para team will be coached by Ian James Kent.
The 2022 Commonwealth Games will be host to 71 participating nations and territories taking part in the Games. The Commonwealth Games are a valuable opportunity as a steppingstone and development opportunity for Canadian athletes, coaches, and managers working towards Olympic and Paralympic success. Canada's performance projection in 2022 is a top 3 ranking, in total medals, amongst all nations and territories competing. Commonwealth athletes won 80%+ of Canada's medals at the 2020 Olympic Games 
Team Canada's dedicated mission team will provide an optimal environment by celebrating equality, diversity, and non-discrimination. This is in support of our goals needed to enable a best ever performance by Canadian athletes at the 2022 Commonwealth Games. 
ABOUT TABLE TENNIS CANADA
Table Tennis Canada (TTCAN) is the national governing body for the sport of table tennis in Canada. TTCAN encourages and facilitates the growth and development of table tennis in concert with its 13 member provincial/territorial associations. It is also responsible for overseeing the preparation and participation of Canadian national teams at the Olympic and Paralympic Games, World Championships, and other international events.
ABOUT COMMONWEALTH SPORT CANADA
Commonwealth Sport Canada (CSC) is the franchise holder for the Commonwealth Games and the Commonwealth sport movement in Canada. CSC is an active, contributing member of the Canadian sport community and supports Canada's athletes to achieve excellence at Olympic, Paralympic Games, and world championships. The mission of CSC is to enrich the lives of youth across the Commonwealth and host the Commonwealth Games. CSC is responsible for all aspects of Canada's participation in the XXII Commonwealth Games and will be sending a team of almost 400 of Canada's best athletes and coaches to compete for Canada. The upcoming Games will occur in Birmingham, England from July 28 through to August 8, 2022. For additional information go to: www.commonwealthsport.ca.
For more information, please contact:
Communications Team Leader – Team Canada 2022