Canadian swimming team named for 2022 Commonwealth Games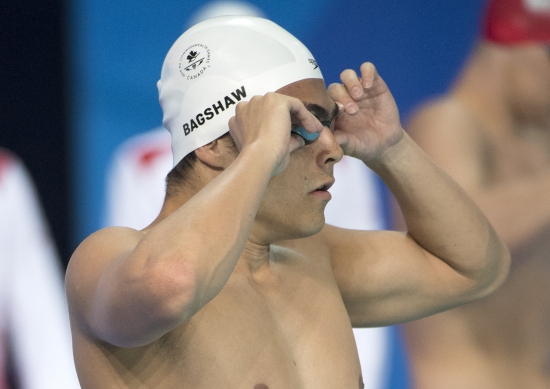 30 athletes chosen to represent Canada
OTTAWA - (2022 - 05 - 09) - Commonwealth Sport Canada (CSC) and Swimming Canada today announced the athletes who have been selected to represent Team Canada in swimming at the 2022 Commonwealth Games in Birmingham, England, taking place July 28 to Aug. 8.
Swimming Canada confirmed the seven Para swimmers who will be among the 28 athletes representing Canada in the pool at the fully integrated event. The group includes ten-time Paralympic medallist Aurélie Rivard and the Commonwealth Games first-timers include two-time Paralympic medallist Nicolas-Guy Turbide.
"I'm excited to be able to represent Canada at my third Commonwealth Games," said Rivard, who trains alongside Turbide and Games teammate Alec Elliot and the Club de Natation Région de Québec. "It's always a privilege to train and race next to our Olympic program competitors and witness some amazing races from Canadian swimmers as both of our teams come together."
"It's exciting to have some of our best Paralympic program swimmers alongside our Olympic program team for these unique Games. The Commonwealth Games offers some of our very best swimmers to showcase their excellence in an integrated multi-sport event. Our Canadian team is fortunate to have Olympic and Paralympic champions training, living and racing together," added Swimming Canada Associate High Performance Director and National Para Swimming Coach Wayne Lomas. "Now that we have our team in place, we can focus on delivering the best possible results for Canada this summer, beginning with the World Para Swimming Championships next month in Portugal."
Canada won 20 medals in the pool at the 2018 Commonwealth Games in Australia with 3 gold, eleven silver and 6 bronze medals. That was Canada's third-largest swimming medal haul, behind only Auckland 1990 (23 medals) and Kuala Lumpur 1998 (21).
"We anticipate that the spectators at the Sandwell Aquatics Centre will experience an exciting and competitive swimming competition at the brand new venue," says Scott Stevenson, Executive Director, Team Canada 2022. "We appreciate the work Swimming Canada's technical leadership team have undertaken to ensure we will have a competitive team for the Birmingham Games this summer."
Seven Para swimmers will join 23 Olympic program athletes, 22 of whom were nominated following last month's Canadian Swimming Trials in Victoria, B.C. The 23rd swimmer, Stephen Calkins of the University of Calgary Swim Club, was added as a replacement for original qualifier Yuri Kisil, who declined his spot to focus on rehabilitating his injured shoulders following next month's FINA World Championships.
The list includes defending 100-m and 200-m backstroke Commonwealth Games Champion Kylie Masse, and returning Commonwealth medallists Kayla Sanchez, Penny Oleksiak, and Rebecca Smith. National team veteran Katerine Savard, the 100-m butterfly champion from Glasgow 2014 and former Games record holder, makes her return to the Games after sitting out in 2018. Meanwhile, Swimming Canada's 2021 Junior Male Swimmer of the Year Josh Liendo, fresh off a three-medal performance at last year's FINA World Swimming Championships (25m) will be among the rookies to watch, as will his 15-year-old High Performance Centre – Ontario teammate Summer McIntosh, winner of four events at last month's Trials.
"I'm so excited. I love Games settings. I'm looking forward to a fun environment but I'm also there to race first," said Liendo, who like most of the team will be competing at FINA World Championships next month in Budapest. "It's going to be a busy summer but I'm ready for it. I'm looking to do my thing, race hard and race fast."
The Swimming competition will take place July 29 to Aug. 3 at the Sandwell Aquatics Centre. Swimming Canada High Performance Director and National Coach John Atkinson will serve as team leader, with Senior Coach, Olympic Program Martyn Wilby as head coach. The team will gather in Caen, France, for its staging camp before travelling into Birmingham.
"We are looking forward to preparing for the Games in first-class facilities in France, which will also be our staging location for the Paris 2024 Games," Atkinson said. "The Commonwealth Games have always been an important competition on the international calendar, offering world-class racing and the experience of a multi-sport Games environment. We look forward to some great performances as our team represents Canada in Birmingham."
Birmingham 2022 will feature 19 sports and 8 para-sports as part of its program with up to 4,500 athletes taking part. The Commonwealth Games are the only multi-sport event that feature equal standing for sport and para-sport events, and these 2022 Games will showcase the largest para-sport program ever. In addition, for the first time in its history, the Games will feature more medal events for women (135) than men (133).
The team that will represent Canada at Birmingham 2022 includes:
Athletes:
| | | | |
| --- | --- | --- | --- |
| First | Last | Hometown | Commonwealth Games |
| Javier | Acevedo | Toronto, ON | |
| Sophie | Angus | Weston, CT | |
| Jeremy | Bagshaw | Victoria, BC | |
| Katrina | Bellio | Mississauga, ON | |
| Nicholas | Bennett | Parksville, BC | |
| Camille | Bérubé | Gatineau, QC | |
| Eric | Brown | Pointe-Claire, QC | |
| Stephen | Calkins | Calgary, AB | |
| Tessa | Cieplucha | Georgetown, ON | |
| James | Dergousoff | Christina Lake, BC | |
| Alexander | Elliot | Kitchener, ON | |
| Collyn | Gagne | Oakville, ON | |
| Ruslan | Gaziev | Toronto, ON | Competing in 2nd Games |
| Mary-Sophie | Harvey | Trois-Rivières, QC | |
| Patrick | Hussey | Beaconsfield, QC | |
| Ella | Jansen | Burlington, ON | |
| Danielle | Kisser | Delta, BC | |
| Finlay | Knox | Okotoks, AB | |
| Joshua | Liendo | Markham, ON | |
| Maggie | Mac Neil | London, ON | |
| Kylie | Masse | LaSalle, ON | 2018 2x Champion, Silver Medallist |
| Summer | McIntosh | Toronto, ON | |
| Mabel | Zavaros | | |
| Aurélie | Rivard | St-Jean-sur-Richelieu, QC | 2018 Silver Medallist, 2014 Bronze Medallist |
| Katarina | Roxon | Kippens, NL | Competing in 4th Games |
| Kayla | Sanchez | Scarborough, ON | 2018 Silver Medallist |
| Katerine | Savard | Pont-Rouge, QC | 2014 Champion, Bronze Medallist, 2010 Bronze Medallist |
| Rebecca | Smith | Red Deer, AB | 2018 Silver Medallist |
| Nicolas-Guy | Turbide | Quebec City, QC | |
Staff supporting the 2022 Commonwealth Games swim team include:
| | | |
| --- | --- | --- |
| Position | First | Last |
| Team Leader | John | Atkinson |
| Asst Team Leader & IST Lead | Iain | McDonald |
| Team Manager | Jan | Hanan |
| Team Manager | Emma | Van Steen |
| Head Coach | Martyn | Wilby |
| Team Coach | Ryan | Mallette |
| Team Coach | Greg | Arkhurst |
| Team Coach | Mike | Thompson |
| Team Coach | Rob | Novak |
| Team Coach | Marc-Andre | Pelletier |
| Team Coach | Linda | Kiefer |
| Assistant Coach | Sierra | Moores |
| Performance Scientist | Tom | Vandenbogaerde |
| Physical Performance | Johnny | Fuller |
| Massage Therapist | Remo | Bucci |
| Massage Therapist | Ron | Castro |
| Physiotherapy | Meghan | Buttle |
| Video Analysis | Graham | Olson |
| Physician | Dr Sara | Forsyth |
| Media Attache | Nathan | White |
ABOUT TEAM CANADA 2022
The 2022 Commonwealth Games will be host to 71 participating nations and territories taking part in the Games. The Commonwealth Games are a valuable opportunity as a steppingstone and development opportunity for Canadian athletes, coaches, and managers working towards Olympic and Paralympic success. Canada's performance projection in 2022 is a top 3 ranking, in total medals, amongst all nations and territories competing. Commonwealth athletes won 80%+ of Canada's medals at the 2020 Olympic Games
Team Canada's dedicated mission team will provide an optimal environment by celebrating equality, diversity, and non-discrimination. This is in support of our goals needed to enable a best ever performance by Canadian athletes at the 2022 Commonwealth Games.
ABOUT SWIMMING CANADA
Swimming Canada serves as the national governing body of competitive swimming. We inspire Canadians through world leading performances to embrace a lifestyle of swimming, sport, fitness and health. Canadians are global leaders in high performance swimming and development for swimmers of all abilities. Swimming is recognized as one of the most celebrated and successful Canadian summer Olympic and Paralympic sports.
ABOUT COMMONWEALTH SPORT CANADA
Commonwealth Sport Canada (CSC) is the franchise holder for the Commonwealth Games and the Commonwealth sport movement in Canada. CSC is an active, contributing member of the Canadian sport community and supports Canada's athletes to achieve excellence at Olympic, Paralympic Games, and world championships. The mission of CSC is to enrich the lives of youth across the Commonwealth and host the Commonwealth Games. CSC is responsible for all aspects of Canada's participation in the XXII Commonwealth Games and will be sending a team of almost 400 of Canada's best athletes and coaches to compete for Canada. The upcoming Games will occur in Birmingham, England from July 28 through to August 8, 2022. For additional information go to: www.commonwealthsport.ca.
-30-
For more information, please contact:
Nathan White
Senior Manager, Communications – Swimming Canada
Email: nwhite@swimming.ca
613 866 7946
Patrick Kenny
Communications Team Leader – Team Canada 2022
Email: patrick@commonwealthsport.ca
613 724 7160