Canadian Athletics Team Named for 2022 Commonwealth Games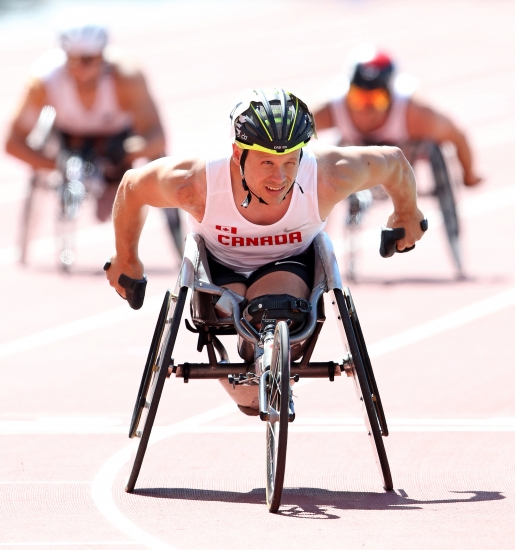 OTTAWA - Commonwealth Sport Canada (CSC) and Athletics Canada today announced the list of 38 athletes who have been selected to represent Team Canada in Athletics at the 2022 Commonwealth Games in Birmingham, England, taking place July 28 to August 8, 2022.
Today's announced athletes join the nine Paralympic athletes who had already been selected to represent Team Canada in Athletics at the Games.
"This is a very diverse group of talented athletes who have been selected to this team," said Carla Nicholls, Para Head Coach and Lead of Para Performance at Athletics Canada. "I have no doubt that we will see some incredible performances from this team."
The team size of 29 able-bodied athletes was dictated by a quota allocation from Commonwealth Sport Canada. Athletes were ranked and selected to the team based on their proximity, in World Athletics points, to the AC Ranking Standard in their respective event(s). The AC Ranking Standards were calculated using the average top-three performances among Commonwealth nations (limited to three per country) over the 2018, 2019 and 2021 competition seasons (COVID-disrupted 2020 season excluded).
Para-athletes, meanwhile, were invited by the Commonwealth Games Federation (CGF) based on being ranked in the top-seven in the WPA World Rankings between December 31, 2020 to April 25, 2022 (max 3 per country, among Commonwealth nations).
"Congratulations to the athletes named today to compete at the 2022 Commonwealth Games," says Scott Stevenson, Executive Director, Team Canada 2022. "Qualifying for these Games amongst the challenging field was a great accomplishment. With 13 medals won in athletics at the last Commonwealth Games, we know this talented group of athletes will contribute greatly to the Canadian results in athletics this summer."
At the last Commonwealth Games in Gold Coast, Australia, Team Canada was led by Alysha Newman and Christabel Nettey's respective first place finishes in the pole vault and long jump, and came away with a total medal haul of two golds, six silvers and one bronze. On the para side, Alex Dupont won Canada the gold medal in the men's 1,500m (T54), and Diane Roy earned bronze in the women's 1,500m (T53).
In preparation for the Commonwealth Games, several Team Canada members will compete at the Bell Canadian Track and Field Championship in the Township of Langley, B.C. at the end of June, and then at the World Athletics Championship in Eugene, Oregon in late July. Para-athletes, meanwhile, had to make do without a World Para-Athletics Championship this year. Several team members instead competed in the Switzerland and Paris Grand Prix in late May and in the first week of June, and also plan to compete in Langley later this month.
The Athletics competition will take place at the Alexander Stadium in Birmingham from July 30 to August 7, and feature 24 men's events and 24 women's events for able-bodied athletes. On the para-athletics side, there will be six women's events and six men's events: the 100m (T12), 100m (T38), 100m (T47), 1,500m (T54), marathon (T54), and the shot put (F38/F55).
Birmingham 2022 will feature 19 sports and eight para-sports as part of its program with up to 4,500 athletes taking part. The Commonwealth Games are the only multi-sport event that feature equal standing for sport and para-sport events, and these 2022 Games will showcase the largest para-sport program ever. In addition, for the first time in its history, the Games will feature more medal events for women (135) than men (133).
The Athletics team which will represent Canada at the Birmingham 2022 includes:
Athlete Name

Events (s)

Hometown

Coach

Club

David Johnson

100m (T12)

Victoria, BC

Geoff Harris

Vic City Elite

Zachary Gingras

100m (T38)

Markham, ON

Geoff Harris

Vic City Elite

Josh Cassidy

1500m/Marathon (T54)

Port Elgin, ON

Amanda Fader

Ottawa Lions

Jessica Frotten

1500m (T53)

Whitehorse, YK

Geoff Harris

Cyclones

Sarah Mickey

Shot Put (F55)

Redcliff, AB

Kim Cousins

CALTAF

Alex Dupont

1500m (T54)

Clarenceville, QC

Rick Reelie

Saint-Laurent sélect

Nandini Sharma

1500 (T54)

Brampton, ON

Lisa Myers

Cruisers Sports

Thomas Normandeau

100m (T47)

Peace River, AB

Geoff Harris

Vic City Elite

Natalie Thirsk

100m (T38)

Edmonton, AB

Taylor Ehrhardt

Green and Gold

Camryn Rogers

Hammer Throw

Richmond, BC

Mohamad Saatara

Kajaks Track and Field Club

Sarah Mitton

Shot Put

North York, ON

Richard Parkinson

SISU Throws

Adam Keenan

Hammer Throw

Victoria, BC

Sheldan Gmitroski /
Anatoliy Bondarchuk

Athletics Victoria

Evan Dunfee

10km Race Walk

Richmond, BC

Gerry Dragomir

Race Walk West

Kyra Constantine

4x400m Relay

Brampton, ON

Quincy Watts

Project Athletics

Natassha McDonald

4x400m Relay

Brampton, ON

Project Athletics

Lauren Gale

4x400m Relay

Ottawa, ON

John Riese

Ottawa Lions

Aiyanna Stiverne

4x400m Relay

Laval, QC

Ronald Morency

Dynamique De Laval

Zoe Sherar

4x400m Relay

Toronto, ON

Jason Kerr

Royal City AC

Brendon Rodney

4x100m Relay

Etobicoke, ON

Jermaine Hamilton

Unattached Ontario

Malachi Murray

4x100m Relay

Edmonton, AB

Rob Fisher

Capital City Track Club

Jillian Weir

Hammer Throw

Kingston, ON

Larry Steinke

Unattached Ontario

Rowan Hamilton

Hammer Throw

Chilliwack, BC

Garrett Collier

Kajaks Track and Field Club

Elizabeth Gleadle

Javelin

Vancouver, BC

Larry Steinke

Vancouver Thunderbirds

Alysha Newman

Pole Vault

Delaware, ON

Doug Wood

Bolton Pole Vault

Malik Metivier

400mH

Toronto, ON

Godfrey James

Monte Cristo

Ethan Katzberg

Hammer Throw

Nanaimo, BC

Dylan Armstrong

Kamloops Track and Field

Christabel Nettey

Long Jump

Surrey, BC

Nick Newman

Unattached BC

Lindsey Butterworth

800m

North Vancouver, BC

Brit Townsend

Coastal Track Club

Lucia Stafford

1500m

Toronto, ON

Terry Radchenko

Royal City AC

Michelle Harrison

100mH

Saskatoon, SK

Jason Reindl

Saskatoon Track Club

Brittany Crew

Shot Put

Toronto, ON

Richard Parkinson

Unattached Ontario

John Gay

3000m Steeplechase

Kelowna, BC

Chris Johnson

Vancouver Thunderbirds

Madeleine Kelly

800m

Pembroke, ON

Terry Radchenko

Royal City AC

Anicka Newell

Pole Vault

Saskatoon, SK

Brookelyn Dickson

Project Athletics

Kaila Butler

Hammer Throw

Port Coquitlam, BC

Derrick Vicars

Unattached

William Paulson

150mm

Quebec City, QC

Mark Rowland

Oregon Track Club Elite

Noelle Montcalm

400mH

Windsor, ON

Don Garrod

U Windsor AC

Julie-Anne Staehli

5000m

Lucknow, ON

Mark Coogan

Team New Balance Boston
The Team's Coaches include:
| | | |
| --- | --- | --- |
| Name | Hometown | Role |
| Simon Nathan | Ottawa, ON | Team Leader |
| Glenroy Gilbert | Ottawa, ON | Head Coach |
| Carla Nicholls | Regina, SK | Para Lead |
| Caroline Sharp | Ottawa, ON | Media Attache |
| Kristine Deacon | Cambridge, ON | Team Manager |
| Charles Allen | Toronto, ON | Team Coach |
| Geoff Harris | Victoria, BC | Team Coach |
| Brett Lumley | Windsor, ON | Team Coach |
| Mike Van Tighem | Summerland, BC | Team Coach |
| Vickie Croley | London, ON | Team Coach |
| Sheldan Gmitroski | Victoria, BC | Team Coach |
| Ali Nagata | Stouffville, ON | IST Lead |
| Dr. Sari Kraft | Toronto, ON | Team Physician |
| Brad Curry | Victoria, BC | IST (Physiotherapist) |
| Carolyn Daubeny | Vancouver, BC | IST (Massage Therapist) |
| Elna Johnson | Port Moody, BC | IST (Chiropractor) |
| Al Bodnarchuk | Saskatoon, SK | IST (Massage Therapist) |
| Dana Way | Winnipeg Beach, MB | IST (Biomechanist) |
*athletes named to multiple events will be communicated at a later date.
ABOUT TEAM CANADA 2022
The 2022 Commonwealth Games will be host to 71 participating nations and territories taking part in the Games. The Commonwealth Games are a valuable opportunity as a steppingstone and development opportunity for Canadian athletes, coaches, and managers working towards Olympic and Paralympic success. Canada's performance projection in 2022 is a top 3 ranking, in total medals, amongst all nations and territories competing. Commonwealth athletes won 80%+ of Canada's medals at the 2020 Olympic Games
Team Canada's dedicated mission team will provide an optimal environment by celebrating equality, diversity, and non-discrimination. This is in support of our goals needed to enable a best ever performance by Canadian athletes at the 2022 Commonwealth Games.
ABOUT ATHLETICS CANADA
Athletics Canada is the national governing body of athletics in Canada which includes track and field, cross-country running, road running, and race walking. Athletics Canada is involved in many aspects of the sport at the local, national, and international level, providing the rules, officials, coaching education, sport science and athlete development, youth programs, masters competition, and an annual meeting. For more information, please visit www.athletics.ca
ABOUT COMMONWEALTH SPORT CANADA
Commonwealth Sport Canada (CSC) is the franchise holder for the Commonwealth Games and the Commonwealth sport movement in Canada. CSC is an active, contributing member of the Canadian sport community and supports Canada's athletes to achieve excellence at Olympic, Paralympic Games, and world championships. The mission of CSC is to enrich the lives of youth across the Commonwealth and host the Commonwealth Games. CSC is responsible for all aspects of Canada's participation in the XXII Commonwealth Games and will be sending a team of almost 400 of Canada's best athletes and coaches to compete for Canada. The upcoming Games will occur in Birmingham, England from July 28 through to August 8, 2022. For additional information go to: www.commonwealthsport.ca.
FOR MORE INFORMATION, PLEASE CONTACT:
Caroline Sharp
Media Attaché – Athletics -
Email: Caroline.Sharp@athletics.ca
(613) 323-5605
---
Patrick Kenny
Communications Team Leader – Team Canada 2022
Email: patrick@commonwealthsport.ca
(613) 724-7160