Women's field hockey team punches above its weight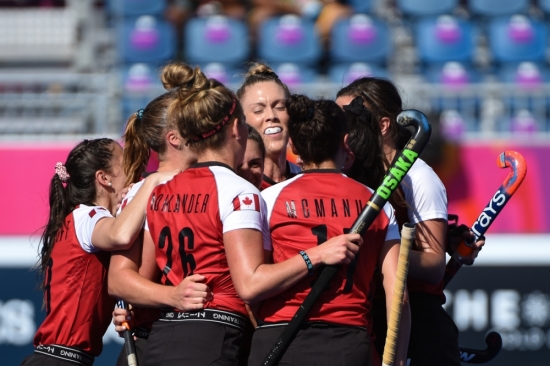 The Commonwealth Games hockey competitions are traditionally very high level and this year was no exception with powerhouses Australia, England, India and New Zealand reaching the semi-finals in both men's and women's events.
The Canadian women impressed many observers with their new offensive playing style that allowed them to run on par with two teams regularly on podiums of world level events. A narrow 0-1 defeat against host Australia on opening night and a spectacular tie against New Zealand (ranked 4th in the world) was followed by another tie with Scotland then a large win against Ghana, paving the way to a 5th-6th place match against South Africa.
South Africa is ranked seven spots higher than Canada in the World Rankings, but the Canadians overwhelmed them cleanly (3-1), capping their competition with the best final finish for Canada at the Commonwealth Games and clearly signaling their renewed enthusiasm and ambition.
Based on the momentum of two successful years, the Canadian men were hoping to reach the Commonwealth Games semi-finals for the first time but suffered a loss in their opening match against New Zealand. With their hopes shattered early, they never seemed to regain their stride. They earned a win against Scotland but losses to host Australia and South Africa pushed them down to 7th-8th place match against Pakistan, a team that they demolished 6-0 less than a year ago in semi-final of the World League.
However, nothing seemed to work for them in this competition, including their traditionally productive set pieces, and they finished these Commonwealth in 8th position, three spots below their entry ranking and lower that Canada's best finish at the Commonwealth Games (6th in Glasgow 2014 and Manchester 2002).
Yan Huckendubler
In Gold Coast: (+61) 0423-318-536.