Triathlon Canada Names Eight Athletes to 2022 Commonwealth Games Team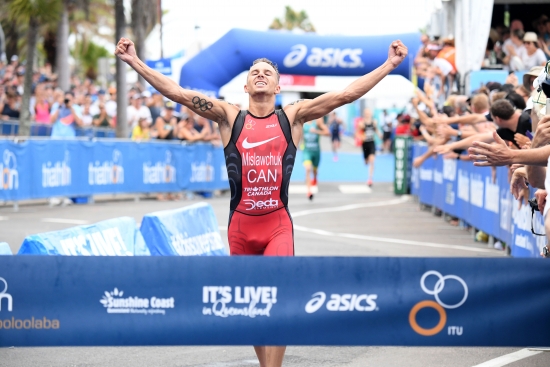 Determined Canucks focused on bringing medal-winning performances to Birmingham, July 29, Jessica Tuomela will be first Canadian to compete in Paratriathlon at Commonwealth Games
OTTAWA / VICTORIA - (2022-06-30) — Commonwealth Sport Canada (CSC) and Triathlon Canada today announced the experienced group of eight Canucks that will be focused on delivering medal-winning performances when they arrive in Birmingham, England for the 2022 Commonwealth Games, July 28 to August 8.
Canada will field a team of six athletes, replete with veteran experience and youthful energy, for the women's and men's individual triathlon events, July 29 and the mixed relay, July 31. Canada's paratriathlon program will also compete at the Commonwealth Games for the first time ever, sending one athlete and a guide to swim, bike and run at Sutton Park, July 31.
Two-time Olympians, Amélie Kretz (Blainville, QC) and Tyler Mislawchuk (Oak Bluff, MB) will lead the way for the red and white in the sprint distance races.
Kretz will headline a trio of Canadian women, while Mislawchuk will lead the men's teams. Both Kretz and Mislawchuk finished 15th in the women's and men's Olympic races one year ago.
"This will be my fifth multi-sport Games representing Canada, and my excitement level remains the same anytime I get a chance to represent my wonderful country," said Tyler Mislawchuk, who has medalled at the World Triathlon Championship Series and five times on the World Cup. "The Commonwealth Games will be a great opportunity for myself, and the team, to execute under pressure on the given day. I'm excited to see how our squad stacks up against some of the best in the world!"
Kretz will be joined in the women's race by Emy Legault (Ile Perrot, QC), and Dominika Jamnicky (Guelph, ON). Coming off a career-best 12th place finish at the World Triathlon Sprint Championships in Montreal, Legault has enjoyed a breakthrough season winning her first World Cup silver-medal podium in June to go along three, second-place finishes in America's Cup races this spring.
"I'm very excited to make my first major Games team," said Emy Legault. "It's been years of hard work and dedication to get to a point where I am now selected to represent my country in Birmingham, and I can't wait to fly our flag at the Commonwealth Games."
Dominika Jamnicky, who was an alternate on the 2020 Olympic Team, will be looking to build on a solid start to the season competing at the international level while making her second Commonwealth Games appearance. Jamnicky finished 14th at the 2018 Commonwealth Games.
Charles Paquet (Port-Cartier, QC) will also be looking to capture the world's attention in Birmingham. The 24-year-old, who is quickly developing into one of Canada's most promising triathletes, was a silver medallist in the mixed relay at the 2019 Pan American Games and in the individual men's event at the 2016 World Junior Championships.
Martin Sobey (Charlottetown, PEI) will be making his debut for Canada at an international multi-sport Games. The 25-year-old, who has represented Team Canada twice at the Under-23 World Championships, will be looking to gain valuable experience in Birmingham.
Team Canada will have many options for the mixed relay event. Mislawchuk, Legault, Paquet and Jamnicky teamed up for a fifth-place finish at the World Mixed Relay Championships in Montreal last week. Kretz was part of Canada's 2020 Olympic relay team.
Jessica Tuomela (Sault Ste. Marie, ON) and Emma Skaug (Victoria, BC) will etch their names in the history books as the first Canadians to participate in Paratriathlon at the Commonwealth Games, Tuomela made her return to the Paralympic Games after a 13-year absence with a fifth-place finish in the Paratriathlon. Tuomela, 38, was on Canada's Para swimming team at the Sydney 2000, Athens 2004, and Beijing 2008 Games. She swam to a silver medal at the Sydney 2000 Games. After a hiatus from sport, Tuomela returned to international competition nine years later – this time, in the sport of Paratriathlon. She will be racing in the women's visually impaired category (PTVI) with new guide, Emma Skaug.
"This is a very strong team gearing up for Birmingham," says Scott Stevenson, Executive Director, Team Canada 2022. "We expect to challenge perennial strong fields for medals in all Triathlon events."
Canada has four triathlon medals in the history of the Commonwealth Games. Simon Whitfield and Carol Montgomery both won gold at the 2002 Games in Manchester, England. Kirsten Sweetland won the silver medal at the 2014 Games in Glasgow, Scotland, and Joanna Brown claimed bronze in Gold Coast, Australia four years ago.
Birmingham 2022 will feature 19 sports and eight para-sports as part of its program with up to 4,500 athletes taking part. The Commonwealth Games are the only multi-sport event that feature equal standing for sport and para-sport events, and these 2022 Games will showcase the largest para-sport program ever. In addition, for the first time in its history, the Games will feature more medal events for women (135) than men (133).
The triathlon team which will represent Canada at the Birmingham 2022 includes:
Athletes:
| First | Last | Hometown | Event | Commonwealth Games |
| --- | --- | --- | --- | --- |
| Jessica | Tuomela | Sault Ste. Marie, ON | Paratriathlon | |
| Emma | Skaug | Victoria, BC | Paratriathlon (Guide) | |
| Dominika | Jamnicky | Guelph, ON | Triathlon | 2018 |
| Amelie | Kretz | Blainville, QC | Triathlon | |
| Emy | Legault | Ile Perrot, QC | Triathlon | |
| Tyler | Mislawchuk | Oak Bluff, MB | Triathlon | 2018 |
| Charles | Paquet | Port Cartier, QC | Triathlon | |
| Martin | Sobey | Charlottetown, PEI | Triathlon | |
Coaches/Staff:
| Position | First | Last | Hometown |
| --- | --- | --- | --- |
| Paratriathlon Coach | Carolyn | Murray | Edmonton, AB |
| Triathlon Coach | Marc-Antoine | Christin | Montreal, QC |
| Mechanic | Dave | Coleman | Alaska |
| Therapist | Ricky | Soos | Victoria, BC |
| Team Lead | Patrick | Kelly | Victoria, BC |
| Team Manager | Lauren | Nutt | Victoria, BC |
ABOUT TEAM CANADA 2022
The 2022 Commonwealth Games will be host to 72 participating nations and territories taking part in the Games. The Commonwealth Games are a valuable opportunity as a steppingstone and development opportunity for Canadian athletes, coaches, and managers working towards Olympic and Paralympic success. Canada's performance projection in 2022 is a top 3 ranking, in total medals, amongst all nations and territories competing. Commonwealth athletes won 80%+ of Canada's medals at the 2020 Olympic Games
Team Canada's dedicated mission team will provide an optimal environment by celebrating equality, diversity, and non-discrimination. This is in support of our goals needed to enable a best ever performance by Canadian athletes at the 2022 Commonwealth Games.
ABOUT TRIATHLON CANADA
Triathlon Canada is the governing body of the sport in the country. Triathlon Canada's more than 22,000 members include athletes, coaches and officials from the grassroots to elite levels. With the support of its valued corporate partners – 94 FORWARD, 2XU Canada, Training Peaks, Subaru Canada– along with the City of Victoria, Government of Canada, Canadian Olympic Committee, Canadian Paralympic Committee, and Own the Podium, Triathlon Canada develops Olympic, Paralympic and World Champions in all race disciplines. For more information on Triathlon Canada, please visit us at www.triathloncanada.com.
ABOUT COMMONWEALTH SPORT CANADA
Commonwealth Sport Canada (CSC) is the franchise holder for the Commonwealth Games and the Commonwealth sport movement in Canada. CSC is an active, contributing member of the Canadian sport community and supports Canada's athletes to achieve excellence at Olympic, Paralympic Games, and world championships. The mission of CSC is to enrich the lives of youth across the Commonwealth and host the Commonwealth Games. CSC is responsible for all aspects of Canada's participation in the XXII Commonwealth Games and will be sending a team of almost 400 of Canada's best athletes and coaches to compete for Canada. The upcoming Games will occur in Birmingham, England from July 28 through to August 8, 2022. For additional information go to: www.commonwealthsport.ca.
-30-
For More Information on Triathlon Canada:
Chris Dornan
Triathlon Canada
E-mail: hpprchris@shaw.ca
403-620-8731
For more information, please contact:
Aerin England
Team Canada 2022 Media Attaché - Triathlon
Email: Aerin@commonwelathsport.ca
905 630 6091