Tom Rushton is appointed new assistant coach at the National Aquatics Centre in Montreal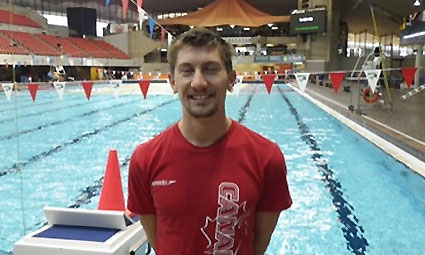 Tom Rushton is appointed new assistant coach at the National Aquatics Centre in Montreal
October, 18, 2012
The Quebec Swimming Federation, is pleased to announce the appointment of Tom Rushton as Assistant Coach at the National Aquatics Centre in Montreal. He will be working with Benoit Lebrun, Head Coach.
During the last two years, Tom was coaching at the UBC Dolphins Swim Club, British Columbia. Under his leadership, several of his swimmers broke Canadian age groups records, a national record, as well as several provincial records.
Tom Rushton will join the Quebec swimming community after six years in British Columbia. During his six years of experience in Western Canada, Tom has coached at the Junior Pan Pacific in 2012 and 2010, the FINA World Junior Championships 2011, World Championships FINA short course 2010, different touring Canadian teams (youth Team Florida 2012, Great Britain Junior Team 2010) and the Nations Cup in Montreal in 2011 and the North American Challenge Cup 2010. Before coaching in BC, Tom was studying Sports Science at the Counsilman Centre for the Science of Swimming in Bloomington, Indiana and competed collegiately for Kenyon College in Gambier, OH – contributing to the team's unprecedented 31 consecutive NCAA titles.
His coaching experience at both national and international levels blow a wind of change in the pool of the National Centre of Montreal.
Tom Rushton's impressions
"I am very excited to join the momentum of Quebec swimming. I feel the coaches are beginning a surge that will be a special thing to be a part of in the upcoming seasons. Quebec has a great history of producing some of the best swimmers in Canada and this is something that I look forward to contributing to."
Tom Rushton will start his new role at the National Aquatics Centre in Montreal in October 2012.