Team Canada Officially Welcomed to 2018 Commonwealth Games Village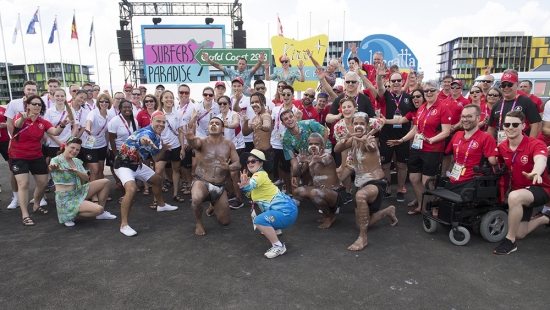 GOLD COAST, AUS (April 2, 2018) – Today, Team Canada athletes, coaches and officials were officially welcomed to the 2018 Commonwealth Games Village. Under the Gold Coast sunshine, four members of the Mununjali tribe of the indigenous Yugambeh people performed a welcome dance which had its roots in the dawn of indigenous civilization and told the story of how the Gold Coast was created.
Following the dance, their leader, Jared Fogarty called for a Canadian team volunteer – graciously answered by badminton player Nyl Yakamura (Toronto, ON). On stage, the back of Yakamura's palm was pressed with ochre, the soil of the region.
Commonwealth Games Village co-mayors Sara Carrigan, 2004 Olympic cycling road race champion and swimmer Mark Stockwell, 1986 Commonwealth 4 x 100 freestyle relay champion then took to the stage to welcome Team Canada. Stockwell greeted the crowd with a "jingeri" – the local Yugambeh word for greetings. "The Gold Coast 2018 Commonwealth Games is the friendly games", he declared. "To the athletes who are attending their first Commonwealth Games, a very special welcome to you. To those who have competed before, welcome back. I am sure you will enjoy this unique experience. To all athletes, I wish you the very best."
After an exchange of gifts between the Mayors and Canada's Chef de Mission, Claire Carver-Dias, the Maple Leaf was raised while the Canadian anthem played.
Carver-Dias then addressed her red-and-white clad team and reminded them to "Live the Moment", a motto chosen for the Canadian Gold Coast 2018 Commonwealth Games team. "It's a special moment to see our flag raised", she said. "And we hope to see it raised another 100 times over the course of the Games!".
The ceremony ended on a festive note when retro pinup-style dancers made their way onto the stage and performed an enthusiastic beachy-themed number.
Every one of the 71 nations present at the Games Village will receive the same welcome and see their flag raised in the Village's International Zone.
Helene Lavigne 0435 301 873