Markus Thormeyer reaches new heights with bronze at Commonwealth Games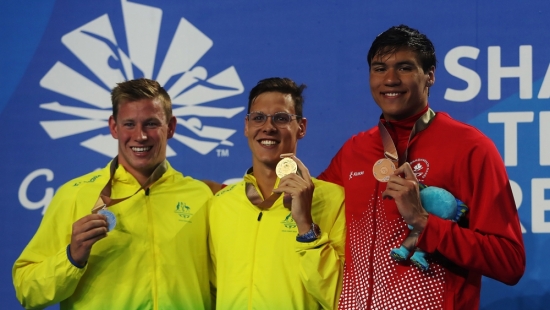 GOLD COAST, Australia – Olympian Markus Thormeyer of Delta, B.C., made his first big impact on the international stage on Friday with a bronze medal in the men's 100-m backstroke at the Commonwealth Games.
Australians were 1-2 with Mitch Larkin earning the gold in 53.18 and Bradley Woodward the silver in 53.95. Thormeyer, who owns relay medals in FINA World Championships (long and short course), Pan Am Games, and FINA World Junior Championships, followed in 54.14.
''I feel like all my hard work has shown,'' said Thormeyer, who trains at Swimming Canada's High Performance Centre-Vancouver. ''I've gained experience and maturity. I feel like over the past couple of years I've grown a lot.''
Swimming Canada's High Performance Director John Atkinson was happy to see the Canadian men get on the medal table.
''Markus had a great semifinal last night and he was able to convert that so we are very happy he has gotten onto the podium,'' he said.
Emma McKeon led Australia to a medal sweep in the women's 100-m butterfly. She clocked a Games record 56.78 with Madeline Groves second in 57.19 and Brianna Throssell third in 57.30.
Olympic silver medallist Penny Oleksiak of Toronto was fourth in 57.50, Rebecca Smith of Red Deer, Alta./HPC-Ontario sixth in 57.91 and Mabel Zavaros of Oakville,Ont., eighth in 58.98.
''The depth of the women's program being able to convert into a significant number of finals is really good,'' said Atkinson. ''We are working hard to convert those into medals and came close tonight in the 100 fly.''
Smith says she's thriving on the experience.
''This has been awesome,'' said Smith, based at the HPC-Ontario in Toronto. ''I'll go back and look at my race and see what I can do better next time. It was super fun and I'm super excited.''
Faith Knelson of Ladysmith, B.C., finished seventh in the women's 50-m breaststroke final. Other Canadian men's finalists were Tristan Cote of Mississauga, Ont., seventh in the 400-m individual medley in 4:20.29, while Canada was fifth in the 4x100-m freestyle relay with Yuri Kisil of Calgary, Thormeyer, Ruslan Gaziev of Toronto and Carson Olafson of Chilliwack, B.C. Kisil, Thormeyer and Olafson train together at the High Performance Centre – Vancouver. Eli Wall (Ottawa/University of Toronto) finished 10th in the men's 100-m breaststroke with a semifinal time of 1:01.47.
"The men's 4x100 freestyle team improved on its heat swimming, we've just got to keep working on that relay to get them ready for next year's world championships and Olympic qualification," Atkinson said. "Our men's program is starting to get back for semifinal and final swims and we're working towards the podium."
Five women qualify for finals including Masse
In semifinals, world champion Kylie Masse of Windsor, Ont., lowered the Games record for a second time today in the women's 100-m backstroke. She earned the top qualifying time for Saturday's final at 58.66 after a 58.70 in the morning preliminaries, ahead of Australian Emily Seebohm's 58.95. Masse's time also stands as an Australian All Comers record, the fastest ever recorded in Australia.
''Every time I race I try to take something away from it,'' said the University of Toronto swimmer. ''There's always a learning opportunity and I just try to keep improving. I was a little unhappy with my finish so that's something to work on going into the finals.''
Taylor Ruck of Kelowna, B.C. qualified third in 1:00.06 and Jade Hannah of Halifax/HPC-Victoria was sixth in 1:00.37. It will be the third final featuring three Canadian women (400 IM, 100 fly).
In the women's 50-m freestyle semis, Ruck qualified fourth in 24.72 and her HPC-Ontario teammate Kayla Sanchez of Toronto sixth in 25.20. Both were personal best times. Australia's Cate Campbell went a Games record 23.88.
''I'm really looking forward to the final,'' said Sanchez. ''Now it's just about fine-tuning some elements and see how fast I can go.''
Full results: https://results.gc2018.com/en/swimming/daily-schedule-date=2018-04-06.htm
Nathan White
+61 0431469380