Lovett earns BRONZE in men's high jump; Emmanuel and Brown on to 200m final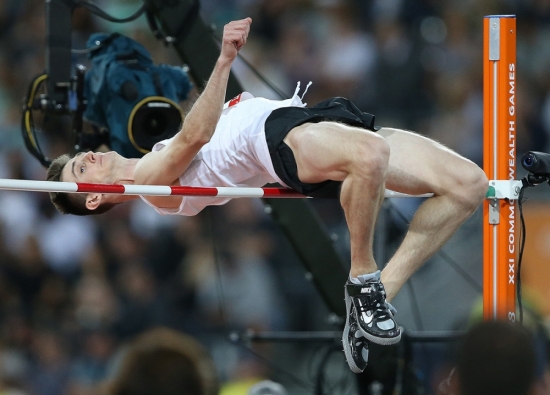 The women's 3000-metre steeplechase kicked-off the action on the track on Day 4 of athletics competition in the Gold Coast. Canada's Geneviève Lalonde, grateful to be on the start line after suffering a hamstring injury a week ago, was sitting in sixth place on the final lap. With about 300 metres to go and ready to kick, Lalonde hit a barrier and went down. She would lose one spot before crossing the finish line in seventh.
Looking to improve on her fifth-place finish from 2014, Elizabeth Gleadle hit the javelin runway aiming well beyond the 60-metre mark. She'd come close with a season's best of 59.85 metres, leaving her one spot off the podium in fourth place.
Perfect in qualifications, Django Lovett entered the men's high jump final at 2.18 metres. He would go on to clear 2.30 metres, a new personal best, before retiring from the competition (precautionary reasons) in the Bronze medal position following his second attempt at 2.32 metres. Meanwhile, Mason – the 2014 Commonwealth Games Bronze medallist – would exit the competition after failing to clear 2.27 metres, finishing in sixth place.
Late in the evening, Crystal Emmanuel, Aaron Brown and Bismark Boateng took to the track in their respective 200-metre semi-finals. Emmanuel, despite a wobble out of the blocks, picked up speed around the bend and never looked back crossing the finish line in 22.87 seconds, first in Semifinal 3, securing her spot in the final. Brown would follow in Emmanuel's footsteps in Semifinal 1 of the men's 200-metres reaching the finish line in 20.18 seconds, good enough for first. With a time of 21.06 seconds in Semifinal 3, Boateng would come-up a little short and will not advance to tomorrow's final.
Canada's top-ranked F38 shot putters, Kevin Strybosch and David Bambrick stepped inside the shot put circle for the first time at a Commonwealth Games. Bambrick, with a season's best 11.74 metres would finish sixth, while Strybosch would register a mark of 11.17 metres, good for seventh.
Long jumper Christabel Nettey was also in action at Carrara Stadium, qualifying for the final with a jump of 6.70 metres on her first attempt. The women's long jump final will take place Thursday at 7:55 p.m. local time (5:55 a.m. ET).
Here's what the athletes had to say:
Django Lovette (Bronze) following the men's high jump final
On the Bronze medal
"This a dream come true. To come out here and showcase my talent; it's been a long time coming and I'm thrilled to finally put it together in front of such an amazing crowd."
Personal best of 2.30 metres – how much higher
"I don't want to set a limit. I was jumping well today and I had some height. I think I could have gone higher."
What he leaned tonight
"You have to fight. You have to be composed through it all and handle yourself."
Canada's rich history in high jump
"I'm ineradicably humbled to follow in Derek's (Drouin) footsteps. I'm proud to be part of the history and I hope we can keep pushing the bar higher to inspire others."
Crutches… what happened?
"On my last attempt before I pulled out of the competition, when I planted I felt a pull on my hamstring. I seized up, called it, and will save it for another day. I've got some ice on here and we'll be good in no time."
Elizabeth Gleadle (4th place) following the women's javelin final
Finishing fourth, one place higher than 2014
"I've had a rough month, coming over and transferring time zones [it wasn't easy]. This is a season's best. I would have liked 60 metres and would have liked to medal, but that's the way the cookie crumbles. I'm happy with fourth place."
On if she could have thrown 60 metres
"I think I could have found 60 metres if I had hit it a little differently. It's also very early in the season. I'm not too worried about it. It's going to be a good year."
Genevieve Lalonde (7th place) following the women's 3,000-metre steeplechase final
On her preparations for the race
"I would have said about a week ago that everything was going great. I made it to World Indoors, something I hadn't planned on doing, was coming along really good and then I blew my hamstring in practice about a week ago. That's not an excuse. Coming into this I had a great support team, they helped me get on the start line – that was a victory in itself."
On the final lap and what's next
"With about 300 metres to go, I thought I could move up a few spots and then I hit a barrier. I got back up and [ finished the race]; that's how my season is going. It's April, I have a lot of work to do before the end of the season. I'm looking forward to getting out there and lowering [my time]."
David Bambrick (6th place) following the men's F38 shot put final
Throwing at the Commonwealth Games
"It was amazing. This is the biggest stadium that I have ever competed in and I can't believe how many people were here today. It's an honour to represent your country and throw with so many people in the stadium [cheering you on]."
Tonight's results
"I had a good result – 11.74 metres. It was a season's best and my first international event. I'm so proud to be here and to represent my country. I'm really happy."
Kevin Strybosch (seventh place) following the men's F38 shot put final
Happy with tonight's outcome
"It was good. It was only my second meet of the year. I'm a discus thrower, this was my first time throwing shot put [in competition] in quite some time, and with only four months of training."
On his experience in Australia
"It's been awesome. How they incorporated the para guys, it's really nice to see. I've also enjoyed throwing with Tim (Nedow), he's such a good guy and can teach me a lot."
Crystal Emmanuel following the women's 200-metre semifinals
On her race
"I was kind of shaky tonight, but I qualified for the final, so I'm happy with that."
How she'll prepare for tomorrow
"I'm going to go back, recover and make sure I'm ready for tomorrow's showdown. The only thing I'm scared of is my own execution of the plan."
Aaron Brown following the men's 200-metre semifinals
On his performance:
"I feel really good. I've been doing a lot of prep work here in Australia. I opened with a 20.90 (in the heats), which is one of my slowest openers, but I knew the conditions weren't great with the rain and the headwind. I wanted to make sure I stayed confident and trusted my training. I said to myself 'by the time the championship comes around, I'll be in shape and ready to run'."
On preparing for the final:
"Chilling. Same routine. When you get to a championship you don't want to rewrite the book and do anything crazy, so I'm going to keep doing what I'm doing. I'm going to play dominoes with my teammates and watch Netflix shows. Sleep. Chill. Hydrate."
Top 8 finishes
Alexandre Dupont, T54 1500m – Gold
Mohammed Ahmed, 5,000m – Silver
Pierce LePage, decathlon – Silver
Django Lovett, high jump – Bronze
Tim Nedow, shot put – Bronze
Diane Roy, T54 1500m – Bronze
Sultana Frizell, hammer throw – 4th
Elizabeth Gleadle, javelin throw – 4th
Adam Keenan, hammer throw – 4th
Benjamin Thorne, 20km race walk – 4th
Natasha Wodak, 10,000 metres – 5th
David Bambrick, F38 shot put – 6th
Michael Mason, high jump – 6th
Geneviève Lalonde, 3,000m steeplechase final – 7th
Tristan Smyth, T54 1500 – 7th
Kevin Strybosch, F38 shot put – 7th
Evan Dunfee, 20km wace walk – 8th
For more on Team Canada and the Gold Coast 2018 Commonwealth Games, visit www.athletics.ca/gc2018.