Commonwealth Sport Canada Celebrates Successful Women's Coaching Internship Program 2022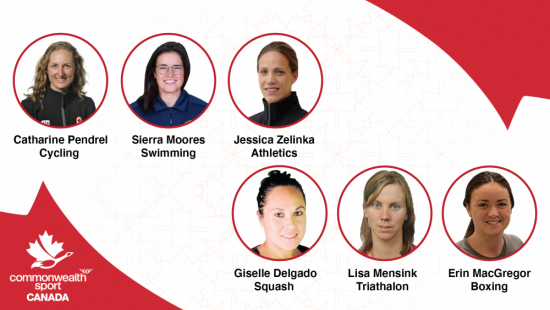 By Sheila Robertson
OTTAWA, June 17, 2022: Commonwealth Sport Canada's (CSC) commitment to increasing educational and coaching opportunities for talented women coaches took another step forward with the completion of its second Women Coaching Internship Program (CSC-WCIP). The five-month-long virtual program, which began in November 2021, was designed to prepare six intern coaches to move into high performance coaching roles.
CSC President, Richard Powers, reflecting on the CSC commitment and long-range hopes for the CSC-WCIP. "Equality is a core Commonwealth value, and CSC has a long, strong, and proud history of being gender balanced in its governance and programs, except coaching!" said Powers. "There is a great need to have more Canadian women in high performance coaching roles. We hope the WCIP will help to address this need." Added CSC CEO Brian MacPherson: "only 15% (9 of 60) of Team Canada coaches at the 2018 Commonwealth Games were women! With new programs supporting up & coming high performance women coaches, such as CSC's WCIP, we hope the percentage of women coaches will increase at the 2022 Commonwealth Games, and beyond"
The intern coaches, nominated by their respective national sport organizations and selected by the CSC high performance committee, were Jessica Zelinka of Calgary, Alta., an athletics coach at the University of Calgary; Erin MacGregor of MacLelland Brook, N.S., a coach with Albion Amateur Boxing Club in Trenton, N.S., Catharine Pendrel of Kamloops, B.C., co-founder of Pendrel Racing mountain bike team; Sierra Moores of Wingham, Ont., assistant varsity swim coach at the University of British Columbia; Giselle Delgado of Victoria, a Squash BC roving coach; and Lisa Mensink of Calgary, Alta., the head performance coach of the Kronos Triathlon Club.
The six mentors, whose responsibilities include being an ally to their intern coach, helping open doors and networks within their sport and the broader sport community, and helping to guide their learning and development were: Carmyn James, ChPC, of Lethbridge, Alta., technical manager of development for Athletics Alberta; Dan Proulx, ChPC, of Calgary, Alta., head coach of the national cycling team; Jill Perry, ChPC, of Ottawa, president and head coach of the Beaver Boxing Club; Tina Hoeben, ChPC, of Penticton, B.C., head coach of the KISU Swim Club; Nicole Pirko of Pickering, Ont., head squash coach of the Pickering Squash Club; and Carolyn Murray of Victoria, head coach of Canada's Para triathlon squad.
Former Olympic coach Sheilagh Croxon of Etobicoke, Ont., led the interns and mentors through a comprehensive program that included outstanding presenters from high performance sport: Michelle Darvill, coach of the Tokyo gold medalists in women's eight and a herself a former world champion; Olympic bronze medalist Claire Carver Dias of Oakville, Ont., and recently appointed co-chef de mission of Canada's team to the 2022 Commonwealth Games, who trained the coaches in the Myers-Briggs Type Indicator; Olympic medallist Lisa Alexander of Mississauga, Ont., the executive director of Skate Ontario, whose session was entitled The Art and Science of Effective Communication; and Lorraine Lafrenière of Ottawa, CEO of the Coaching Association of Canada who shared her journey through the Canadian sport system. Communications were handled by Sheila Robertson, an author and editor of the Canadian Journal for Women in Coaching (Canadian Journal for Women in Coaching | Coach).
"It was an honour to work with this incredible group of talented coaches over the past several months. Gaining international coaching experience is crucial in helping women coaches to build their resumés and advance on the high performance career pathway," said Croxon. "This experience, combined with mentorship and the focus on the development of key leadership skills, will help to lay the foundation to change the low representation of Canadian women coaches currently in the high performance system. We need all partners in the Canadian sport system to work together to address the current landscape."
Participants' comments reflect the resounding success of the CSC-WCIP, which is in part financially supported by Sport Canada's Support Program for Gender Equity and Safety in Sport:
"The CSC-WCIP was such a great learning opportunity for me," said Giselle Delgado. "I can't wait to attend the planned events that this will allow me to participate in and I am so grateful for the doors it opened as well as the connections it created within my sport and outside of it. The speakers were all so confident, knowledgeable, and personable that it was truly inspiring. This internship has made me realize of the importance of women coaches sticking together and being there for each other regardless of the sport; we don't have to be on this journey alone. I hope the CSC-WCIP continues to help other women coaches in the future."
"The CSC-WCIP was a meaningful experience in my development as a coach and leader," said Jessica Zelinka. "The program offered a safe, inspiring, and supportive community to share, learn, and hear from fellow interns and our mentors. CSC has created an innovative program that will continually evolve with the growing demand and awareness of the tremendous benefits that women-centered coaching programs such as this can have on the landscape of sport in Canada."
"The CSC-WCIP was a fantastic opportunity for me to connect with other women in coaching, gain insights on how to improve my own coaching, and become a stronger leader," said Catharine Pendrel.
"The CSC-WCIP has provided an opportunity to network with other female coaches and experience some exceptional pro-d workshops, said Sierra Moores. "I'm crazy excited to travel with the national swim team to the Commonwealth Games training camp in Normandy this summer!"
"I really enjoyed the program. I wouldn't have otherwise had the opportunities to meet these people and network and I am very grateful for that," said Erin MacGregor.
"The CSC-WCIP was a great opportunity for me to meet up-and-coming coaches and learn from successful female coaches from different sports around the country," said Lisa Mensink. "The program has connected me to a support system of coaches and given me a valuable international coaching experience and valuable tools to further my coaching career."
"This program has made me stretch as a coach both as a mentee and mentor," said Tina Hoeben. "The information provided has made me think and re-think how I approach my profession. The interaction with other coaches, both from my sport and from other sports, has also been great to enhance my coaching skills."
"Working and learning with other women coaches in the CSC-WCIP has been very empowering," said Nicole Pirko. "The program has given me the confidence to embrace and expand my skills as a coach.
"The CSC-WCIP has given me so much," said Jill Perry. "As an intern I was given rare opportunities to expand my coaching skillset and as a mentor it is my privilege to give back and help others. The bonds formed through this program are invaluable and have helped me to continue to navigate my own coaching career."
"It has been such a pleasure to meet and learn from each of the female coaches in the CSC-WCIP," said Carolyn Murray. "As a mentor, I absolutely gained as much as the interns from this experience. This program is so important to continue to support and celebrate women leaders in sport. Thank you to Commonwealth Sport Canada!"
"I found the CSC-WCIP to be rewarding on multiple levels," said Carmyn James. "Not only was it eye-opening for me to discover the art and science of effective communication - I wish I watched Claire's and Lisa's presentations 30 years ago - but I was also greatly inspired by Michelle's ability to create a winning culture during the challenges of COVID and lead her team to greatness. And, although the CSC-WCIP was designed to assist in the development of the intern coaches, all of us mentors found it extremely beneficial too!"
Backgrounder
Meet the Interns
Jessica Zelinka, a two-time Olympian, rose to international prominence with her fourth-place finish in heptathlon at the 2008 Beijing Games. She was the 2007 Pan American Games gold medallist and a two-time Commonwealth Games silver medallist. Currently the University of Calgary's track and field and cross country head coach, she has an undergraduate degree from the university and a master's degree in management innovation and entrepreneurship from the Queen's Smith School of Business. As a self-employed performance consultant, Zelinka delivers mentorship sessions to athletes, professionals, and veterans and consults on high performance skills. She is a sought-after keynote speaker and a frequent Podcast guest for reputable coaches, therapists, and health advocates.
Erin MacGregor, an accomplished boxer who won 52kg gold and silver medals at national championships, has transitioned into coaching and sport administration. She has over seven years of coaching experience at the club and provincial levels and is being groomed by Boxing Nova Scotia to coach and lead their teams at the upcoming national championships and Canada Winter Games. Since 2015, MacGregor has been working on National Coaching Certification Program (NCCP) for boxing and is an NCCP community leader in fundamental movement skills. She is Boxing Nova Scotia's vice president-administration and was Boxing Canada's representative for Nova Scotia to USA Boxing Global Coaching Initiative in 2020. A graduate of the University of New Brunswick, Fredericton, in medical laboratory science, MacGregor is a senior laboratory technologist with Nova Scotia Health.
Catharine Pendrel is an internationally decorated cross country mountain bike athlete whose accomplishments include an Olympic bronze medal, two world championships, Pan American Games gold and silver, and Commonwealth Games gold. A three-time World Cup overall winner, she graduated from the University of Victoria with a degree in sociology and psychology, is Cycling Canada Certification Development-trained, and is a Level 1 professional mountain bike instructor. She is a co-founder of Pendrel Racing, a development mountain bike team that has achieved Canada Cup and U17 and U23 national championship podium positions. Pendrel is president of the Kamloops Bike Rider's Association and is a rider/mentor with the Clif Pro Team, Pendrel Racing, and the national mountain bike team. She is a published writer and guest speaker at schools and sporting events, sharing her story and experiences.
Sierra Moores has held numerous positions within the sport community, including high performance strength coach with Next Level Performance Training in Cambridge, Ont., assistant varsity swim and strength and conditioning coach at the University of Waterloo (U of W), and currently, assistant varsity swim coach at the University of British Columbia (UBC), where her athletes include several national-level swimmers. Her own competitive career spanned 12 years, first with the Region of Waterloo Swim Club and then with the U of W varsity team. Turning to weightlifting, Sierra began developing her knowledge of strength and conditioning, which she enjoys integrating into her work as a swim coach. A mentor to women athletes and coaches who aspire to a coaching career, she earned an Honours Bachelor of Science degree in kinesiology from the U of W and a Master of Science degree in kinesiology from UBC and is an NCCP Level 2 coach. Moores worked as a volunteer ESL teacher in Uganda in 2018-2019 (https://serge.org/)
Giselle Delgado, who graduated from Western University with a Master of Science degree and an honours Bachelor of Arts degree, both with a speciality in kinesiology and biomechanics, is a roving coach for Squash BC, covering Vancouver Island. As such she visits facilities to provide coaching and programming advice and to mentor local champions and staff. She is enrolled in the Provincial Coach certification course and is a Canada Winter Games 2023 target coach. Giselle is the sole proprietor of SquashLife (https://squashlife.ca/) and her clients include the Cedar Hill Squash Club. An NCCP certified squash coach, Giselle was the bronze doubles medallist at the 2019 Pan American Games and a two-time gold doubles medallist at Pan American Squash Championships. Chilean-born, she currently plays for Chile's national squash team.
Lisa Mensink, who has dual Canadian and Dutch citizenship, began her athletic career competing for Canada at national and international competitions. A competitive swimmer from 1987 to 1998, an Academic All-Canadian CIS swimmer, and Olympic Trials semi-finalist, she took up triathlon in 2001 and progressed to the World Cup circuit in 2006. Lisa began to represent the Netherlands in 2007 and competed for that country at the 2008 Olympic Games. She was a professional triathlete until 2012. Today she is an NCCP Competition Development Certified Coach and is the head performance coach of the Kronos Triathlon Club in Calgary where she trains many developing athletes. Triathlon Alberta has selected Lisa as Team Coach for the 2021 Canada Summer Games in Niagara, Ont.
Meet the Mentors
Carmyn James, a National Coaching Certification Program master coach developer and technical manager of development for Athletics Alberta, brings to her mentorship role over 30 years of experience as an athletics coach, coach developer, and sports leader. Head coach positions include 12 years at the University of British Columbia (UBC)and 17 years at the University of Hawaii. In 1995 she became the first woman to be chosen as a head coach of a national athletics team. James earned a master's degree in Coaching Science from UBC and is a certified performance coach in jumps, sprints, and hurdles. Her athletes have competed at conference and national championships, NCAA Division 1 championships, and Commonwealth and Pan American Games.
Jill Perry, ChPC, is the president and head coach of the Beaver Boxing Club in Ottawa and a member of Boxing Ontario's High Performance Committee. She is a former Canadian champion. Perry has a commerce degree from Carleton University and is completing a master's of High Performance Coaching and Technical Leadership at UBC. She has a background in marketing and worked in High Tech for 20 years.
Dan Proulx, ChPC, recently appointed head coach of Canada's cycling team after a successful run leading the national mountain bike team, coached Catharine Pendrel, a world champion in 2011 and Olympic bronze medallist in 2016 and numerous World Cup, world championship, Pan American and Commonwealth Games medallists. Proulx, a Level 4 NCCP cycling coach, has a social sciences degree from the University of Calgary, a high performance coaching diploma from the National Coaching Institute-Calgary, and a post-degree professional teaching certificate from the University of Victoria. He coached at Olympic Games in 2008, 2012, 2016, and 2021, and won Petro-Canada Coaching Excellence Awards in 2011, 2014, and 2016.
Tina Hoeben, ChPC, has been the head coach of the highly successful KISU Swim Club in Penticton, B.C., since 1998. She earned a Bachelor of Science (Hons) from the University of British Columbia, a Bachelor of Fine Arts (Hons) from the University of Victoria, and a master's degree in Visual Art from York University. An NCCP Senior Coach (Level 3) certified, Hoeben is the first ever Swim BC Female Coach of the Year. She has held several team coaching assignments, including the world junior championships, Team BC at the Canada Games, and as men's coach at the Western Canada Games.
Nicole Pirko has been involved in squash for over 25 years as a high performance player and coach. During her international career, she represented Canada at tournaments all over the world. She is a fully certified NCCP Level 3 coach and is currently the head squash coach at the Pickering Squash Club. Nicole, who graduated from McMaster University with a kinesiology degree, was inducted into the McMaster University Athletic Hall of Fame in 2019. Her citation noted that she was "a dominant figure on the squash court at the OUAA level and achieved conference all-star status in each of her four seasons." She coached Team Ontario in 2007 and 2011 and has received numerous coaching awards.
Carolyn Murray, ChPC, became a coach after an outstanding 15-year triathlon career that included five straight world championship competitions, the gold medal at the 2008 World Cup, and a top-30 finish at the 2008 Olympic Games. Turning to coaching, she obtained NCCP certification and has been head coach of Canada's Para triathlon squad since 2014. A kinesiology graduate and a registered acupuncturist, Carolyn has coached around the world at numerous major international events, including world championships and Paralympic Games. Her coaching awards include Triathlon Canada Elite Coach of the Year in 2015 and 2016, the 2015 Sport BC Female Coach of the Year, and a 2016 Petro-Canada Coaching Excellence Award in 2016 and 2021.