Claire Carver-Dias Elected President of Commonwealth Sport Canada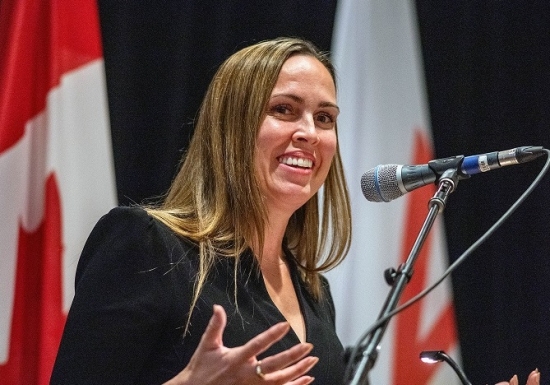 (Along with a new Athlete Representative, 3 new Directors and 8 new Members-at-Large)
December 14th, 2022 - Commonwealth Sport Canada (CSC) is proud to announce the results of the election held during the organization's Annual General Meeting in Hamilton, Ontario on November 19, 2022.
Claire Carver-Dias was elected President. Carver-Dias is an experienced Communications consultant and recently held the role of co-Chef de Mission at the 2022 Commonwealth Games. Carver-Dias was a member of Canada's synchronized swimming team and won medals at the 2002 Commonwealth, 1999 Pan American and 2000 Olympic Games.
"I have been deeply connected to Commonwealth Sport Canada in various capacities over the past twenty years (athlete, committee member, board member, twice Chef de Mission, etc.)," said newly elected president Claire Carver-Dias. I'm eager to continue my dedication to the Commonwealth movement in Canada as President of CSC, and work diligently to ensure a Games returns to Canada."
Jean Emmanuel Pierre-Charles, the new Athlete Representative has a strong collaborative work ethic and was a former professional Basketball player. "I am eager to utilize my experiences to help athletes fulfill their Commonwealth journey," said Pierre-Charles. "I look forward to collaborating and learning from members of the CSC, while utilizing my knowledge and ideas to support the continuous development of the organization."
The newly elected Director-at-large positions will be assumed by Ava Hill, Patrick Kenny, Greg Maychak, and Myles Spencer. Their depth of experience and passion for the sport community will help steer Commonwealth Sport Canada towards excellence. Richard Powers remains on the Board as Past President.
"I am pleased to welcome all of our newly elected Directors and Members," says Trevino Betty, CSC continuing Director-at-Large. "We are privileged to have a great team of dedicated and experienced individuals at CSC. I look forward to continuing to work collectively with the Board to bring new insight to the organization and lead us into the future."
These dedicated individuals are elected for a four-year term and are eligible for two consecutive terms in the same position. See list below of all elected and continuing members.
Newly elected Directors:
Claire Carver-Dias – President (ON)
Jean Emmanuel Pierre-Charles (QC) – Athlete Representative
Ava Hill (re-elected) (ON) – Director-at-Large
Patrick Kenny (ON) – Director-at-Large
Greg Maychak (ON) – Director-at-Large
Myles Spencer (ON) – Director-at-Large
Continuing Directors:
Rick Powers (ON) – Past President
Keith Gillam (ON) – Treasurer
Trevino Betty (ON) – Director-at-Large
David Bedford (AB) – Director-at-Large
Karen Hacker (ON) – Director-at-Large
Newly elected Members-at-Large:
James Brough (ON)
Frazer Hadwin (ON)
Debra Mahlitz-Joseph (ON)
Scott Moffatt (ON)
Gordon Plottel (BC)
Melanie Simard (QC)
Cameron Smith (ON)
Lana Williams (NB)
Continuing Members-at-Large:
Holly Abraham (ON)
Monique Allain (NB)
Marc Durand (QC)
Andrew Haley (ON)
Meaghan Howat (ON)
René Leblanc (QC)
David Legg (AB)
Thomas Volk (ON)
The new Board of Directors and Members-at-Large will strive to continue to support Commonwealth Sport Canada's vision to inspire and unite Canadians by championing excellence, inclusion, and human rights.
For further information on each of the members of Commonwealth Sport Canada's Board of Directors:
https://commonwealthsport.ca/about-cgc/board-directors/board-directors.html