Canadian Commonwealth Games Champ Nicole Forrester Joins T02015 Athlete Advisory Council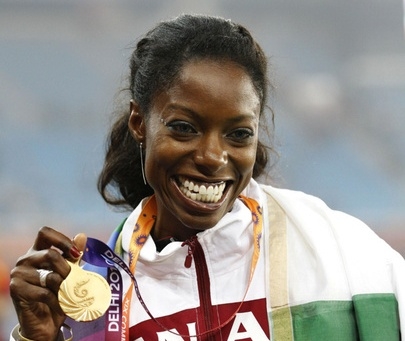 Nicole Forrester is an Olympian, 2010 Commonwealth Games gold medallist and the reigning Canadian high jump champion. A seven-time Canadian champion, Forrester is one of Athletics Canada's most decorated athletes, and with only one centimetre away from the Canadian record, she is arguably one of Canada's best-ever high jumpers. She is currently training for a powerful performance at the London 2012 Olympic Games.
Forrester was introduced to the high jump at age 17, an age when most world-class athletes are perfecting the skill and planning for the Olympic Games. Since then, she has represented Canada on 19 national teams: she is a Commonwealth Games gold and bronze medallist, Pan American Games silver and bronze medallist, Francophone Games silver and bronze medallist, as well as a World University Games silver medallist. She also holds the school record at the University of Michigan and the Big Ten Conference and Championship records.
Forrester is currently completing her PhD in sports psychology at Michigan State University, is an entrepreneur and is committed to the excellence of others. She was Athletics Canada's team captain at the Beijing 2008 Olympic Games, a member of the Canadian Olympic Committee and an ambassador to KidSport. She believes in the power of sport and the life improvements it can offer. Forrester also spends time supporting organizations such as the Canadian Centre for Abuse and Awareness, United Way, Race for the Cure, KidSport, The Underwear affair and SickKids hospital.