Canada's Grzegorz Sych Wins Silver Medal on Last Day of Shooting!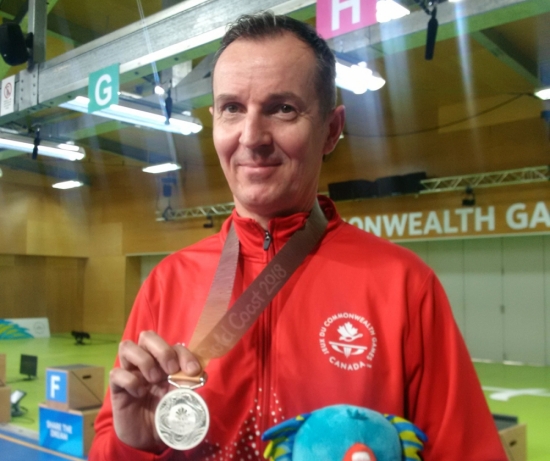 Rifle shooter Grzegorz Sych (Kitchener, ON) won a 2018 Commonwealth Games silver medal in the 3 Position Rifle on the last day of competition at the Belmont Shooting Complex. The only shooter to make the finals among the four Canadians competing at the Games, Sych shot a 448.4, finishing behind the gold medallist from India, Sanjeev Rajput, who set a Games record with his score of 454.5.
Sych, who was taking part in his first Commonwealth Games, said: "I have been waiting for this moment for over six months since qualifying for the Commonwealth Games. This is the pinnacle of my week's competition here and I am definitely relieved."
Nicole Rossignol (Quebec QC), the only woman in the Fullbore Rifle competition, as well as being the first Canadian woman to be selected for this event at the Commonwealth Games, finished in a very respectable 7th position. Her partner in the Queen's Prize Pairs, and the oldest athlete in the history of the Commonwealth Games, Robert Pitcairn (Chilliwack, BC) was in 21st place in the Fullbore Rifle finals.
Trap shooter Curtis Wennberg (Winnipeg, MB) just missed the final round in men's trap shooting by two birds, with a final score of 115, which put him in 13th place overall.
Sylvie Bigras
Media Attaché – Shooting
sylvie@magma.ca +61 0422 445 960