Beach Volleyball Teams Off to a Strong Start in Birmingham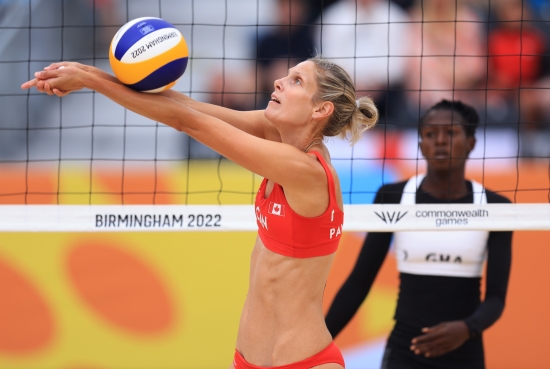 Beach volleyball began on Saturday at the 2022 Commonwealth Games in Birmingham, England, and Canada has a perfect record so far at the Smithfield venue.
Canada's women's team hit the sand first: Sarah Pavan (Kitchener, ON) and Melissa Humana-Paredes (Toronto, ON) had a decisive 2-0 (21-7, 21-6) victory over Katadat/J. Aryee of Ghana.
Sarah Pavan said in her post-match interview: "We're just taking it one game at a time ... we took care of our side and took advantage of the opportunities that we had. Obviously, the competition will get progressively more difficult so we're going to have to continue to focus on our side-out and our serving."
Humana-Paredes agreed: "As Sarah said, we took care of business, but I still think there are things we can work on to clean up a bit as we progress, but overall it's a good start."
Dan Dearing (Toronto) and Sam Schachter (Richmond Hill, ON) followed suit with a win today over Sri Lanka (Malintha Yapa/Ashen) 2-0 (21-13, 21-12).
"It was definitely good to get out there and get a feel for centre court," said Schachter. "I think we did our job and worked on some of the stuff that we wanted to work on. So not just from a win-loss standpoint, from a team-process point of view for the whole tournament, it was good. .. the competition is only going to get harder from now on."
On Monday, August 1, the women's team faces Kenya, and on August 2 the Canadian men's team meets Saint Kitts and Nevis, both at 16:30 local time (11:30 ET).
Pavan and Humana-Paredes are defending Commonwealth champions, while Schachter won silver with former partner Sam Pedlow in 2018.
"With the crowd and energy and so many fans here, you just embrace the experience," said Dearing of his first Games outing.
The finals begin on Aug. 05, with the medal matches on Aug. 07.
Watch live CBC Sports online