Women's Artistic Gymnastics Team Wins Bronze for Canada in the Team Final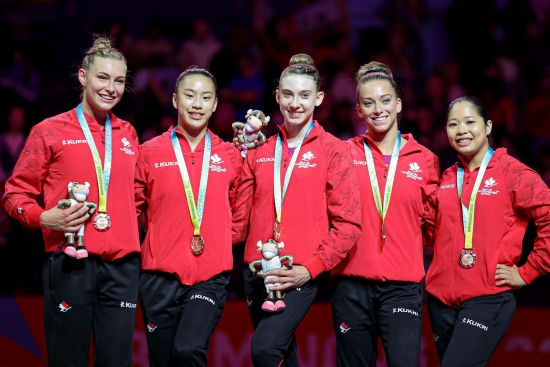 On the second day of competition at the 2022 Birmingham Commonwealth Games, the Canadian women's artistic gymnastics team has won bronze at the Arena Birmingham. Much to the crowd's pleasure, Team England took the gold. Australia took the silver.
The 2022 women's team consists of Jenna Lalonde, Laurie Denommee, Cassandra Lee, Emma Spence, and Maya Zonneveld. With a grand total of 152.700 points, together they earned third in Vault (40.100), third in the Uneven Bars (37.950), fourth in Balance Beam (36.250), and lastly second on the Floor Exercise (38.400).
After winning the bronze medal, team member Cassie Lee of Toronto, ON spoke of her Floor Exercise.
"I'm super proud of my performance," said Cassie Lee. "The crowd really got me going and especially with the team and them cheering me on that really helped as well and I think it really helped me push to hit those landings and show it off."
The Gymnastics competition continues tomorrow at the Arena Birmingham, with the individual all-around final.