Women's 3x3 Basketball Captures Gold, Men's 3x3 Secures Bronze at 2022 Commonwealth Games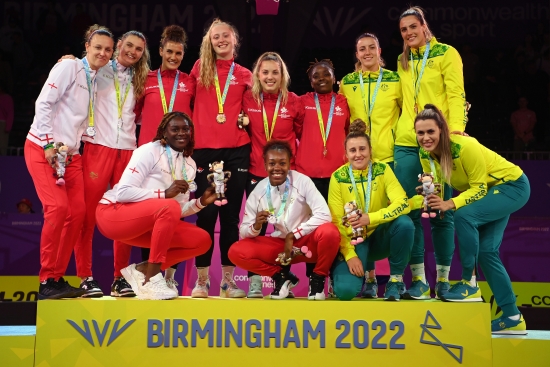 The Canadian Women's 3x3 team are leaving Birmingham with the gold. Thanks to a buzzer-beating layup from Sarah Te-Biasu, the Canadian women defeated England 14-13 in a thriller to claim the gold and become champions in the first ever 3x3 event at the Birmingham 2022 Commonwealth Games.
"It feels so amazing," Te-Biasu said. "That's our first time playing 3x3 and we were the youngest team. We came here and our mind was on winning the gold and we did that today. I'm just so happy and excited."
The Canadian squad was playing the sport for the first time together and they continued to improve as the tournament went on, saving their best for last as they defeated an experienced England squad, behind Te-Biasu's seven-point effort. Te-Biasu finished with eight highlights and six drives, as she shot 7-for-12 from the floor and was unstoppable driving to the hoop.
"It was hard at the beginning, because it's really fast and quick," Te-Biasu said of picking up the sport. "I didn't know the rules and I had two weeks to prepare. I just love it now. It's amazing."
Tara Wallack had seven rebounds in the game and played fantastic defence inside against Cheridene Green as the Canadians held England to just 7-for-29 field goals inside the arc. Canada shot 13-for-21 from one-point range in the win, including the game-winning layup from Te-Biasu.
"We went into this game being the underdogs, we had nothing to lose," Wallack said. "I think we all have trust in each other and that Sarah can beat anyone off of the dribble to the basket. We just knew she could do this and we trusted her to have the last shot and she made it count."
After the teams traded baskets to start, Hanson scored her second shot of the game to put Canada in front 2-1. England responded with a drive from Green to tie the game at two points apiece.
A two-point shot but Te-Biasu tied things up again at four points apiece with 8:14 remaining.
After tying the game at nine-points apiece on a layup, Te-Biasu then scored Canada's next four points to give the Canadians a 12-9 lead with 1:55 remaining. After a two-point shot from Shanice Brandi Beckford-Norton brought England within a point, 113-12 with 29 seconds remaining, Green scored to tie the game at 13. With 2.6 seconds on the clock, Te-Biasu's layup fell through the hoop as time expired and the Canadians were victorious.
While the Canadian Women captured up the Gold Medal, the Canadian Men's 3x3 team also left Birmingham with a medal. The Canadian Men held on for a 13-12 win against Scotland in the bronze medal game to capture the bronze in Birmingham. The Canadians were led by a five-point eight-rebound effort from Bikramjit Gill as well as a four-point, seven-rebound, three-assist performance from Alex Johnson.
"Definitely one of the highlights of my life, to win a medal at the Commonwealth Games," Gill said. "We fell short yesterday in a very tough battle, but a medal is a medal and we get to go home with something. I'm proud of my guys. I hope Canada is proud of us. It's truly a great day for me in my life. I'm happy."
Gill opened the scoring with a two-point shot for Canada, but Scotland responded as Gareth Murray scored on back-to-back possessions to tie things up at two points apiece with 8:43 remaining.
Canada scored the next six points of the game to go ahead 8-2 with 6:21 remaining, behind two-point shots from Jordan Jensen-Whyte and Johnson. After Scotland trimmed the Canada lead to two, Jensen-Whyte scored off of an assist from Johnson, and then Johnson blocked a shot from Fraser Malcolm to keep Canada in front 11-8 with 3:43 remaining.
Kyle Jimenez would get New Zealand within two, 12-10 on a drive to the rim with 1:59 remaining, but Gill scored to keep the lead at three points for Canada. The teams traded misses in a furious final two minutes, until Jimenez sank a pair of free throws to get Scotland within a point, 13-12, with 36 seconds remaining.
Canada continued to crash the offensive glass down the stretch, getting four attempts at a basket, but came up unsuccessful. With the game on the line, Jensen-Whyte's defensive pressure forced Jimenez into a miss as Canada held on for the victory and the bronze medal.
"This is quite an accomplishment for us." Johnson said. "This is a stepping stone for us. We want to qualify for the Olympics so this is a good step in the right direction for us."