Two Golds and One Silver for Canada on the Last Day of the Judo Competition at the 2022 Commonwealth Games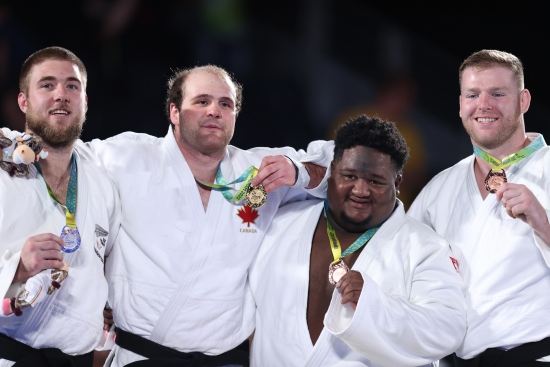 Aug 3, 2022 - Canadians Judokas have won a total of eight medals, including four golds at the Birmingham Commonwealth Games.
Canadian judokas took home the hardware on the last evening of the judo competition at the 2022 Commonwealth Games in Birmingham, held at Coventry Arena, following a successful morning where all four Canadians in action made it through to the medal round. As predicted before the competition by Judo Canada National Head Coach, Antoine Valois-Fortier, every athlete in his delegation contended for medals at the fourth presentation of this discipline at the Commonwealth Games.
In the men's -100kg final, it was an all-Canadian affair featuring Shady ElNahas (Montreal, QC) and Kyle Reyes, who lives and trains in Japan. The two men were on opposite sides of the draw, which made this dream final for Canada a possibility. In preliminary action, ElNahas took to the tatami first, getting through both his quarterfinal and semi-final bouts by ippon, first defeating Fiji's Tevita Takayama, then local favourite, Englishman Harry Lovell-Hewitt. Reyes has a similar route to the final, making quick work of New Zealand's Jason Koster in the quarter-final and like ElNahas, shattered dreams of gold at home for England's Rhys Thompson.
The Reyes/ElNahas final was decided by waza-ari in extra time, when both men twisted to the ground, Reyes unable to avoid the quick pin despite quickly rolling out from under ElNahas. The manoeuvre was examined by video review where the call on the tatami stood. ElNahas was Commonwealth Games Champion in the men's -100kg category.
"It's a pretty good feeling. I think winning is a good thing. I haven't been competing a lot and I was just getting back into it so this was a good tournament to see where I was at. And Kyle, my teammate, it was really strong result that we were in the finals, I love him." said ElNahas. "It was an amazing fight and two medals in the finals for Canada, it's pretty amazing."
After the fight, the two Canadian judokas exchanged a warm embrace and a chest bump. Kyle Reyes, silver medalist, had this to say after the fight.
"It was a close match. I really enjoyed it, even though I lost. He is a good friend and a rival at the same time. We have a good relationship," said Reyes.
Returning to action after surgery only one month ago, Marc Deschene entered the men's +100kg competition against Cyprot Gianni Antoniu in his opening quarterfinal bout where he dominated for most of the contest, ultimately winning by ippon in 1.39, reserving the same fate to his semi-final opponent, Australia's Liam Park. In the gold medal match, he was pitted against New Zealand's Kody Andrews. Once Deschenes got Andrews to the mat, he needed two tries to subdue the Kiwi into submission. The fight was over in a mere 57 seconds. After the match, Deschene qualified his match as "pretty fun". Deschene added: "I didn't have that much preparation but I really wanted to be here so I did things a little bit quicker. It's always fun to represent your country on the international stage, I've really loved my experience here."
Coralie Godbout (St-Charles-de-Bellechasse, QC) was quickly overcome by her Scottish opponent in her bronze medal fight and finished fifth.
The future is certainly looking bright for Canadian judo.
Visit the Team Canada 2022 website for more updates and the Team Canada media guide for detailed athlete information.