Two Additional Gold Medals in the Pool Cement Strong Finish at Commonwealth Games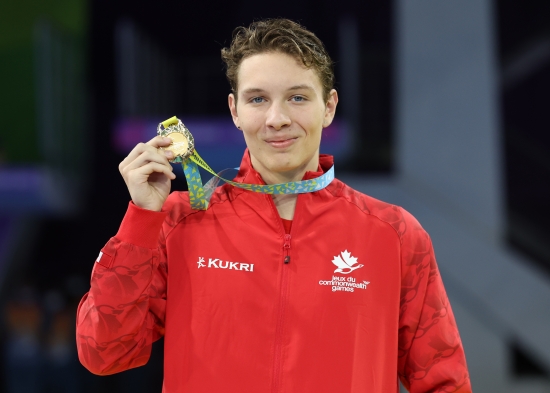 Aug 3, 2022 - Kylie Masse and Nicholas Bennett earned gold medals as Canada equaled its 20-medal output from 2018 to conclude swimming action Wednesday at the Commonwealth Games.
Summer McIntosh added an individual silver and helped the women's medley relay to a second, and Josh Liendo collected a bronze to make it a five-medal day.
The Canadian swimmers conclude Birmingham 2022 with seven gold, seven silver and six bronze for 20 medals, the same total as four years ago in Australia, which was Canada's best since 1998. The seven gold is Canada's best performance since the eight it won in 1990.
As she did at the FINA World Championships in June, Masse (HPC-Ontario/LaSalle, Ont.) won the gold medal in the 50-m backstroke, this time clocking a Commonwealth Games record 27.31. Mollie O'Callaghan took the silver in 27.47 and fellow Australian Kaylee McKeown was third in 27.58.
''I was definitely going for it,'' said Masse, a silver medallist in the 100 and 200 back. ''It's such a fun event, to not really think and go as fast as you can. I just reminded myself on the blocks to stay strong.''
Bennett also clocked a Games record to win the 200-m freestyle S14 Para swimming event in 1:54.97. Benjamin Hance of Australia took the silver in 1:55.50 and his compatriot Jack Ireland was third in 1:56.15.
''I was just ecstatic when I saw my name as No. 1 on the board,'' said Bennett, 18, a silver medallist in the event at the World Para Swimming Championships in June. ''I just hunkered down. It started hurting by the 100-metre mark, but it didn't really matter at that point.''
The 15-year-old McIntosh (HPC-Ontario/Toronto) took silver in the women's 400-m freestyle in a Canadian record 3:59.32, bettering the 3:59.39 she swam for silver at the world championships. Ariarne Titmus of Australia took her sixth gold with a Games record 3:58.06 and Kiah Melverton of Australia was third in 4:03.12.
''It was a great opportunity to race someone as fast as Ariarne,'' said McIntosh. ''It was an honour to race her and I had a great time. People like her and Katie Ledecky are great examples in and out of the pool.''
Ella Jansen, 16, of Burlington, Ont., was seventh in 4:10.69, her second personal best of the day.
''I really did want to get under 4:10 tonight so there is room to improve,'' said Jansen, who will represent Canada at the Junior Pan Pacific Championships Aug. 24-27 in Hawaii. ''Still this is a big step forward and I'll have another shot at it later this summer.''
About 10 minutes later, McIntosh anchored Canada to silver in the women's 4x100-m medley relay with a 53.33 freestyle split to follow Masse, Sophie Angus and Margaret Mac Neil for a combined time of 3:56.59. Australia won gold in 3:54.44 and England was third in 3:59.44.
''The turn around is quite easy because you don't have the time to process what just happened in the previous race,'' said McIntosh. ''I just went in the warm down pool, did a few laps and joined my team in the ready room.
''It wasn't as hard as I thought it would be and I want to do it again.''
''It was good,'' said Mac Neil. ''We were in the middle lane so we were able to gauge where we were the whole time and we put together a really good race.''
''I finally got it together and it was a great way to wrap up the meet,'' added Angus, who contributed a lifetime best relay split of 1:07.66.
McIntosh ends the Games with six medals: gold in the 200 IM and 400 IM, silver in the 400 free, 4x200 free and 4x100 medley and bronze in the 4x100 free. It was a fifth medal for Masse and Mac Neil. With a total of nine career medals, Masse moves into third all-time among Canadians behind only Ralph Hutton (12) and Marianne Limpert (11).
''It's been a lot of fun to race at the world level again over the past six weeks at two big events,'' said McIntosh. ''I wanted to do it again after Tokyo. With two different crowds, two different energies, it was an amazing experience.''
Liendo (HPC-Ontario/Markham, Ont.) added a second individual medal after his 100 butterfly win on Tuesday, with the bronze in the 50-metre freestyle. Ben Proud, the 2014 Games champion, led England to a 1-2 finish in 21.36 followed by Lewis Burras in 21.68. Liendo clocked 22.02.
''There's been some ups and downs at these Games but I'm glad to finish it off like this against a great field,'' said Liendo, a triple medallist at the worlds and a quadruple medallist in Birmingham. ''The free has been a little off this week so I know I can do better.''
Other finalists were Finlay Knox, HPC-Ontario/Okotoks, Alta., fourth in the men's 200-m individual medley in 1:58.95 and Eric Brown of Pointe-Claire, Que., was sixth in the men's 1500-m freestyle in 15:25.48.
''It doesn't feel like what I would have wanted,'' said Brown, 19. ''But first international meet I've been able to take away so much. Being around the team, seeing what it takes to be at this level. I've learned so much.''
High Performance Director and National Coach John Atkinson praised the team for an important step on the march to Paris 2024.
''Every Games and championships are a test of resilience from the first day to the last day, and Team Canada were competitive right through the swimming at the Commonwealth Games over six days and 12 sessions,'' he said.
''The athletes have done Canada proud and have been supported by the team management, support staff and coaches in a world class team. In all 21 swimmers from 28 on the team return from the Games with a medal which is outstanding. Relays continue to be an important part of our team and that will continue. Some new names are now established performers and others showed themselves at these Games. Now we move into the last to two years of the quad and onward to Paris.''