Thomas Jones Concludes Successful Term as Commonwealth Games CEO
FOR IMMEDIATE RELEASE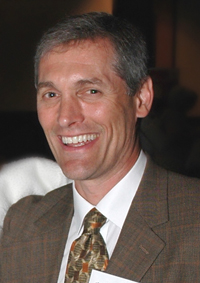 OTTAWA, January 18, 2011 -- After 10 years in senior sport leadership roles in Ottawa, Thomas Jones today announced that he will be leaving his position as Chief Executive Officer of Commonwealth Games Canada (CGC) as of March 31, 2011.
In six years at the helm, Jones led the organization through two Commonwealth Games (Melbourne 2006 and Delhi 2010), one Commonwealth Youth Games (Pune 2008), the Canadian bid for the 2014 Commonwealth Games, the renewal of the Commonwealth Games of Canada Foundation, and a period of significant growth for CGC's innovative International Development through Sport (IDS) program.
"I'm very grateful for the opportunities and growth at CGC, but I've felt ready for a change and wanted to find the most suitable time for the transition," said Jones. "With Canada's successful performance at the Delhi 2010 Games last October, the IDS program well positioned for the future, and the beginning of a new quadrennial for CGC, it is the right moment to move on to the next challenge."
"We've known this day was coming and have planned with Tom for his succession," said Dr. Andrew Pipe, President of the Commonwealth Games Association of Canada. "CGC is very grateful for the leadership he has provided to our organization during an important period of its evolution – and in particular during our preparation for, and participation in, the Delhi 2010 Commonwealth Games," noted Pipe. "Tom's significant contributions to the Canadian sport community and passion for sport are longstanding and ongoing. We recognize and support his desire to explore new opportunities and wish Tom and his family well as they embark on new adventures in the months ahead."
Jones leaves Commonwealth Games Canada in a strong position, as an integral part of the high performance sport system in Canada and a leader in sport development throughout the Commonwealth.
"Our partnerships are strong and deep, and I believe that CGC has the support and leadership necessary to realize its goal of playing an increasingly significant and unique role in Canadian and Commonwealth sport," added Jones. "I have thoroughly enjoyed working with the CGC Board and my national and international sport colleagues, and I'm proud of the progress we've made together over the years. Sport in Canada is in a good place at the moment and I look forward to the privilege of contributing to its continued growth."
Jones will remain as CEO until the fiscal year end in order to fulfill his duties through the annual general meeting in March and to provide the Board with an opportunity to carry out the succession process.
"I must thank the remarkably talented and dedicated CGC staff members, who have worked so hard over these last six years," noted Jones. "Sincere thanks, as well, to Dr. Andrew Pipe, for his vision, leadership and support, and to George Heller, Chair of the Commonwealth Games Foundation of Canada, without whom our Commonwealth Games teams would not have been nearly as well supported or prepared. And finally, my thanks to Mike Fennell and Mike Hooper, our Commonwealth Games Federation leaders, and my colleagues in Commonwealth and Canadian sport."
Jones, raised and educated in BC, was a member of Canada's 1984 Olympic Volleyball Team and worked in the BC, European and Australian sport systems before coming to the national scene in Ottawa. He plans to return to his home province of British Columbia to continue his career.
For more information, contact:
Thomas Jones
Chief Executive Officer
Commonwealth Games Canada
(613) 244-6868
tjones@commonwealthgames.ca
Dr. Andrew Pipe
President, Commonwealth Games Canada
apipe@ottawaheart.ca
(613) 761-4756