Squash Duo Aiming for the Podium in Gold Coast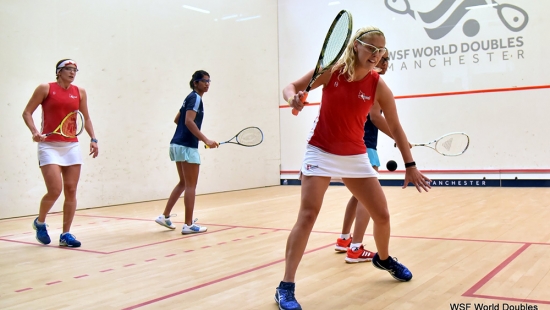 GOLD COAST, AUS – Team Canada's squash duo Samantha Cornett (Deep River, ON) and Nikole Todd (Regina, SK) have high expectations coming into the Commonwealth Games following their fifth place finish at the 2017 World Squash Federation World Doubles Championships in Manchester, England.
Cornett and Todd will represent the red and white in the women's squash doubles and women's singles events at the games. Both women are feeling confident in their training and preparation heading into the games and are looking to best their fifth place doubles finish and land on the podium.
"We're looking to play our best and I know that if we do that, there's a good chance we can challenge for the podium here," said Todd. "For singles play, I don't really have too many goals other than to play my best, but in doubles I'm hopeful for great success."
Todd is playing in her first Commonwealth Games and arrives to Gold Coast ranked 49th in the world. "I've been waiting a long time to break into the top 50, I've been playing consistently and am happy all my hard work is finally paying off."
Cornett is representing Canada at the Commonwealth Games for the third time in her career, last competing in the women's singles and mixed doubles event at the 2014 Games in Glasgow, Scotland.
Cornett is currently ranked 23rd in the world and is looking for big results with Todd. The pair found podium success in the doubles event once before winning silver at the 2015 Pan Am Games. Cornett also won a bronze medals in the singles event.
"I'm excited to be back at the Commonwealth Games for the third time," said Cornett. "I finished in the top 16 in Glasgow and would love to finish higher this time around. In doubles, Nikki and I have proven our strong play before and I'm looking forward to working together to hopefully land on the podium."
The women's singles squash competition is set to begin on April 5th with the doubles competition beginning April 10th.
Mikaela Martin
+61 0421181284