Six Boxers are Getting Ready to Fight for their Spot on the podium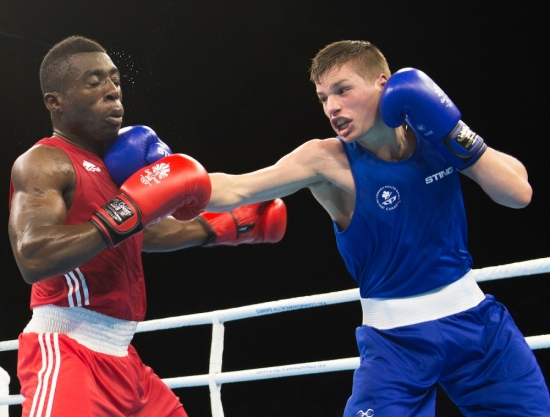 Upon reaching the medals round, Canada's boxing team has had a tremendous round of performances! Indeed, the Canadian contingent has already doubled the medals count in comparison to Glasgow 2014, where Canada had taken previously home a total of three medals: one gold, one silver and one bronze.
"We are really pleased with the team's performance! At the moment, it's just a matter of which [medal] color we will bring back to Canada," said Boxing Canada's High Performance Director Daniel Trépanier in an interview. "We were coming here with a lot of expectations and we met these goals for our team and our program."
With five Canadians competing for a chance to reach the gold-medal bout, the 2018 Commonwealth Games boxing semifinals are set to be one of the most competitive semifinals in the history of the Games. It is interesting to note that this is the first multi-sport Games for all semi-finalists. Here's an overview for what can be expected as the Canadians are hungry to stand on the highest step of the podium:
64 Kg Thomas Blumenfeld VS Jessie Lartey (Ghana)
Thomas is coming off the heels of a solid in-ring performance with a judge score-card of 5-0 in his favor. There is no doubt that Thomas' opponent, Jessie Lartey is a skilled opponent, but the Canadian has his lengthy experience working in his favor. With more than 100 bouts to his resume, Thomas is aiming to take back home a gold medal in his first Major Games in the light welterweight division.
This semifinal takes place on Friday, April 13th at 00:32 EST. Watch it on DAZN.com.
57 KG Sabrina Aubin VS Skye Nicolson (Australia)
A bout not to be missed is the one where Canada takes on Australia. Both athletes have been dominant in their boxing matches so far in the Commonwealth Games. In this awaited dual, the Canadian reigning champion is going up against a hometown boxer who will have the live crowd and the whole country behind her. Nonetheless, the Australian better be prepared as that is exactly what Sabrina wants and expects. She compares boxing to a chess game because it is challenging, which is her favorite aspect of the sport.
Make sure not to miss Canada versus Australia on April 13th at 4:47 EST live on DAZN.com as it promises to be an action-packed bout!
75 Kg Tammara Thibeault VS Lauren Price (Wales)
Although Laurent Price won her quarterfinal bout with an impressive score card (30-27, 30-26, 30-27, 30-27 and 20-28), Tammara is ready to set the pace and affirm her domination in the 75Kg division. Indeed, the 21-year-old Canadian southpaw is a fierce boxer and her height will definitely work in her favor for this thrilling semifinal. The 2017 AMBC Continental champion knows what it takes to reach the top and she is determined to continue her winning streak.
Watch Thibeault versus Price this Friday the 13th at 5:17 EST only on DAZN.com.
56 Kg Eric Basran VS Kurt Walker (Northern Ireland)
This might be the 1st time these two boxers are meeting, but it may not be the last as both boxers have stated that their ambitions were set towards making the Olympic Games. Both athletes have their respective accolades. Eric, having won the bronze medal in 2016 at the Ringside World Championship and is the 2017 Canadian Champion in his division. Both boxers are looking to pass through the semifinal and reach the finals of the Commonwealth Games and come one step closer to their Olympic dream.
Basran will use his favorite aspect of boxing, tactics, in an attempt to get through Walker, this April 13th at 5:32 EST on DAZN.com.
81 Kg Harley-David O'Reilly VS Ato Plodzicki-Faoagali (Samoa)
Harley-David is going to face his toughest competitor to date in the competition as Samoans are known for their resiliency and toughness. Fresh from his walkover victory in quarterfinals, O'Reilly will need to use his strength, strategy and technique to overcome his opponent and make his way to the final round of the competition.
As the Canadian boxer was quoted to say: "the boxer who commits the least mistakes, wins!"
This technical boxing match is a boxing fan's dream and you can watch it live this Friday, April 13th at 7:17 EST on DAZN.com.
Our fellow Canadians are determined on reaching the final round of the competing and winning gold. Boxing Canada wishes all athletes the best of luck and to stay healthy during the semifinals! #ShareTheDream
Didn't have a chance to catch up on the action of Day 7? Here's a recap of the Canadians' performances over day 7:
60 Kg Caroline Veyre VS Yetunde Odunuga (Nigeria)
The 60Kg Canadian boxer had a tough competitor in Nigerian Yetunde Odunuga for her opening bout in the competition and despite her vast experience, Veyre wasn't able to rival with her opponent. Yetunde knocked her down once in the second round and twice in the third round, afterwhich the referee called an end to the bout and announced the Nigerian as the victor.
"I was too excited and didn't sleep last night. I believe I did well in the first round. Afterwards, I started to feel physically tired, I felt my energy level went down and I was not well on my legs because of fatigue. However, I will be here to support our athletes until the end. With the team that we have, we definitely have the chance to win gold," mentioned Caroline Veyre after her boxing match.
81 Kg – Harley-David O'Reilly VS Ulrich Rodrigue Yombo (Cameroon)
Canadian boxer Harley-David O'Reilly secured a 6th medal for his team by walkover, as his Cameroonian opponent was a no-show at the daily weigh-in for undisclosed reasons.
Fully rested, O'Reilly has moved on to the semifinals, on April 13th.
69 Kg Marie-Jeanne Parent VS Sandy Ryan (England)
Marie-Jeanne takes home the bronze medal after she bowed down to her opponent, Sandy Ryan, in the semifinals last night. It was hard bout for the Canadian and despite her best efforts, the judges scored the bout 4-1, in favor of Sandy Ryan.
"I gave it my all and the 3rd round was my best one," stated Marie-Jeanne in her post-bout interview. "I've enjoyed my experience at the Games and I'm proud of my performance. I was a late addition to the team and I'm bringing back a bronze medal at my first participation in a Major Game! It's part of the process; you win some, you lose some. I will go back home and work even harder now!"

Mikaela Martin Martinmikaela@hotmail.com +61 0421 181 284