Ryan Cochrane wins silver at Santa Clara International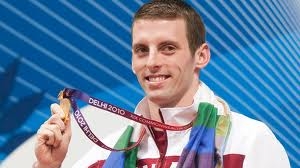 SANTA CLARA, Calif.(May 31, 2012) - Olympic and world championship medallist Ryan Cochrane of Victoria won the silver medal on Thursday in the men's 800-metre freestyle to open the Santa Clara International swimming competition.
Park Tae-hwan of South Korea set a meet record clocking 7 minutes, 52.07 seconds, the fourth-fastest time in the world this year. It was just under Canadian Ryan Cochrane's old mark of 7:52.18 set last year. Cochrane finished second in 7:57.19, while Ryan Napoleon of Australia was third at 7:59.10.
''Ryan (Cochrane) is in the midst of a heavy workload right now and this is where he is at,'' said Canadian Olympic team coach Randy Bennett. ''His training right now is going exceptionally well and were seeing do a lot better in so many areas.
''He is really focused and has a professional approach.''
Several other Canadian Olympians are at the competition including Julia Wilkinson of Stratford, Ont., Erica Morningstar of Calgary, Amanda Reason of Windsor, Ont., Colin Russell of Oakville, Ont., and Scott Dickens of Ancaster, Ont.