Nedow wins shot put BRONZE; Warner and LePage on top of decathlon leader board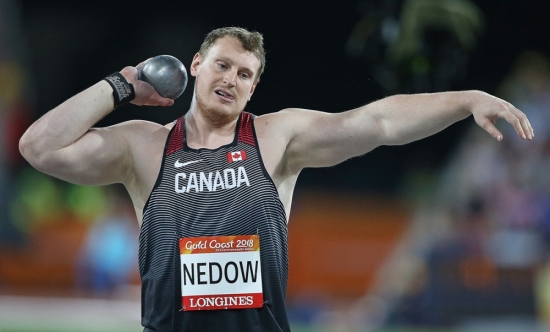 The decathlon, arguably the most gruelling event of the Gold Coast 2018 Commonwealth Games, got underway this morning at Carrara Stadium. The two-day event features 12 athletes from seven different countries competing in 10 of the toughest track and field events.
Defending Champion Damian Warner shot out of the blocks in the 100-metres crossing the finish line in 10.29 seconds, proving to the world he's on top of his game. Warner would go on to record a personal best in the shot put (15.11 metres – first time in his career he's thrown more than 15 metres), a season's best in the long jump (7.54 metres) and high jump (2.04 metres) and crossed the finish line in the 400-metres in a time of 48.12 seconds, first in his heat. Warner will head into day two of the competition as the leader with 4,509 points.
First-time Games participants Pierce LePage and Taylor Stewart joined Warner in the two-day event. LePage, who sat in the top three all day and recorded a season's best in long jump (7.44 metres), heads into day two in second place with 4,380 points. Stewart, who recorded a personal best in the shot put (15.39 meters), withdrew from the competition following the morning session due to injury.
In men's high jump qualifications, Django Lovett and Michael Mason entered the competition at 2.10 metres. Lovett, making his Commonwealth Games debut, cleared the bar on each attempt through 2.21 metres easily qualifying for the final, while Mason – the 2014 Bronze medallist – needed his third and final attempt at 2.21 metres to secure his place in Wednesday's final.
Wheelchair racers Tristan Smyth (third in Heat 1) and Alexandre Dupont (fourth in Heat 2) competed in the men's T54 1500-metre heats. Both races produced Commonwealth Games record times setting the stage for an exciting final tomorrow night.
When Kyle Whitehouse planted his feet in the blocks, he had one thing on his mind, a new personal best and national record in the men's T38 100-metres. Whitehouse crossed the finish line in fourth place, 0.23 seconds shy of the bronze medal, in 11.58 seconds shaving 0.01 seconds off his Canadian record.
Sitting in fifth-place with one throw left in the men's shot put final, Tim Nedow stepped inside the circle and delivered his biggest throw of the night – a new personal best of 20.91 metres to secure back-to-back Bronze medals at the Commonwealth Games.
In the final event of the night featuring Canadian athletes, the women's 10,000 metres, Natasha Wodak gave it everything she had. Running with the lead pack, Wodak started to kick with 800 metres to go battling for a medal position until the end. Wodak crossed the finish line in fifth place in a time of 31:50.18, while teammate Rachel Cliff came in ninth.
Gabriela Stafford was also in action today coming up short in Heat 2 of the women's 1500-metres with a time of 4:09.59.
Here's what the athletes had to say:
Damian Warner following Day 1 of the men's decathlon
Everything going according to plan on day one
"My goal for this decathlon is to come out here and execute. Clear my opening heights and clear bars I'm supposed to make without any challenge. I did that today. A solid day overall. The 400 was just as hard as I remember it. I'm happy with today."
On track to beat the Games record
"Right now, I'm just taking it one step at a time; it worked for me today. Tomorrow, we'll start with the hurdles, see how I'm feeling, and if it's there when it comes down to the 1500 metres I'll go for it. But right now I'm just trying to win the competition."
Pierce LePage following Day 1 of the men's decathlon
Thoughts on a solid first day
"I feel better than I usually do, so it's a good sign. I think the biggest events for me tomorrow will be the hurdles and pole vault. If I can do well in those events, everything will be set-up for a good score."
Kyle Whitehouse (4th place) following the men's T38 100m final
Happy with fourth
"Yes, I am. I'm happy with fourth place. I was looking to beat myself, beat my record, and I did that. I now hold the fastest two times [by a Canadian sprinter] in the men's T38 100-metres."
Tim Nedow (Bronze) following the men's shot put final
Saving the best for last
"I'm pretty happy with that throw. I'm a pretty consistent guy, every throw is about 20.50 metres, but I knew this competition was going to be pretty strong. As you can see, second through sixth was all over 20.50 metres. I'm pretty happy with how that turned out right now."
On his nerves and mental state sitting in fourth/fifth place
"I know what it takes to get a medal. I was pretty pumped up; I wasn't nervous at all. I had to go for it."
Natasha Wodak (5th place) following the women's 10,000m final
On her battle until the end
"With three laps to go, I was like 'you are getting a medal today'. I gave it everything I had and with 300 metres to go I thought I could do it, but then this girl got by me. I didn't give her an inch, I fought right until the end. I'm so pleased with my performance."
Rachel Cliff (9th place) following the women's 10,000m final
Thoughts on the race and the slow pace
"I was just trying to stay patient through six or seven kilometres and the moves happened exactly when my coach said they would happen. It was a tough race, an inconsistent pace, and it was hard to stay focused."
First Games and what she'll take away
"It's been a huge learning experience. Being with people in the Village and those from different event groups, it's been a lot of fun – even a little distracting – and I'm thankful for the opportunity."
Top 8 finishes
Mohammed Ahmed, 5,000-metres – Silver
Tim Nedow, shot put – Bronze
Adam Keenan, hammer throw – 4th
Benjamin Thorne, 20km race walk – 4th
Natasha Wodak, 10,000 metres – 5th
Evan Dunfee, 20km wace walk – 8th
For more on Team Canada and the Gold Coast 2018 Commonwealth Games, visit www.athletics.ca/gc2018.