Mohammed Ahmed wins SILVER in men's 5,000m; Thorne, Dunfee race to Top 8 finishes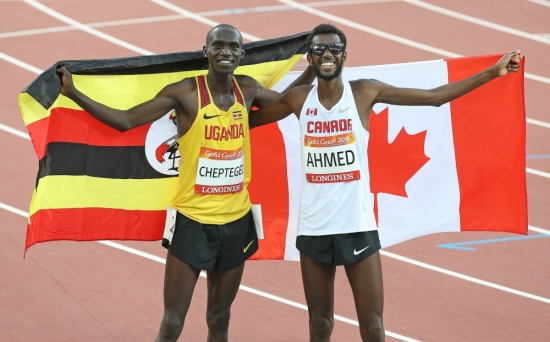 Sunday, April 8
Hot, humid conditions greeted Canada's race walkers Benjamin Thorne and Evan Dunfee at Currumbin Beachfront when the clouds parted ways early this morning in Gold Coast. Thorne tucked himself in with the leaders early on, finding himself out front at the 12-kilomtre mark, but slipped back to fourth 14 kilometres in where he would ultimately finish the race. The sub-four minute pace proved to be too much for Dunfee, Canada's 50 kilometre race walk specialist, who crossed the finish line in eighth.
Making his Commonwealth Games debut, Adam Keenan stepped inside the hammer cage hoping to advance to the final round of throws. He did just that with a throw of 68.29 metres, before launching a throw of 72.15 metres – his second-best throw to date – to secure fourth-place.
After finishing sixth at the 2017 IAAF World Championships in the men's 5,000-metres, Mohammed Ahmed had his eyes set on the podium in Gold Coast. Putting his race strategy to work, he quickly found himself at the front of the pack, setting a slow and steady pace. With two laps to go he kicked it into gear, but Uganda's Joshua Kiprui Cheptegei got a step on Ahmed with 200-metres to go. Ahmed would have to settle for silver, Canada's first medal in athletics at the Games.
Tim Nedow was also in action at Carrara Stadium, qualifying for the men's shot put final with toss of 19.21 metres on his first attempt. The final will take place Monday at 8:25 p.m. local time (6:25 a.m. ET).
Sam Effah, Oluwasegun Makinde and Gavin Smellie competed in the men's 100-metres heats. Smellie was the lone Canadian to advance to the semis, but his time of 10.32 seconds wasn't enough to make the final.
Here's what the athletes had to say:
Benjamin Thorne (4th place) following the men's 20km race walk final
Initial thoughts on his performance
"I'm pretty happy. I came into the Games thinking I was in pretty bad shape; work out after work out wasn't going my way. I'm pleasantly surprised, to be honest. I felt pretty good [through the first half of the race] until I started to drop off. I was dying [near the end] and I started to hope that someone would be disqualified. But overall, I'm pretty please with my performance today."
The course and the turnout in Gold Coast
"The course is right up there with the best courses I've ever raced on. It was an exciting race, and a pretty big crowd for a race walking event."
Even Dunfee (8th place) following the men's 20km race walk final
General thoughts on today's race
"Things went out pretty much as expected, everyone together in a pack. The pace was quicker than I thought it would be and the pace ramped up earlier than I thought it would. I knew fitness-wise that I wasn't capable of doing sub-four minute kilometres, but I didn't want to lose the group so I stuck with it and it cost me in the middle of the race. I couldn't maintain that pace, no reason other than I'm just not there. I don't think anything else went wrong today, I just wasn't good enough to compete with those guys."
Takeaways from his performance
"I'm not a 20-kilometre walker; I needed another 30 kilometres. Twenty kilometres is such a different animal. You have to be riding that red line between aerobic and anaerobic pretty much the whole way. I tried to change-up my training in preparation for this race to do that and clearly, I was missing something. I'm not in a horrible spot heading into a 50-kilometre race at the World Team Championships. I'm looking forward to getting back to my distance."
Adam Keenan (4th place) following the men's hammer throw final
His thoughts heading into the final
"It was a roller-coaster of emotions. I was carefully watching the scoreboard. My first throw, the official called a fouled at the back of the ring, which is fairly uncommon for me. I threw 68.29 metres on my second attempt, which pushed me into the final. After making the final, I was able to get over 70 metres a couple of times. And then the last one, 72.15 metres – it was the second best throw I've ever done. I'm really happy."
On his Commonwealth Games experience
"This experience has been incredible. This is the strongest Commonwealth Games there has ever been in the history of the event, especially for the depth, and just to be part of this group… it's indescribable. Fourth place, I'm feeling pretty amazing."
Mohammed Ahmed (Silver) following the men's 5000-metre final
On his strategy
"My strategy was to go to the front and assess the situation. Pretty early on it was clear that it was a very slow pace. At one point I was at the back, and then for the rest I was at the front. I [told myself to] 'just stay slow, stay here, buy your time, wait for Cheptegei'. I knew he was coming. And he jumped me a little bit. I wanted to be at the front for the last two laps and he wasn't letting me have it. So, I just bided my time, and the last 200-metres he squeezed me a little bit. I was trying to get off his shoulder the whole time and I couldn't get past him."
His thoughts on Silver
"I'm happy with a silver medal. It's my first time on the podium and my goal here was to start a winning culture of being on the podium from here on out. I think I did that. It's a step in the right direction."
Gavin Smellie following the men's 100-metre semi-final
The 100-metre semi-final and looking ahead to the men's 4x100-metre relay
"It was a tough heat. I drew one of the best semis. It was my season opener for 100-metres, so I can't be too hard on myself. I'm looking forward to the relay in a couple of days. I'm sure it will go much better than this 100-metres."
Top 8 finishes
Mohammed Ahmed, 5,000-metres – Silver
Adam Keenan, hammer throw – 4th
Benjamin Thorne, 20km race walk – 4th
Evan Dunfee, 20km wace walk – 8th
For more on Team Canada and the Gold Coast 2018 Commonwealth Games, visit www.athletics.ca/gc2018 or www.commonwealthgames.ca.