Mia Vallée and Margo Erlam earn bronze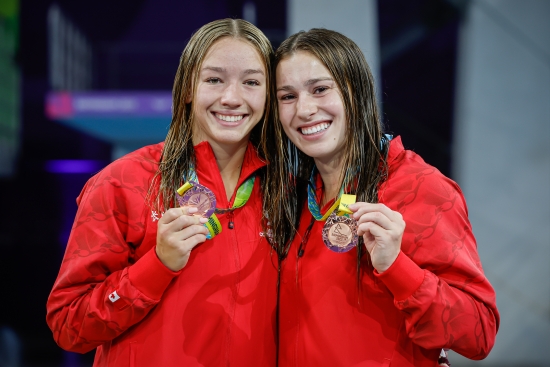 August 6, 2022 – Second day of competition, second medal for young diver Mia Vallée at the Commonwealth Games in Birmingham, England. This time, she won bronze alongside her partner Margo Erlam in the women's 3m synchro event.
The Canadian pair were awarded 297.00 points for their five dives. After the first dive, the Quebecker and Albertan were sitting in second spot. A less than perfect execution on their second dive had them sliding one spot, to third. However, they were able to protect their bronze medal spot and finish on the podium.
Australians Maddison Keeney and Anabelle Smith were victorious with 316.53 points. Malaysians Yan Yee NG and Nur Binti Sabri secured second place with a mere 3-point advantage over the Canadians, in third spot.
"When we both qualified for the Commonwealth Games, I don't think either of us had a synchro medal on our radar. To think back to that moment and to compare it to today, with a bronze medal hanging from our necks, it's really exciting", shared 21-year-old Vallée.
Despite the fact their second dive was not as good as it had been in training, both divers agreed that they put down a solid performance.
"We are both proud of how we did. It was the best list that we have put together since we started working together", Vallée shared.
Margo Erlam echoed her sentiments, highlighting the strength of their teamwork.
"It was the first time that we executed a dive list that well. I've been struggling a little bit this week. It's the end of the season, I've had an injury, but Mia is really supporting me through all of this. It's so amazing to see where our chemistry can take us", she said.
"I am really pleased with our synchro team. The future looks bright for us in this Paris Olympic cycle and beyond", added Vallée.
Sunday, both divers will dive in the individual 3m event. This medal only makes Margo Erlam want more.
"I've got even more confidence now going into the 3m individual event. I've been diving competitively since I was 4 years old. I am passionate about this. I am motivated to push and keep fighting, even when it gets hard", she shared.
For her part, Vallée will aim to climb the podium for a third time in as many events. In addition to her synchro bronze, Vallée was crowned champion at 1m on Thursday.
"I feel really great! I hope to get on that podium for the third time in the 3m springboard event tomorrow. I have high hopes for that event as well", stated Vallée.
Bryden Hattie in the top 10 at 3m
The only Canadian in the men's 3m springboard final, Bryden Hattie finished 9th with a total of 373.70 points.
The podium was crowded with Englishmen. Daniel Goodfellow took gold with a solid 484.45, beating out his compatriots Jordan Houlden (465.15) and Jack Laugher (462.30).
Montreal's Cédric Fofana was eliminated in the preliminary round. The 18-year-old diver finished 14th with 272.60 points. Only the top 12 advanced to the final.
Disappointment on platform for McKay and Toth
The 10m synchro event was a roller-coaster of emotions for Caeli McKay and Celina Toth. After their fourth dive, the pair was sitting pretty in second spot but came up short on their last dive and had to settle for fifth place.
Both divers executed their dives well but mistimed their take-offs, effectively negating their synchro scores and costing them a spot on the podium.
They finished the evening with a total score of 286.08 points.
Australians Charli Petrov and Melissa Wu won gold with 306.00. Two English pairs flanked them on the podium: Eden Cheng and Andrea Spendolini Siriex (298,86) took silver, and Robyn Birch and Emily Martin squeaked out bronze with 287,88 points.
The competition continues Sunday in Birmingham with the men's 10m platform and the women's 3m springboard.
For complete results visit : https://results.birmingham2022.com/