Men's Artistic Gymnastics team takes silver at 2018 Commonwealth Games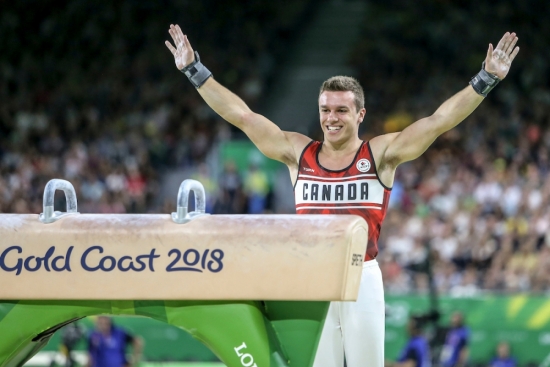 GOLD COAST, AUS (April 5, 2018) – The Canadian men's artistic gymnastics team showed up to impress on Thursday at the 2018 Commonwealth Games in Gold Coast, Australia and finished the day with a silver medal around their necks and 11 finals qualified for over the next few days.
The team, composed of Zach Clay of Coquitlam, BC, Rene Cournoyer of Repentigny, QC, Scott Morgan of Vancouver, BC, Cory Paterson of Montreal, QC, and Jackson Payne of Calgary, AB finished the night with a total of 248.650 – 10 pts back of the gold medallists from England, and eight points in front of the bronze medal-winning team from Scotland. The silver is an improvement on the bronze medal the team took home from the 2014 Commonwealth Games in Glasgow, Scotland.
"Coming from the last Games where we came third – the fact that we came to these Games and got silver means everything," said Clay who also qualified for the pommel horse and rings finals, and was part of that bronze medal winning team in 2014. "We definitely improved a lot and we just had a solid team this year."
Leading the team in terms of finals qualified for is Cournoyer, who was the lone athlete to compete on all six apparatus, and who qualified for the all-around final in third position. He also qualified for the vault, high bar, and parallel bar finals.
"It's so exciting – I had no expectations coming here, but I knew that there weren't that many all-arounders here, but scoring that high in the ranking is so nice. I just came in and competed the way I train, and I did what I knew I could do and I just had fun."
Morgan, who entered the competition as the defending gold medallist from the 2014 Games on rings and vault, has qualified for both of those finals, as well as the floor final, an event he finished second on in 2014.
Paterson, who returned to the senior national team this year after competing in the NCAA for the last few years at the University of Iowa, qualified for the high bar and parallel bar finals – meaning there is at least one Canadian athlete in every single final to be contested over the next few days.
"I'm super proud of these guys," said Tony Smith, the national team director for men's artistic gymnastics at Gymnastics Canada. "We had a couple of rough spots, but they came back and they covered for each other and did everything a team is supposed to do. It was an exceptional effort and every single guy contributed to this success and it was fun!
We achieved our goals -- we have a guy qualified for every final, and everybody is sitting in a decent spot to challenge for a medal in their events so I'm really looking forward to finals now – we're going to have a busy week!"
Competition continues tomorrow with the team final and individual qualifications for women's artistic gymnastics. The all-around finals for both men and women take place on Saturday, and then the apparatus finals will take place on Sunday and Monday.
For complete results visit: https://results.gc2018.com/en/artistic-gymnastics/results-m-qual-000003-.htm
Julie Forget
+61 421 006 831
Photo: Glenn Hunt/Gymnastics Canada