Making a Difference - Commonwealth Games Canada Introduces 2014 SportWORKS Officers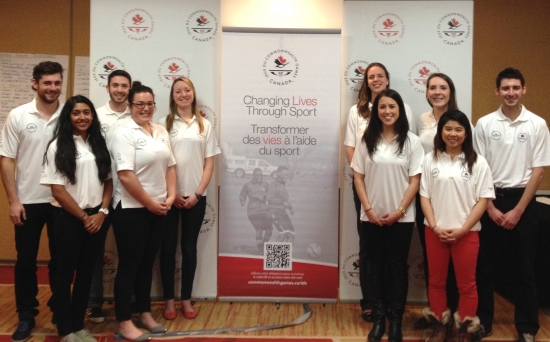 CGC continues its groundbreaking work in changing lives through sport in Africa and the Caribbean

OTTAWA, December 18, 2013 – Commonwealth Games Canada (CGC) is proud to introduce the ten new SportWORKS Officers selected to spend the next year making a difference (and becoming different) through sport, in nine countries in Africa and one in the Caribbean.
These Officers, part of CGC's SportWORKS program, will spend a year in their respective country's Commonwealth Games Association (CGA), building organizational capacity thorough various activities such as marketing and communications, office and governance, membership relations, sport development and games team preparations.
A joint initiative between Commonwealth Games Canada, the Commonwealth Games Federation and Olympic Solidarity, the program debuted in 2001, and since then, over 130 young Canadians have travelled to 30 developing countries to assist local CGA's.
Dr. Andrew Pipe, President of CGC, stated: "Thousands of people and hundreds of communities have been positively impacted by our work in developing Commonwealth countries, using the transformative power of sport. CGC is proud to support our fellow CGA's around the world with this capacity-building program. I congratulate our new Officers on their appointments and thank them for the difference they will make in their respective communities."
The Program focus on Africa in 2014 is due to a very busy schedule of Games in that region, including the Glasgow Commonwealth Games next July, as well as the African Youth Games in Botswana in May and the Youth Olympic Games in Nanjing in August 2014.
Colin Whitmee, CGC's Manager of International Programs, was on hand to introduce the 2014 Officers, saying: "The Capacity Support Program provides exceptional young Canadians the opportunity to grow both personally and professionally over the course of a one year placement abroad. In the process they leave behind a legacy of leadership, programming and infrastructure that will continue to impact their host organisation for years to come."
CGC is the only Canadian sport organization that delivers both high performance sport and sport for development programs in Canada and abroad. CGC leverages the transformative powers of sport to inspire Canadians to make a difference in communities across Canada and Commonwealth.
The 2014 Capacity Support Program Officers are:
Jennifer Brown – Botswana (Clarenville, NFLD): Originally from Newfoundland, Jennifer has an honours degree in Kinesiology from McGill and a Masters in Coaching Studies from the University of Alberta. She has worked for the past two years with the Canadian Athletics Coaching Centre, and is an NCCP certified Track and Field coach.
Li-Ann Yap – British Virgin Islands (Toronto, ON): Li-Ann has a Bachelor of Physical Education and Health from the University of Toronto. She has worked with several Canadian sport organisations, including Parachute, CAAWS and the COC. She has spent a significant amount of time abroad, including extensive travel throughout Asia.
Patsy Joe – Lesotho (Toronto, ON): Patsy has a Masters in Sport and International Development from the University of Brighton, UK. Patsy's dissertation took her to Cape Town South Africa, where she worked with Coaching for Hope to develop their monitoring and evaluation processes.
Jared Kope – Mozambique (Tofield, AB): Jared is a Master of Arts, Human Kinetics candidate at the University of Ottawa, and has a Bachelor of Physical Education and Recreation from the University of Alberta. Jared's work with the Play Around the World program brought him to Cambodia, where he organised projects at select orphanages for children with disabilities. He has also worked with Right to Play and Play Around the World North in Northern Canada.
Shalini Krishnan – Namibia (Toronto, ON): Shalini has a Bachelor of Kinesiology from the University of Western, with Honors Specialisation in Sports Management. She has worked on a number of high profile events, including Hockey Night in Canada's Play On and the ISU World Figure Skating Championships. Shalini's studies brought her to both Australia and Spain.
Tania Anctil – Seychelles (Québec, QC): From Quebec City, Tania has a Public Relations degree from the Université du Québec à Montréal. She has a great deal of communications experience, having served as Mission Staff for both the Canada Games and Quebec Games.
Alex DiBiase – Swaziland (Amherstburg, ON): Alex has a Master of Human Kinetics in Sport Management from the University of Windsor. For three years, Alex served as President of AIESEC, in charge of a youth leadership development and Global Internship Program.
Rachelle Briscoe – Uganda (Kelowna, BC): From Victoria, Rachelle is a President's Scholarship and Dean's List Recipient from Trinity Western University's Bachelor of Human Kinetics in Kinesiology, where she competed for the varsity basketball team. Rachelle has spent time in Kenya, volunteering in a medical clinic and teaching biology classes.
Jennifer Leak – Zambia (Ottawa, ON): From Nepean, Jennifer has a MA in Sport Business from Leeds Metropolitan University in the UK and a Honours BA in Sports Management from Brock University. Jennifer is a registered Skate Canada Professional Figure Skating Coach and has worked with Girls Kick It in Uganda as their Social Media and Online Fundraising Coordinator.
Evan LaRocque – Zimbabwe (Toronto, ON): Evan was a four-year starter on the men's golf team at High Point University in North Carolina, where he was a member of the Student-Athlete Advisory Committee. In the past year, Evan has travelled to Cordoba, Argentina where he coached at a youth sports academy. He also traveled to Israel for a cultural education program.
ABOUT COMMONWEALTH GAMES CANADA
Commonwealth Games Canada (CGC) is the franchise holder for the Commonwealth Games and Commonwealth movement in Canada, and an active, contributing member of the Canadian sport community. The mission of CGC is to strengthen sport within Canada and throughout the Commonwealth by participating in the Commonwealth Games and by using sport as a development tool. Visit www.commonwealthgames.cafor information.
Canadian Commonwealth athlete & SportWORKS Officers stories: www.sportcafe.ca/commonwealth
CGC's monthly e-newsletter, "Commonwealth Cappuccino", features the best stories from Canada's athletes and SportWORKS Officers, subscribe via www.commonwealth.ca
-30-
For additional information:
Colin Whitmee
Manager of International Programs
Commonwealth Games Canada
613-244-6868 x 228
colin@commonwealthgames.ca
For interview requests:
Sylvie Bigras
CGC Media Relations
(613) 298 1625
sylvie@magma.ca