Giving hope to Zambian girls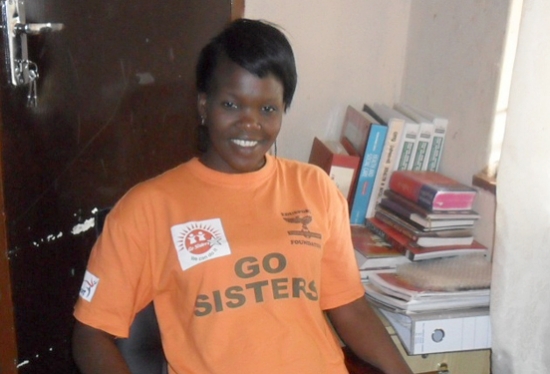 Sharon Museke - Go Sisters, Zambia
I have been involved with Go Sisters since 2002, when I taught at a community school in the Chawama compound in Lusaka, Zambia and undertook peer-leader training. I was inspired by the number of girls who were interested in the program because at that time, girls were not allowed to play football and there were no activities for girls to participate in. The Go Sisters program gave them hope—and the chance to participate in sport and other forms of physical recreation.
Growing up in a shanty compound like Chawama, where tens of thousands of people are squeezed into a few square kilometres, I witnessed a lot of bad things like drinking, drug abuse and early pregnancy. Lack of knowledge about HIV and AIDS among youth—especially girls—was the talk of the day.
At first it was not easy to get a lot of girls to join Go Sisters. We needed support from parents to allow their children to participate in the program. In our communities, girls are not usually allowed to wear shorts that expose their thighs to boys and men. One of my worst moments as a peer leader came when parents thought I was trying to promote prostitution by allowing their daughters to play football and put on short sports attire. We needed to find a way out of this, so we started conducting parent forums and formed a parents' committee to challenge the myth about girls becoming prostitutes if they play sports. I am happy now that we are receiving a lot of support from parents, although it was a long journey for them to understand the impact and benefits of the program.
Go Sisters is unique because it is not only about sport, but about changing how people see girls in their communities and the nation at large. I have learnt that it does not take one day for people to really understand the good things you are doing—they have to see results. And these results are now having an impact on a lot of girls and parents who are direct and indirect beneficiaries of the program. A lot of girls have benefited from our school sponsorships, our HIV/AIDS training workshop, and some have found employment through the life and sport skills they acquired through Go Sisters. Others have played for the Zambian National Football Team, and most go on to become leaders at school, in clubs or in churches.
"One of my worst moments was when parents thought I was trying to promote prostitution by allowing their daughters to play football and put on short sports attire."
– Sharon Museke, Go Sisters, Zambia
I am looking forward to seeing more girls stand up and make decisions that will help them develop as people. I want to thank the local and international funders, like Commonwealth Games Canada, that have supported this powerful program, and hope that more partners will come on board to work with Go Sisters to improve the lives of girls in Zambia and Africa as a whole.