Four more gold for Canada at Mare Nostrum international swimming meet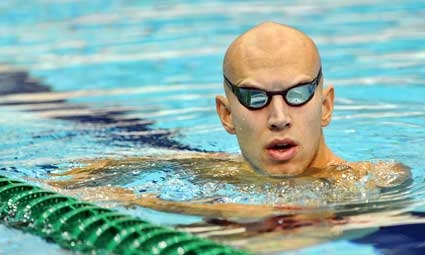 June, 03, 2012 BARCELONA – Brent Hayden of Mission, B.C., and Victoria Poon of Montreal each earned their second gold medal in two days on Sunday conclude the opening stop on the Mare Nostrum swimming tour.
Sinead Russell of Burlington, Ont., and Katerine Savard of Pont-Rouge, Que., added to the gold medal count as well. All four victors are preparing for this summer's Olympic Games.
In the men's 50 freestyle, Hayden touched the wall first in 22.47. Hanser Garcia of Cuba was second in 22.63 and Sergey Fesikov of Russia third in 22.64. Luke Peddie of Edmonton was seventh in 23.35.
Poon, tuning up for her second Olympics, clocked 55.42 seconds in the 100 freestyle with Jessica Lloyd of Britain second in 55.49 and Hanna-Maria Seppala of Finland third in 55.79. Sandrine Mainville of Boucherville, Que., was sixth and Chantal Van Landeghem of Winnipeg eighth.
In the women's 200 backstroke, Russell was the winner in 2:11.20 with Karin Prinsloo of South Africa second in 2:11.73 and Barbara Jardin of Montreal third in 2:12.56.
In the women's 200 butterfly, Savard finished ahead of two British swimmers clocking 2:10.03. Audrey Lacroix of Pont Rouge was fourth in 2:11.80 less than a second from the podium. Noemie Thomas of Vancouver was sixth.
In the women's 50 butterfly, Silvia DiPietro of Spain won the gold medal 26.55 edging Savard in second at 26.86. Thomas was sixth.
In the women's 100 breaststroke, Kierra Smith of Kelowna, B.C., notched a second individual medal placing third in 1:09.92. Less than a second separated the top-three finishers. Ashley McGregor of Pointe-Claire, Que., was seventh and Erika Seltenreich-Hodgson of Ottawa eighth.
Jardin earned a second bronze in the 400 freestyle while Seltenreich-Hodgson was also third in the 200 IM.
Charles Francis of Montreal was fifth in the 100 backstroke and Chad Bobrosky of Calgary eighth in the 200 freestyle.