Former intern named CGC's International Internship Programs Officer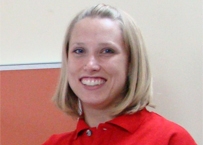 A year ago, Jennie Petersen was in the midst of a 14-month placement in Trinidad and Tobago as part of Commonwealth Games Canada (CGC)'s innovative Capacity Support Program (see story, above). Now, the Calgary native is moving into a full-time role with CGC as its International Internship Programs Officer.
In her new position, Petersen will be responsible for the administration, development and implementation of CGC's International Development through Sport internship programs, including the Capacity Support Program (CSP), South2North (S2N) and the new Sport Leaders Abroad Program (SLAP). One of more than 100 applicants for the position, she will report directly to Carla Thachuk, CGC's Director of International Programs.
"We're thrilled that Jennie has accepted this position with CGC," says Thachuk. "During her Capacity Support Program internship, and more recently as Calgary Race Director for Commonwealth Games Canada's inaugural IDS Game of Life Run/Walk, Jennie has demonstrated tremendous leadership and enthusiasm. Her skills and experience will be of great benefit to CGC as we work to further develop our internship programs."
Petersen, who grew up in Calgary, has been working with Alberta Health Services as an addiction-prevention consultant since her return from Trinidad & Tobago. She's very much looking forward to rejoining the world of International Development through Sport.
"I've been involved in sport my whole life and it's a part of who I am," says Petersen, a former competitive rugby player. "I had a fantastic experience in the Caribbean and the idea of being involved in that kind of work again is really exciting for me."
Having been a CGC intern herself, Peterson will bring a unique perspective to the job. "It will help me to understand what the interns are going through and what kind of support they might need."
Petersen holds a Master of Science degree with a specialization in Public Health from the University of Calgary, where she also earned a Bachelor's degree in Kinesiology. She will join CGC on a full-time basis in July, and will work part-time while wrapping up projects in her current job.
Petersen replaces Hannah Juneau, who stepped down at the beginning of February to pursue other career opportunities.