Flash Quotes – Daryl Conrad Winner of Weightlifting 85kg Group B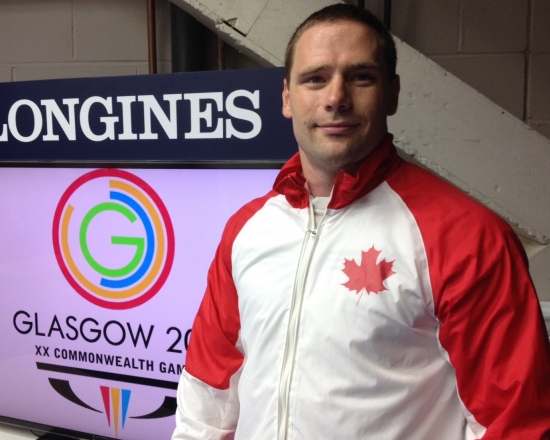 With a personal best career weight of 301KG, Daryl Conrad of Winnipeg Manitoba was a heavy favourite within the B group of the men's 85kg.
In his first snatch attempt, Corad was successful at lifting 128kg. He then executed a lift of 133kg with efficiency on his second attempt. On his third attempt he requested that the weight be increased to 135kg, then 137kg and finally 138kg, creating screams of support from the energetic crowd, but was unsuccessful at that weight and remained with a weight of 133kg heading into the clean and jerk portion of the competition.
The Hercules Training Club athlete lifted 160kg on his first clean and jerk, and then asked for the weight to increase to 165kg for his second attempt. He was successful, much to the thrill of the crowd. Going for it, for his third attempt, once again the automatic increase wasn't enough, so he asked for an increase to 169kg which would be a personal best for Conrad. The crowd gave an amazing amount of support, but it wasn't a successful lift.
With a final total of 298, just 3kg off his best career weight, Conrad was happy with his Games performance.
"I think it was a good performance today, I was a later selection, so all things considered it's tough to change from volume and speed to intensity, but overall I was happy with it."
The weightlifting athlete obviously fed off the crowd and enjoyed the support a crowd like that at the Commonwealth Games could provide.
"It was the first time with a crowd like this, I was a bit too fired up on my last attempt there and have to learn to take it down a notch, but it was good. After the A group lifts, I hope to rank top 6, top 7, but I am happy with how I did with 4 for 6 lifts."
The group A session begins at 19:30 today with Sherbrooke Quebec's Pascal Plamondon competing for medals.