Teaching Olympic Values in St. Vincent and the Grenadines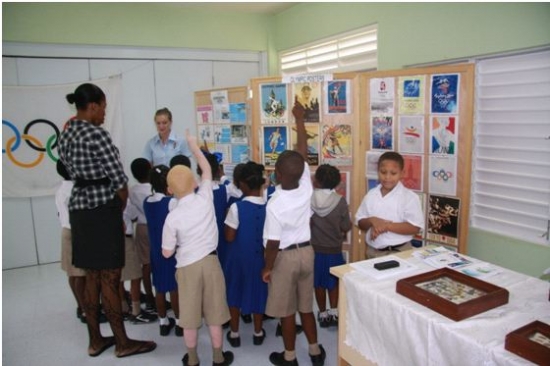 Teaching Olympic Values in St. Vincent and the Grenadines
by CGC Sport Officer Stephanie Johnson
The modern revival of the Olympic Games in the 19th century was an educational project. Pierre de Coubertin launched a campaign to celebrate the health, values and athletic talent of youth in an effort to honour the individual athlete and unite communities around the world. With this, I was inspired to remind children the roots of the Olympic movement; Friendship, Respect and Excellence. I hope with a sport context children will come to understand what these words really mean and how they can practice them on and off the field of play.
As the London 2012 Olympic Games quickly approaches the St. Vincent and the Grenadines National Olympic Committee (SVGNOC) launched its Road to London 2012 campaign. The campaign involves Olympic Education programmes aimed at children, youths, adults, athletes and coaches. Its objective is to facilitate the creation and dissemination of materials on Olympic Education and to announce the upcoming 2012 Olympic Games in London, England. A nationwide Olympic Exhibition is part of this campaign. The mobile exhibition consists of a presentation showing facts, pictures and knowledge of the Olympic/Paralympic Games and Olympic Movement along with a collection of Olympic memorabilia. For the past 5 months, I travelled with this exhibition teaching in one school per day, reaching more than 3,000 school children and teachers.
Some children are completely unaware of what the Olympic Games are while some have watched it on TV or have been taught in their physical education classes. Whatever their knowledge base, they understand what it is to play sport and be active, this gives me the stepping stones to explain to them what the three Olympic Values are and what they truly mean. My hope is to inspire children to perform the absolute best they can at everything they do. The idea of excellence and respect can go a long way when shaping a child's future. Knowing that their achievements are recognized in and outside of the sporting world can inspire them to dream big. This knowledge can help mould a society of children who grow up understanding the value and reward of hard work and dedication.
With just one year, I was unable to reach every school, but the campaign will continue as I leave my placement. The sustainability of this project relies on the amazing volunteers and their dedication to the program. They have given me the support to reach as many schools as possible and have committed to the exhibition's progress when I leave.
There is a certain unique value working with children in sport. Their fearless drive and positive attitude is an inspiration. I hope I am able to work with youth when I return to Canada.