Scott Stevenson to serve as interim CEO at Commonwealth Games Canada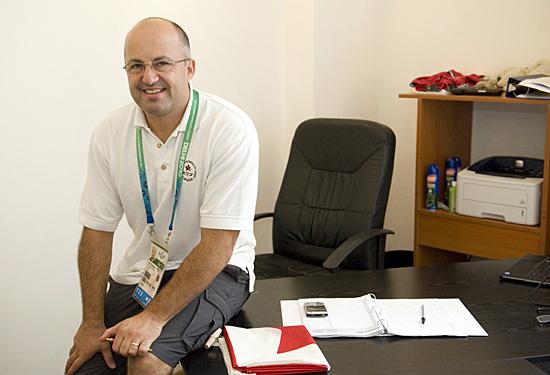 FOR IMMEDIATE RELEASE
OTTAWA, April 7, 2011 – Commonwealth Games Canada Director of Sport, Scott Stevenson, has been appointed interim Chief Executive Officer until a replacement can be found for the outgoing CEO, Thomas Jones.
In January, Jones announced his intention to step down from the CEO position at the end of March in order to pursue career opportunities in his home province of British Columbia.
During six years at the helm, Jones led the organization through two Commonwealth Games (Melbourne 2006 and Delhi 2010), one Commonwealth Youth Games (Pune 2008), the Canadian bid for the 2014 Commonwealth Games, the renewal of the Commonwealth Games of Canada Foundation, and a period of significant growth for CGC's innovative International Development through Sport (IDS) program.
In making today's announcement, CGC President, Dr. Andrew Pipe, emphasized the importance of continuity and competence in choosing an interim leader for the organization.
"Scott has done an outstanding job as Director of Sport over the last couple of years, culminating in his leadership of Team Canada at the Commonwealth Games in Delhi, India," said Pipe. "Over that time, he has also gained a thorough appreciation for CGC's international sport development activities which are such an integral part of what the organization is all about. The Board of Directors has complete confidence in Scott's abilities to oversee all of the day-to-day operations while the search continues for a chief executive officer."
Stevenson brings extensive management experience to the position, having served previously as CEO at Synchro Canada and Executive Director at Diving Canada.
"I'm grateful to the Board for this opportunity and look forward to carrying on the important work of CGC through this period of transition," Stevenson said. "Tom leaves the organization in a really strong position, and I'm looking forward to helping move us further along the positive path that he laid out for us."
Stevenson retains his duties as Director of Sport and will lead Team Canada at the Commonwealth Youth Games this September on the Isle of Man.
Pipe confirmed that the search for the next chief executive officer is well underway and that he hopes to make a formal announcement by the end of June.
About Commonwealth Games Canada
Commonwealth Games Canada (CGC) is the international franchise holder for the Commonwealth Games and Commonwealth movement in Canada, and an active, contributing member of the Canadian sport community. The mission of Commonwealth Games Canada is to strengthen sport within Canada and throughout the Commonwealth, by participating in the Commonwealth Games and by using sport as a development tool.
- 30 -
For further information, contact:
Scott Stevenson
Director of Sport
Commonwealth Games Canada
(613) 244-6868
scott@commonwealthgames.ca