Emma Spence Captures Third Bronze in Artistic Gymnastics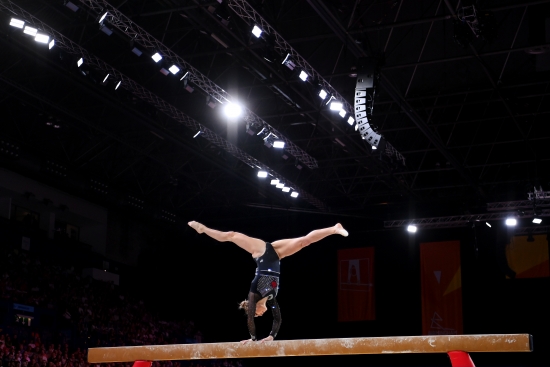 Aug 2, 2022 - With the conclusion of the Artistic Gymnastics' competition for the 2022 Commonwealth Games, Cambridge Ontario's Emma Spence has added a third bronze medal to her collection of Birmingham 2022 hardware.
Having won a bronze medal with teammates Jenna Lalonde, Laurie Denommee, Cassandra Lee and Maya Zonneveld in the team competition, Spence went on to capture bronze in the women's All-Around gymnastics competition. Looking to win additional medals on the last day of the Artistic Gymnastics' competition, Spence had made both the women's Balance Beam and Floor exercise finals.
In the end, despite Floor being her favourite apparatus, Spence won her third bronze medal in the Balance Beam final.
"Competing on the floor is my favourite. I love trying to get the crowd involved and this crowd here in Birmingham was so amazing as they started clapping for me and made it was so special," said Spence.
Spence took the bronze in the Beam final with a score of 13.066 just behind the two Australian gymnasts Kate McDonald (Gold) and Gorgia Godwin (Silver). An All-Around competitor, as shown by her bronze medal in the women's All-Around competition, Spence recently finished in 4th in the All-Around competition and captured two bronze medals in Vault and Uneven Bars at the 2022 Canadian Championships.
"I came to Birmingham wanting to have fun and enjoy the experience and focus on the best performance I could do, taking one event at a time…and this happened," said Spence.
With the Artistic Gymnastics competition ending in Birmingham, the Rhythmic Gymnastics competition starts on August 4, 2022, at the 2022 Commonwealth Games.