Ellie Black wins silver in the women's all-around at 2017 Artistic Gymnastics World Championships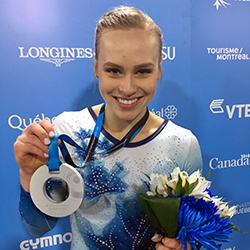 MONTREAL, QC (October 6, 2017) – Ellie Black of Halifax, NS rewrote the Canadian gymnastics record books on Friday night, winning silver in the women's all-around competition at the 2017 FIG Artistic Gymnastics World Championships in Montreal. This is Canada's first-ever medal in the all-around competition at a World Championships, and best-ever result for a Canadian woman at a World Championships.
Black finished the competition with a total score of 55.132, just 1/10th behind Morgan Hurd of the USA who took gold with a total of 55.232. Elena Eremina of Russia took the bronze with a total score of 54.799.
Black stood atop the score board for much of the evening, thrilling the local crowd, and only fell to second in the final rotation on floor.
"To get out there and have that performance today in Montreal in front of all our friends and family and fans, and everyone that came out to support us; that was amazing," said Black following the medal ceremony. "Hopefully for the young ones that came out, to be able to see a Canadian perform and end up on the podium, and to have two Canadians in the all-around finals, and six finals all together, which is incredible for us, that was already an amazing accomplishment going in to the rest of the weekend. We're just really excited to see what's going to happen from here. The next generation are doing great and they're pushing and I'm so excited to see what's going to come next."
Brooklyn Moors of Cambridge, ON who is competing in her first World Championships in Montreal, was the other Canadian in the finals, and finished the evening in 15th position with a total of 51.965. She was also the winner of the Longines Prize for Elegance – an honour presented to the gymnasts whose performances convey emotional appeal extending beyond technical considerations, sparkling with beauty, grace, harmony of movement, and above all, elegance. She shared the honour with Kenzo Shirai of Japan who won the bronze medal in the men's all-around competition on Thursday night.
"I didn't know about this prize at all," said Moors after receiving the prize of a Longines timepiece, a cheque, and a special trophy. "This is so crazy, I never thought I would be here, and to win this award was just amazing."
Black and Moors aren't finished at the World Championships yet. Black is set to compete in the vault finals on Saturday along with Shallon Olsen of Surrey, BC, and then on the final day of competition on Sunday, Black will compete in the beam finals while Moors competes in the floor finals.
Competition on both days starts at 1:00pm ET and will be live streamed and broadcast by the CBC.
Saturday also features the apparatus finals for men's vault, parallel bars, and horizontal bars, and uneven bars for the women. Sunday will also feature the apparatus finals for men's floor, pommel horse, and rings.
For complete results visit: http://bit.ly/MTL2017Results
For the complete broadcast schedule visit: http://www.cbc.ca/sports/olympics/summer/gymnastics/broadcast
ABOUT GYMNASTICS CANADA
First established in 1969, Gymnastics Canada is the national governing body for the sport of gymnastics in Canada. Gymnastics Canada works closely with the twelve Provincial Federations and the 700 local clubs to provide a broad range of programs and services to meet the needs of all participants. From athlete development, to coaching and judging education, Gymnastics Canada sets the operating standards and practices for the sport in Canada. Our mandate is to promote and provide positive and diverse gymnastics experience through the delivery of quality and safe gymnastics programming. Visit www.gymcan.org for more information, or follow us @CDNgymnastics.
-30-
For more information, contact:
Julie Forget
Director, Communications and Marketing
Gymnastics Canada
Cell: 819.210.2064
Email: jforget@gymcan.org