Commonwealth Medalist Verbeek has won her third Olympic medal in women's wrestling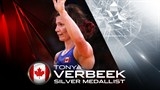 The Grimsby, Ont., native stands alone as Canada's most decorated Olympic women's wrestler after winning her first silver at Athens 2004 and a bronze at Beijing 2008.
Unfortunately she was unable to beat Yoshida in her ninth career attempt. The nine-time world champion, who has now won three straight Olympic gold medals, also beat Verbeek in the final in Athens and in the semi-finals four years ago, as well as the 2011 world championships.
Verbeek started the gold-medal match with a very patient and defensive approach that had carried her into the final. The first 90 seconds produced no scoring as the two looked for openings. After a clinch Yoshida took advantage of a small mistake in Verbeek's leg movement and took three points in the last 20 seconds with a lightning quick grab and takedown out of bounds.
The second round was very similar with nothing for either wrestler until the final 30 seconds, when Yoshida managed a single-leg drag to the boundary for a single point. Canada challenged the play, believing the two wrestlers were both on the ground before Verbeek was pulled out of bounds.
But the score was upheld and another point was added because of the failed challenge, giving Verbeek a tough task to knot the match with a dozen seconds left. Yoshida, 29, remained flawless to match the feat accomplished by her teammate on Day 12, when Kaori Icho won her record third straight gold medal in the 63kg division.
It was also third straight gold in women's wrestling at London 2012 for Japan, which has dominated the discipline since its inclusion eight years ago.
It was a bittersweet finish to a tremendous tournament this week for the 34-year-old Verbeek, who has already said this will be her last Olympic Games.
James Brydon, CTVOlympics.ca Staff