Commonwealth Games A Family Affair for the Woodcrofts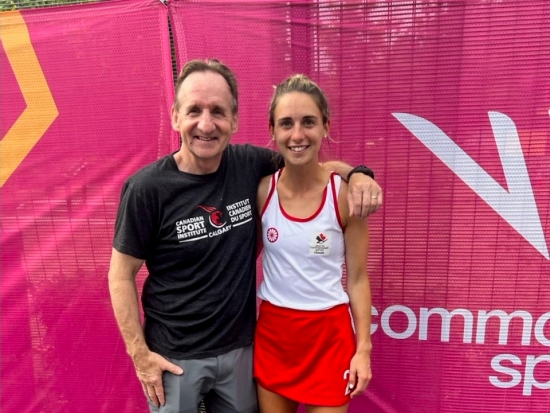 At the 2018 Commonwealth Games in Gold Coast, Amanda Woodcroft once lined up with the Canadian Women's Field Hockey Team along side her sister Nikki. Nikki has since retired from international duties, but in Birmingham Amanda is once again joined by family, In Birmingham, At the 2022 Commonwealth Games, Amanda is joined by her Dad Chris, Manager of the 2022 Canadian Wrestling Team, and 1986 Gold Medalist in wrestling at the Commonwealth Games in Edinburgh.
When asked how she felt playing on the National team with her sister in the past, Amanda talks of the special memories.
"Playing for Canada is a dream come true and playing for Canada with your sister makes that dream even more special," said Amanda. "We shared so many amazing memories together and I wish that it could continue for longer. Nicky, however, is heading to optometry school to pursue her next goal."
"It would have been great to march in the opening ceremony with my Dad. Unfortunately, the wrestling team had not arrived yet… Maybe down the road at another Games!"
Was Amanda inspired by her Dad's sporting career? Dad Chris competed in two Olympic Games and two Pan American Games.
"We have the most supportive parents who always encouraged us to try new things and always have fun. My dad never put pressure on us to reach the international stage, however it was such an inspiration knowing his sporting success, reaching the Olympic Games as an athlete, - twice," said Amanda.
As for Chris, how does he feel having both daughters compete internationally?
"It has been an absolute pleasure for my wife Nil and me to watch our daughters compete in various sports their entire lives. We are extremely proud of both Amanda and Nikki for representing themselves, their family, school, clubs, province and country on the international stage! Watching them both play at the Commonwealth Games in Australia in 2018 was simply amazing and once again, witnessing Amanda take to the pitch for her second Games is the icing on the cake," exclaimed the proud father.
"I come to Birmingham in a dual role: first as the Team Leader for wrestling, and second as a father, cheering on my daughter! It has been wonderful to rejoin Wrestling Canada, following an extended absence from international competition. I look forward to sharing my experiences with our athletes, as part of the leadership team, in hopes to assist them in reaching their full athletic potential on the international stage," said Chris when asked how he feels back at the Commonwealth Games, this time as a Team Manager. "The Commonwealth Games is an excellent international competition with some of the best wrestlers in the world participating, and it warms my heart to be back with the Commonwealth family after more than three decades. It is called the 'friendly games' for a reason!"