COMMONWEALTH GAMES CANADA ANNOUNCES AIR CANADA AS OFFICIAL SPONSOR OF TEAM CANADA 2018 IN GOLD COAST, AUSTRALIA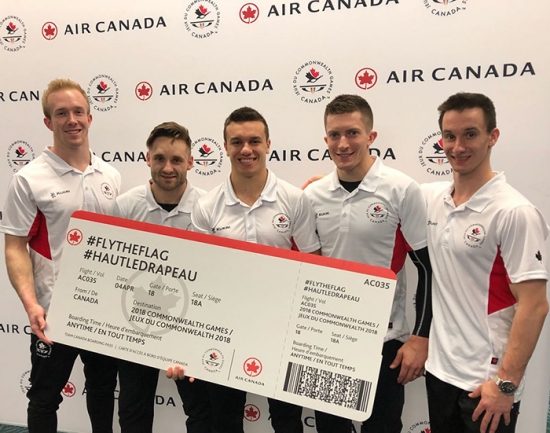 OTTAWA – Commonwealth Games Canada (CGC) is pleased to announce Air Canada as the official air transportation sponsor of Team Canada 2018 travelling to the Commonwealth Games in Gold Coast, Australia in April.
"We are thrilled to be working with Air Canada as a sponsor for the 2018 Commonwealth Games", said Richard Powers, President of Commonwealth Games Canada. "They are great representatives of Canadian values as well as long-time supporters of Canada's athletes. We look forward to working closely with the airline to ensure a seamless travel experience for our athletes travelling between Canada and Gold Coast."
The agreement, which relates to transportation, logistics and other support, will be in place until after the 2018 Gold Coast Commonwealth Games, and includes a first right to renew for the 2022 Commonwealth Games.
"Like we do every day, events such as the Commonwealth Games bring people together from around the world," said Andy Shibata, Managing Director of Brand at Air Canada. "We fly the flag in everything we do, which is why we're also so proud to fly Canadian athletes to international competitions, to be our ambassadors on the world stage."
Air Canada is Canada's largest domestic and international airline serving more than 200 airports on six continents. In 2017, the airline introduced a non-stop Vancouver-Brisbane route, which will be used by most of Team Canada's delegation of athletes, coaches and support team in their travel to Gold Coast.
- 30 -
For further information:
Commonwealth Games Canada
Brian MacPherson
Chief Executive Officer
613.244.6868 x226
ABOUT AIR CANADA
Air Canada is Canada's largest domestic and international airline serving more than 200 airports on six continents. Canada's flag carrier is among the 20 largest airlines in the world and in 2017 served 48 million customers. Air Canada provides scheduled passenger service directly to 64 airports in Canada, 60 in the United States and 98 in Europe, the Middle East, Africa, Asia, Australia, the Caribbean, Mexico, Central America and South America. Air Canada is a founding member of Star Alliance, the world's most comprehensive air transportation network serving 1,300 airports in 191 countries. Air Canada is the only international network carrier in North America to receive a Four-Star ranking according to independent U.K. research firm Skytrax, which also named Air Canada the 2017 Best Airline in North America. For more information, please visit: www.aircanada.com/media, follow @AirCanada on Twitter and join Air Canada on Facebook.
ABOUT COMMONWEALTH GAMES CANADA
Commonwealth Games Canada (CGC) is the franchise holder for the Commonwealth Games and Commonwealth movement in Canada, and an active, contributing member of the Canadian sport community. The mission of CGC is to strengthen sport within Canada and throughout the Commonwealth by participating in the Commonwealth Games and by using sport as a development tool. CGC builds a better Commonwealth through sport. Visit www.commonwealthgames.ca for information.