Claire Carver-Dias and Sam Effah Named Co-Chefs de Mission to Lead Team Canada at the 2022 Commonwealth Games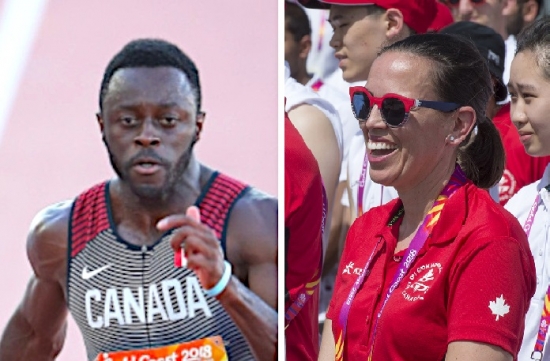 OTTAWA (April 21, 2022) - Commonwealth Sport Canada (CSC) today announced 2010 and 2018 Commonwealth Games sprinter Sam Effah will join Commonwealth Games Gold Medalist, Olympic Bronze Medalist and 2018 Chef de Mission Claire Carver-Dias as co-Chefs de Mission to lead Team Canada at the 2022 Commonwealth Games taking place in Birmingham UK from July 28 – August 8, 2022.
The announcement comes after the decision by Paralympic and Commonwealth swimming champion Benoit Huot, to step back to focus on his family, given his recent announcement that he and his wife are expecting their second child. Huot, who acted as the Assistant Chef de Mission at the Gold Coast Commonwealth Games in 2018, was originally announced as the Chef de Mission for 2022 in the summer of 2020.
The 2022 Commonwealth Games will present a variety of challenges for team management. Due to COVID related construction challenges, the Birmingham organizing committee was forced to abandon plans for a single village, with teams now being spread out across three primary villages and two satellite villages. The Team Canada leadership group for Birmingham has worked to build a talented and experienced team of leaders, and the appointment of Claire Carver-Dias and Sam Effah will ensure that we have senior leaders in all primary villages.
"With three core villages and two satellite villages, the opportunity to name two co-Chefs de Mission was a welcome one as our team will need to cover a large geographic area and provide team leadership at all village sites," says Scott Stevenson, Executive Director, Team Canada 2022 (Birmingham). As Claire was the Chef de Mission for the 2018 Games, we knew that she could draw on her experience and provide continuity from 2018 until now. As a leader within Athletics in Canada and a proud Commonwealth Games alumnus, Sam will bring a wealth of relative Games experience and the high-performance perspective to effectively voice the needs of our athletes."
A double gold medalist at the Manchester 2002 Commonwealth Games, Carver-Dias is also an Olympic bronze medalist, Pan American champion and world bronze medalist in artistic swimming. Formerly, a Director on the board of the Coaching Association of Canada, President of AthletesCAN, a Director with Commonwealth Sport Canada (CSC), and having launched her own communications coaching consultancy in 2004, Claire brings a wealth of expertise and guidance to the 2022 role.
"As a long-term promoter of the Commonwealth Games movement as an athlete, volunteer and board member, I am honoured that this opportunity will allow me to merge my passion for the Commonwealth Games with my strong advocacy for an athlete-centered environment," says two-time Chef de Mission Carver-Dias. "I am fortunate that while acting as a co-Chef for the upcoming 2022 Games, this opportunity will allow me to take all that I know about the role, bring stability and continuity and then optimize my influence through this second chance.... an opportunity that few receive."
Joining Carver-Dias will be Alberta native and 2021 Canada West Hall of Fame inductee Sam Effah, who is a two-time Canadian Champion in the 100m. Effah has represented Canada at three World Championships, three World University Games and at both the 2010 Commonwealth Games in Delhi India in the 100m event and 4x100m as well as at the 2018 Commonwealth Games in Australia. With an innate enthusiasm for sport, marketing and entrepreneurship, Effah will harness his experience, including as a Right To Play Athlete Ambassador, Amazing Race contestant and RBC brand marketing manager for RBC's Future Launch and RBC Training Ground programs, to provide a unique perspective for this co-Chef de Mission role.
"To lead team Canada is a major honour. Competing at two Commonwealth Games was an integral part of my high-performance journey," says Effah. "The impact of representing Canada motivates communities, athletes, youth and brings people together. For me, being a co-Chef means elevating these stories of triumph, resilience and victory from the Games, back to communities in Canada that need to celebrate them. Our athletes and para-athletes put in extraordinary efforts to be on the podium, and I want to highlight these feats, while inspiring young and upcoming future Commonwealth Champions who may be watching."
The role of the co-Chefs de Mission will be to provide overall leadership to the Canadian Team and to support and promote the Team by creating an on-site environment for athletes and coaches conducive to achieve optimal performance. For 2022, the co-Chefs will encourage and motivate the Games' Mission staff, provide needed services to the Team through creative and innovative leadership thinking and serve as the spokespersons for Team Canada at the Birmingham Commonwealth Games.
The 2022 Commonwealth Games will be host to 71 participating nations and territories taking part in the Games. The Commonwealth Games are a valuable opportunity as a steppingstone and development opportunity for Canadian athletes, coaches, and managers working towards Olympic and Paralympic success. Canada's performance projection in 2022 is a top 3 ranking, in total medals, amongst all nations and territories competing. Commonwealth athletes won 80%+ of Canada's medals at the 2020 Olympic Games 
Team Canada's dedicated mission team will provide an optimal environment by celebrating equality, diversity, and non-discrimination. This is in support of our goals needed to enable a best ever performance by Canadian athletes at the 2022 Commonwealth Games. 
ABOUT COMMONWEALTH SPORT CANADA
Commonwealth Sport Canada (CSC) is the franchise holder for the Commonwealth Games and the Commonwealth sport movement in Canada. CSC is an active, contributing member of the Canadian sport community and supports Canada's athletes to achieve excellence at Olympic, Paralympic Games, and world championships. The mission of CSC is to enrich the lives of youth across the Commonwealth and host the Commonwealth Games. CSC is responsible for all aspects of Canada's participation in the XXII Commonwealth Games and will be sending a team of almost 400 of Canada's best athletes and coaches to compete for Canada. The upcoming Games will occur in Birmingham, England from July 28 through to August 8, 2022. For additional information go to: www.commonwealthsport.ca.
For more information, please contact: