Chantal Petitclerc named Team Canada Chef de Mission for Glasgow 2014 Commonwealth Games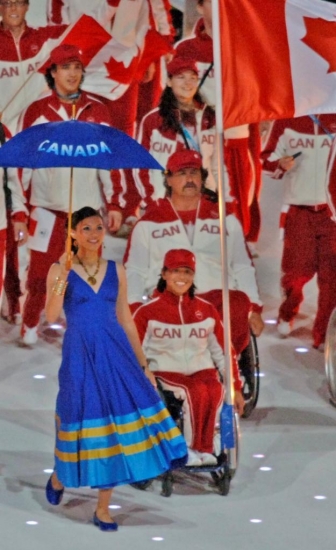 Niagara Falls, ON (Saturday, September 29, 2012) – Chantal Petitclerc, one of Canada's most decorated athletes of all time, has been appointed Team Canada's Chef de Mission for the 2014 Commonwealth Games in Glasgow, Scotland.
The only Canadian athlete to win gold medals at Commonwealth, Olympic and Paralympic Games, Petitclerc holds world records in three different wheelchair racing events.
"I have such a strong attachment to the Commonwealth Games, dating all the way back to 1990 when I was a silver medalist in Auckland, New Zealand—the first time that events for elite athletes with a disability were included on the sport programme," said Petitclerc, whose appointment was announced today on CBC's Sports Day in Canada broadcast. "In 2006, I was honoured to serve as Team Canada's flag bearer at the Opening Ceremony for the Commonwealth Games in Melbourne, Australia. It was truly one of the highlights of my career."
Petitclerc also has two 800-metre gold medals from the Commonwealth Games in Manchester, England (2002) and Melbourne (2006). Her trophy case includes a staggering 21 Paralympic medals (including 14 gold) and the Lou Marsh Trophy as Canadian athlete of the year.
"There are so many reasons to be thrilled with Chantal's appointment as our Chef de Mission in Glasgow," added Dr. Andrew Pipe, President of Commonwealth Games Canada. "A former flag bearer, multiple medalist, and someone with a deep appreciation for the athlete experience at the highest levels of international competition. Not to mention the fact that Glasgow 2014 will feature more events for elite athletes with a disability than any previous Commonwealth Games."
Dr. Pipe went on to praise Petitclerc's proven abilities as a spokesperson and motivational speaker. "Should Canada decide to launch a bid for the 2022 Commonwealth Games, Chantal will most certainly be one of our most influential ambassadors," he said.
Petitclerc will assume her duties immediately in preparation for a first site visit that is expected to take place in February.
About Commonwealth Games Canada
Commonwealth Games Canada (CGC) is the franchise holder for the Commonwealth Games and Commonwealth sport movement in Canada and an active, contributing member of the Canadian sport community. The mission of Commonwealth Games Canada is to strengthen sport within Canada and throughout the Commonwealth by participating in the Commonwealth Games and by using sport as a development tool.
About Glasgow 2014
Glasgow 2014 will be the 20th Commonwealth Games and will be held from 23 July to 3 August. It will feature 17 sports in 11 days of competition with 250 medal events on show. The Games will play host to 4,500 athletes and sell 1,000,000 tickets with the event aided by an army of 15,000 local volunteers. For more information, visit www.glasgow2014.com.
For more information, contact:
Derek Johnston
Commonwealth Games Canada Communications
(613) 794-1876