CGC's Game of Life Run/Walk expands to four cities for 2012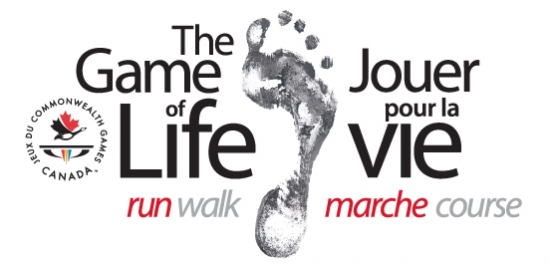 Commonwealth Games Canada (CGC)'s second annual Game of Life Run/Walk is set to take place on April 29, 2012 in Vancouver, Calgary, Toronto and Halifax—marking the event's expansion from coast to coast. Key sponsors The Running Room and Mizuno Canada are once again backing the 5k/10k event, which raises funds for CGC's international programs.
Sarah Chungu is just one of the young beneficiaries of these programs. Sarah was but a young girl with a passion for soccer when she lost her parents. With no one left to pay her school fees, she was almost forced to drop out. Living in Zambia, one of the poorest and least-developed countries on the planet, Sarah's future looked extremely bleak. But thanks to the Go Sisters program, Sarah was able to stay in school and continue to benefit from the positive power of sport. While studying, she served as goalkeeper for two soccer teams, coached a boys' team and became vice-president of "Dreams and Teams," a club that trains young people to be sport leaders.
As Sarah puts it, "Sport has done a lot for me. I have made friends through sport and acquired many life skills. Above all, sport keeps me healthy. I think I am a role model in my community and I would like to inspire other young girls, so I work hard."
Go Sisters is just one of the much-needed international programs supported by CGC. Designed for girls and young women aged 5 to 17, its goal is to provide a sport-focused platform for girls from different communities in Zambia to share their experiences and challenges, discover their talents and learn important life skills, including how to stay healthy. This is crucial in a country with one of the worst HIV/AIDS epidemics on earth, and where life expectancy has fallen to 39 years.
"Thanks to funds raised through the Game of Life event last year—and to our wonderful sponsors—Commonwealth Games Canada was able to continue to support programs like Go Sisters," says Carla Thachuk, CGC's Director of International Programs. "There are, however, many more young kids like Sarah who need our help. We're thrilled to be able to bring the Game of Life run/walk to four cities this year, meaning that even more Canadians will have the opportunity to participate."
Register now for CGC's second annual Game of Life Run/Walk or make a donation to CGC by visiting www.runningroom.com and help give kids around the world a sporting chance. Learn more at www.commonwealthgames.ca/ids.
-30-