Canadians Land on Podium at Women's World Wrestling Championship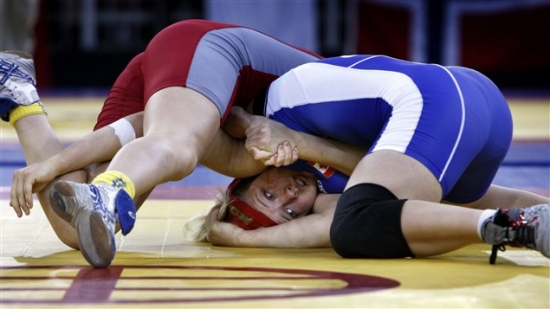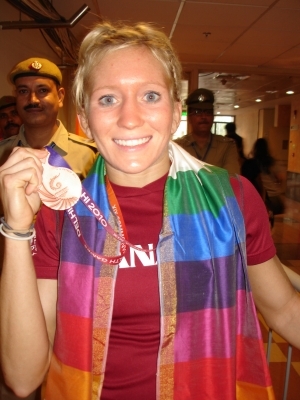 SHERWOOD PARK – Two-time Olympic medallist Carol Huynh is not competing at the women's world wrestling championships this weekend, but her legacy of excellence provided a jolt of motivation for Jessica MacDonald of Windsor.
MacDonald, who lost to Huynh at the Olympic trials earlier this year, channelled that disappointment into a tour de force performance to win the 51-kilogram weight category Thursday night against Yunan San of China.
Meanwhile, Dorothy Yeats, a 19-year-old talent from Montreal West, took silver in the 67-kilo weight class, as Canada won medals in two of the three finals on opening night at the three-day competition.
"When you're hosting the world championships, you always worry that, 'OK, we've got the team, I know it can all happen, but it's sport and anything can happen,' " said Leigh Vierling, the Calgary-based head coach of Canada's women's wrestling team. "So, to convert and have two athletes make the final in the first three weight classes, that's amazing, it's astonishing
"But it's not surprising. I knew we could. To be honest, you always think about the one that got away. I think we could have had three."
The third athlete on Thursday was Michelle Fazzari of Hamilton, who lost her preliminary match in the 59-kg weight category to a Mongolian opponent and did not advance.
MacDonald was determined not to let victory in another major match elude her.
"You know, it was probably the hardest moment of my life, which sounds silly for a moment of sport," MacDonald said of losing to Huynh at Trials. "But, my life is so wrapped up in my wrestling and my desire to be No. 1. It was heartbreaking. I went through a really hard time trying, mentally to get over the heartbreak.
"Like Muhammad Ali says, 'Only a man who knows what it feels to be defeated can reach down to the bottom of his soul and find the extra ounce of power to win when the match is even."
MacDonald was behind on points in both the first and second rounds of her bout with San. Both times she rallied and overcame the deficit.
"I was so relaxed out there and I just kept telling myself one point at a time," MacDonald said. "I wasn't really concerned with the score or winning or anything like that.
"I just kept saying, 'One more takedown, one more point ... just driving for those little inches and it made the difference."
MacDonald had opened the competition by demolishing the defending world champion Zamira Rakhmanova 7-0, avenging a loss to the Russian at the 2011 world's.
"It's pretty unbelievable," said MacDonald. "It's pretty much been my dream since I was, I don't know, 15 or 16 when I started wrestling."
MacDonald's goal is to qualify for the 2016 Olympic Games in Rio de Janeiro, Brazil, which is also a logical destination for the 19-year-old Yeats, if her career continues to blossom.
Yeats, who won gold at the junior women's world's just three weeks ago, was hardly devastated by her loss to Adeline Gray, viewing it, instead, as a learning experience. It certainly was that. The American won the first round 4-0 and was four seconds away from a victory on points when she pinned Yeats in the second round to finish it with flair.
"It's my first time at the senior world's and I came second, so I can't say I'm upset," said Yeats, sporting a shiner above her left eye. "It would have been great to win, obviously, but you learn a lot from your losses, too."
Yeats's precocious wrestling talent is literally in her DNA. Her father, Doug, competed for Canada in Greco-Roman wrestling, training for part of his career under legendary Montreal wrestling guru Victor Zilberman, who also is Dori's coach.
Bloodlines aside, though, Dori Yeats said she chose wrestling on her own, switching from gymnastics where she felt she had plateaued after about 10 years of competition.
Within six months, Yeats won her first national title at the Under-17 level. Zilberman has high expectations for Yeats, and sets the bar accordingly.
"She is still underperforming," Zilberman said, after Yeats had dispatched Yan Hong of China, Nadya Sementsova of Kazakhstan and Alina Stadnik-Makhnia of Ukraine en route to the final. "She is nervous because (it's her first world's).
"She is capable of more. But, she is an incredible talent in all aspects."
Part of the learning curve for Yeats, Zilberman said, is learning to deploy all that talent in the big matches.
"I don't think I performed at 100 per cent of my ability, but coming here and making the podium was my goal," Yeats said. "But, I'm telling you, in senior it's a fight. It's not like junior or cadet anymore."
Still, in making the jump to the senior level, landing on the second step of the podium is fairly impressive.
Jack MacKinnon
Edmonton Journal
Photos: Wong Maye-E
Patrick Kenny