Canadian Squash Team Named for 2022 Commonwealth Games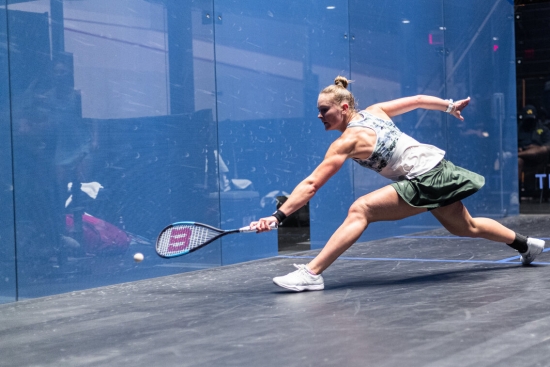 Four athletes chosen to represent Canada
OTTAWA - (2022 - 06 - 21) - Commonwealth Sport Canada (CSC) and Squash Canada today announced the athletes who will represent Team Canada in squash at the 2022 Commonwealth Games in Birmingham England taking place July 28 to August 8, 2022.
The team of strong athletes will be competing in their first Commonwealth Games, although some are no strangers to large multi-sport Games. Squash Canada is proud to announce Hollie Naughton (Oakville, ON), Nicole Bunyan (Victoria, BC), David Baillargeon (Lévis, QC), and Nick Sachvie (St. Catharines, ON) as the Canadian Commonwealth Team.
"The Commonwealth Games are a great opportunity for our athletes to be part of a larger 'Team Canada' in a multi-sport setting, and to play against some of the top players in the world who come from Commonwealth nations," said Dan Wolfenden, Squash Canada Executive Director. "These athletes have had great seasons to earn the right to be there and are pumped to vie for the podium in singles and doubles."
The four athletes were selected based on their results and rankings this past season. This team for the 2022 Commonwealth Games is established and hungry, with strong results on the PSA World and Challenger Tours and in National events. They are fortunate to be led by an excellent and experienced coach, Graeme Williams, who has coached the Canadian squash team at many international multi-sport events, including at the 2018 Gold Coast Commonwealth Games and the 2015 and 2019 Pan Am Games, where the Canadian squash teams took home numerous medals.
Hollie Naughton has had an impressive season on the PSA World Tour, reaching a career-high world ranking of 16 in January of this year and consistently testing herself against the top five players in the world as she looks to break into the Top 10. Nicole Bunyan finished the squash season strong with a second-place finish at the 2022 Oxford Properties Canadian Squash Championships in Vancouver earlier in June and a world ranking of 45. Both players have been competing against the top in the world throughout the season and will be ready to take on the strong field of Commonwealth countries.
David Baillargeon has had a breakthrough season, winning three PSA events in 2021 and making the final of four other PSA events. He capped off his season with a career-high world ranking of 61 and a national title at the 2022 Oxford Properties Canadian Squash Championships in front of Vancouver's Olympic Cauldron at Jack Poole Plaza. Nick Sachvie has had a strong season as well, winning the 2021 Gatineau PSA challenger against teammate Baillargeon, and making the final of two other events. He finished the season at a world ranking of 96, with his highest being 64 in 2017.
"I'm so excited to participate in my first Commonwealth Games!" says Hollie Naughton, 2022 Canadian Champion. "It is an honour to represent my country at the highest level. I am going into these Games with the focus of playing to the best of my ability and if I do that, I truly believe receiving a medal is within reach." Naughton's first Commonwealth Games come at the opportune moment for her as she is at the top of the game internationally and will be looking to do everything necessary over the next month leading into the Games to take home medals with Bunyan, Sachvie, and Baillargeon.
The team will participate in a pre-Games training stint in England. This will prime the team for singles and doubles success and allow for adjustments to potential time zone changes. They will enter the Commonwealth Games Village in advance of the event to settle and develop their plan and routines for competition.
"With squash having been a Commonwealth Games core sport on the program since 1998, Team Canada always anticipates a great level of competition at this international level," says Scott Stevenson, Executive Director, Team Canada 2022. "Based on the determination of these athletes and their current world rankings, we know this group will be strong representatives for Canada and add to our medal haul in Birmingham."
The squash competition will take place at the University of Birmingham July 29th to August 2nd with five events: Women's & Men's Singles, Women's & Men's Doubles, and Mixed Doubles. Tickets to watch the 2022 Commonwealth Games can be purchased here.
Birmingham 2022 will feature 19 sports and 8 para-sports as part of its program with up to 4,500 athletes taking part. The Commonwealth Games are the only multi-sport event that feature equal standing for sport and para-sport events, and these 2022 Games will showcase the largest para-sport program ever. In addition, for the first time in its history, the Games will feature more medal events for women (135) than men (133).
The squash team which will represent Canada at the Birmingham 2022 includes:
Athletes:
| | | | |
| --- | --- | --- | --- |
| First | Last | Hometown | Events |
| Hollie | Naughton | Oakville, ON | Singles, Women's and Mixed Doubles |
| Nicole | Bunyan | Victoria, BC | Singles, Women's and Mixed Doubles |
| David | Baillargeon | Lévis, QC | Singles, Men's and Mixed Doubles |
| Nick | Sachvie | St. Catharines, ON | Singles, Men's and Mixed Doubles |
Coaches:
| | | | |
| --- | --- | --- | --- |
| Position | First | Last | Hometown |
| Coach | Graeme | Williams | Windsor, Ontario |
ABOUT TEAM CANADA 2022
The 2022 Commonwealth Games will be host to 72 participating nations and territories taking part in the Games. The Commonwealth Games are a valuable opportunity as a steppingstone and development opportunity for Canadian athletes, coaches, and managers working towards Olympic and Paralympic success. Canada's performance projection in 2022 is a top 3 ranking, in total medals, amongst all nations and territories competing. Commonwealth athletes won 80%+ of Canada's medals at the 2020 Olympic Games
Team Canada's dedicated mission team will provide an optimal environment by celebrating equality, diversity, and non-discrimination. This is in support of our goals needed to enable a best ever performance by Canadian athletes at the 2022 Commonwealth Games.
ABOUT SQUASH CANADA
Squash Canada is a non-profit, national sport association responsible, in collaboration with its partner Provincial/Territorial squash associations (PTs), for development of athletes, coaches and officials. Founded in 1915, Squash Canada establishes rules, standards and national programs to promote the growth and development of the sport across the country.
Squash Canada is recognized by the Government of Canada as the sole national sport governing body for squash in Canada. Squash Canada is a proud member of the Canadian Olympic Committee, Commonwealth Games Canada, and Pan American and World Squash Federations. Squash Canada participates in the Pan American Championships, Commonwealth and Pan Am Games, as well as the World Team Championships at the junior and senior levels.
ABOUT COMMONWEALTH SPORT CANADA
Commonwealth Sport Canada (CSC) is the franchise holder for the Commonwealth Games and the Commonwealth sport movement in Canada. CSC is an active, contributing member of the Canadian sport community and supports Canada's athletes to achieve excellence at Olympic, Paralympic Games, and world championships. The mission of CSC is to enrich the lives of youth across the Commonwealth and host the Commonwealth Games. CSC is responsible for all aspects of Canada's participation in the XXII Commonwealth Games and will be sending a team of almost 400 of Canada's best athletes and coaches to compete for Canada. The upcoming Games will occur in Birmingham, England from July 28 through to August 8, 2022. For additional information go to: www.commonwealthsport.ca.
-30-
For more information, please contact:
Geoffrey Johnson
Director of Sport Development
Email: geoff.johnson@squash.ca
519-400-1649
Laura Gray
Media Attaché – Squash – Team Canada 2022
Email: laura@commonwealthsport.ca
613 263 7984
Patrick Kenny
Communications Team Leader – Team Canada 2022
Email: patrick@commonwealthsport.ca
613 724 7160