Canada's Triathletes set to make Commonwealth Games Debut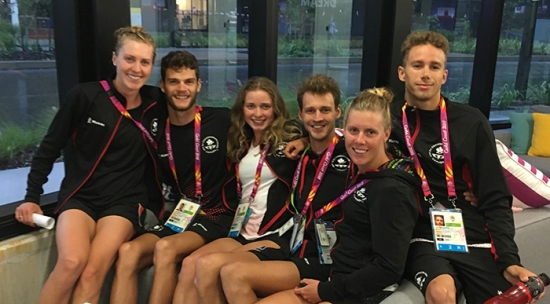 Gold Coast, Australia – After a pre-Games training camp in Gold Coast, and strong performances at events in New Zealand, the Canadian six-pack – otherwise known as Canada's triathlon team – is ready to pull on their newly designed race suits and make their 2018 Commonwealth Games debut.
"Based on what we've seen since the group has been here on the Gold Coast, everyone is ready to go," said triathlon head coach Jonathan Hall. "There is a good unity between the team. They all know what they are here for; they are here to perform and to be successful. Our athletes have an opportunity to put up some strong performances to kick-off the Games for Canada. They are really looking forward to getting on the start line."
With only a few days left to prepare both physically and mentally for the Games, team veteran's Joanna Brown and Tyler Mislawchuk took a few minutes to share a little advice with their teammates when they arrived in the Athlete's Village.
"Soak it all in and really enjoy the entire experience," said Brown. "Approach the race like it's any other race, but take the time to meet as many people as you can and to share stories. Those are the moments I remember most about my first Games."
As Canada's lone Olympian on the team, Mislawchuk knows that his teammates are ready to make some noise here in Australia. And the best way to do that is to "treat it like any another race. Soak up the experience outside of that, but as you prepare and get ready to race, remember that it's the same thing we always do – swim, bike, run in a competitive environment."
The women's team, made up of Joanna Brown (Carp., Ont.), Dominika Jamnicky (Guelph, Ont.) and Desirae Ridenour (Cowichan Bay, B.C.), will begin their podium pursuit at 9:30 a.m. on April 5, followed by the men's team comprised of Alexis Lepage (Gatineau, Que.), Tyler Mislawchuk (Oak Bluff, Man.) and Matt Sharpe (Victoria, B.C.) at 1 p.m. The mixed relay event will take place at Southport Broadwater Parklands at 1 p.m. on April 7.
Amanda Nigh
+61 0478732154