Canada's Taylor Ruck ties Commonwealth Games record with eight medals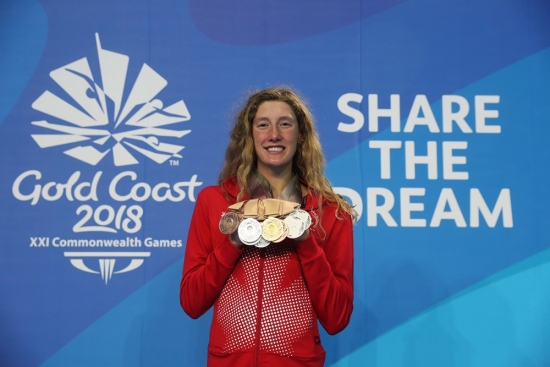 GOLD COAST, Australia – Kylie Masse won two silver including an historic one with Taylor Ruck as Canada's swimming team completed the Commonwealth Games with 20 medals on Tuesday.
Ruck won her eighth medal which tied Canada's Ralph Hutton (1966) and Australians Emily Seebohm (2010) and Susie O'Neill (1998) – also all swimmers – for the most medals won by an athlete at a single Games.
''I'm just super excited to win that many medals,'' said Ruck, who trains at Swimming Canada's High Performance Centre-Ontario. ''Never in my wildest dreams did I think I would win this many. This has been a fantastic meet for Team Canada. I'm just so happy to share so many experiences with my best friends.''
At the Games, the 17-year-old Ruck earned gold in the 200-m freestyle, silver in the 50-m freestyle, 200-m backstroke, 4X100-m freestyle relay, 4X200-m freestyle relay and 4X100-m medley relay and bronze in the 100-m backstroke and100-m freestyle.
In Tuesday's medley relay, the Canadian women with Masse, Kierra Smith (Kelowna, B.C.), Penny Oleksiak (Toronto) and Ruck gave the Australians all they could handle clocking 3:55.10 for the silver.
The Australians won in a Games record 3:54.36. Wales was third in 4:00.75.
''Coming into the relay you always get an extra boost of adrenaline,'' said Masse. ''It's so special to be a part of it and an honour to represent Canada. We were ready to go and give it our best shot.''
In the women's 50-m backstroke held in a sudden downpour at the outdoor venue, Emily Seebohm of Australia won the gold medal in 27.78 seconds. Masse took the silver in 27.82 while Georgia Davis of Wales was third in 27.90.
''It means a lot to stand on the podium in all three backstrokes,'' said Masse, the 100-m and 200-m backstroke winner and the first female double Commonwealth champion for Canada since 1986 (Allison Higson). ''It definitely motivates me to continue and improve. The weather wasn't a factor; we really prepared well for those kinds of elements and to not let it bother us.''
Jade Hannah of Halifax was seventh in 28.38.
Canada earned two medals in the women's Para swimming 50-m freestyle. The race was won by Lakeisha Patterson of Australia in 30.14. Morgan Bird of Calgary followed for silver in 32.03 and Abi Tripp of Kingston, Ont., won the bronze in 32.49.
''Every time I represent Canada it's just surreal,'' said Bird. ''To be able to get a podium performance I can't express what that means to me.''
Tripp was surprised to be on the podium.
''I just wanted to come here, experience the Games and go fast,'' she said. ''Getting a medal is just the cherry on top. To win it with Morgan is so special. We're really good teammates and friends and we also love to embrace each other in the pool. It's tough competition but so much fun.''
In other men's results, Yuri Kisil of Calgary (HPC-Vancouver) was fifth in the 50-m freestyle in 22.03 and Canada was fifth in the men's 4x100-m medley relay with Markus Thormeyer of Delta, B.C., Eli Wall of Ottawa, Josiah Binnema of HPC-Vancouver and Kisil in 3:36.12.
''I just wanted to have fun and see what I could do,'' said Kisil. ''I'm going to take away a lot from these Games. Just racing the best guys in the world makes you realize the mistakes you make and where you can make up a lot of time.''
The 20 medals (three gold, 11 silver and six bronze) is Canada's best performance in swimming at the Commonwealth Games since 1998 in Malaysia where it won 21.
« What impressed me the most were the quality of the performances,'' said Swimming Canada's High Performance Director John Atkinson. ''We had swims that would have stood up well at a world championships or Olympics. It consolidates where were at and get ready for Pan Pacific Championships in August where we'll face powerhouses like the Australians and Americans.''
"I was so inspired by our athletes and their spectacular performances, as well as the dedication of the parents who have supported them along the way," added Swimming Canada CEO Ahmed El-Awadi. "My congratulations go to the swimmers, as well as to John Atkinson for his leadership as High Performance Director, Martyn Wilby as head coach, the entire coaching staff, and the support staff doing a tremendous job behind the scenes.
Full results: https://results.gc2018.com/en/swimming/daily-schedule-date=2018-04-10.htm
Nathan White – nwhite@swimming.ca / AUS # +61 0431 469 380