Canada's Justine Bouchard Wins Bronze in Women's World Wrestling Championship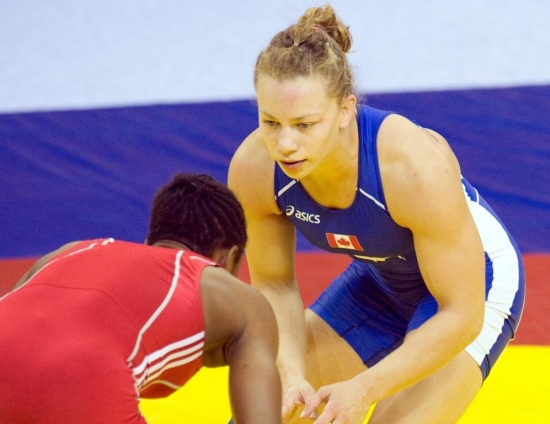 Local favourite Justine Bouchard won a bronze medal in the 68-kg division on Saturday to cap Canada's performance at the FILA Senior Women World Wrestling Championships in Sherwood Park, Alta.
The 26-year-old from nearby Wetaskiwin, Alta., had to battle back through the repechage to get to the bronze match, where she defeated Kazakhstan's Yelena Shalygina.
"It feels incredible, especially getting to win this in Canada," said Bouchard, who is a World University champion and had previously won a bronze in these same Senior Worlds in 2009 in Denmark.
"It was great to have so many family and friends around and so much support. I wish it could have been the gold, but it is an accomplishment nonetheless. Coming back after a loss to get here, I think it showed some character. I could have just called it quits after losing and instead I fought my way back."
It was Canada's third medal of the three-day competition. Jessica MacDonald of Windsor, Ont., defeated Yunan San of China to win gold in the 51-kg weight category while 19-year-old Dorothy Yeats of Montreal, a gold-medallist in the junior worlds a few weeks back, took silver in the 67-kilo weight class.
Brittanee Laverdure of Williams Lake, B.C., lost out in her bronze medal match on the second day of the worlds on Friday.
Senior Women's coach Leigh Vierling said it was a fairly typical showing for the Canadian team of late.
"It's pretty steady compared to where it has been," he said. "In the last four year cycle we seem to be in four medal matches and come away with two to three medals every time. It's kind of nice but I also don't want to end up being like Groundhog Day."
The Canadian women bested their medal count from the 2011 worlds in Istanbul, where they won just two medals. The last time Canada had three medals was at the 2010 women's worlds in Moscow.
Canada finished in fourth place in the team medal standings.
However, the Canadian team was without the likes of two-time Olympic medallist Carol Huynh of New Hazelton, B.C., three-time Olympic medallist Tonya Verbeek of Grimsby, Ont., and three-time World Champion Martine Dugrenier of Montreal.
Olympian Leah Callahan was scheduled to compete, but failed to make weight for the event.
Canada's Ashley McKilligan of the Saskatoon Wrestling Club was knocked out in the opening round of the 48-kg event.
The world championships usually include the men's events as well, but on Olympic years they just hold the women's competition due to the fact that only four of the seven weight classes contested at worlds are included at the Olympics themselves.
This is the first time Canada has played host to the FILA women's worlds and only the second time they have been held in North America, the other being in New York City in 2003.
© The Canadian Press 2012