Canada wins two bronze medals at Santa Clara International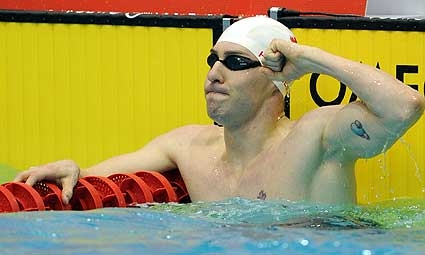 SANTA CLARA, California – Ryan Cochrane of Victoria and the men's 4X100 freestyle relay topped Canada's performances by Olympians on Friday with third place finishes at the Santa Clara International swimming competition.
In the men's 400 freestyle, Olympic and world champion Park Tae-Hwan of South Korea was the winner in 3:44.96 with Ryan Napoleon of Australia second in 3:49.79 and Cochrane third in 3:50.56.

In the 4X100 freestyle relay, Japan won the gold in 3:21.52, Australia was second in 3:22.27 and Canada third in 3:24.41. The Canadian swimmers were Joe Bartoch of London, Ont., Colin Russell of Burlington, Ont., Richard Hortness of Medicine Hat, Alta., and Blake Worsley of Victoria.
In other men's finals, Scott Dickens of Ancaster, Ont., came within 0.05 seconds of reaching the podium placing fourth in the 200 breaststroke in 2:14.40. Russell was seventh in the 100 freestyle,
In women's finals, Canada was fourth in the 4X100 freestyle relay with Julia Wilkinson of Stratford, Ont., Amanda Reason of Windsor, Ont., Erica Morningstar of Calgary and Stephanie Horner of Beaconsfield, Que. Wilkinson was also fifth in the 100 freestyle while Savannah King of Vancouver and Alexa Komarnycky of Victoria were fifth and sixth in the 400 freestyle.