Canada Wins Four Medals in Individual Rhythmic Gymnastics Finals on Day Nine in Birmingham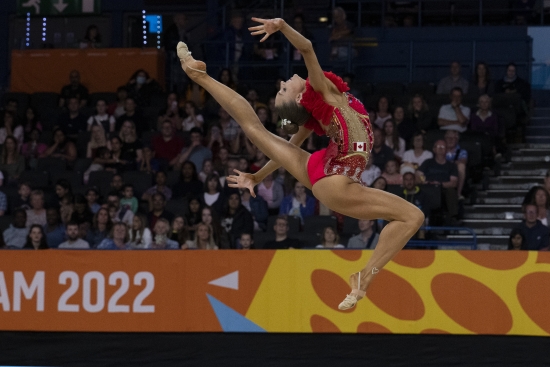 Aug 6, 2022 – Two days after the Canadian Rhythmic Gymnastics athletes won a gold medal for the 2022 Commonwealth Games in the team event final, Canadian entries impressed the crowd again with their individual apparatus final performances in the Hoop, Ball, Clubs, and Ribbon finals.
Starting off the event, Carmel Kallemaa of Barrie, ON preformed second in the Hoop final to the music Sugar Plum Raid by Benjamin Wallfisch. Scoring a total of 28.200 points, only tenths of points behind the first-place medalist, Carmel won the bronze. Tatiana Cocsanova competed in the hoop as well with a score of 27.100.
When asked about her experience at the Commonwealth Games, to Cocsanova, being around so many athletes of different sports is what stood out to her.
"Commonwealth Games is a very big event so I'm very happy that I got selected to participate here and it was a very nice experience because it's the first time I'm around so many other sports," says Cocsanova. "Usually, we're all rhythmic gymnasts but here I got the chance to meet other athletes, to learn a little bit more about their training and I loved it very much."
Shortly following the Hoop Finals, Tatiana Cocsanova and Suzanna Shahbazian, both of Montreal, each competed in the Ball finals earning a score of 28.200 and 29.050 for Shahbazian winning her a spot on the podium with a silver medal.
Suzanna describes herself as soft on the inside but tough on the outside.
"What makes me tough is I've had a lot of bad experiences and it didn't make me give up," says Shahbazian. "I still wake up every day and go for my gold because I know that hard work pays off."
Bringing a strong performance to the stage, Carmel Kallemaa will be bringing home a third and silver medal for the Clubs final. With a score of 29.100, Kallemaa followed close behind Australia's Gold medalist Alexandra Kiroi-Bogatyreva (29.400) and ahead of Izzah Binti Amzan of Malaysia (28.600).
Kallemaa trains with her mother, Janika Mölder, former world champion in rhythmic gymnastics by her side as her coach.
"I think I'm one of the luckiest athletes, I think everybody should experience it with their parents if it's possible," says Kallemaa. "To have her by my side 24/7 and support, to have this mom's love with you all the time I think it helps a lot and it's amazing."
The last individual Rhythmic gymnastics event of the Commonwealth Games came to a close with the Ribbon event where Canada's Carmel Kallemaa scored an impressive 27.500 earning her a bronze.
"It's amazing, first of all it was just my dream to make it to this competition," says Kallemaa. "At first, I didn't even dream about finals, I was just thinking I want to make it there. I made it there and then I was hoping to make it to at least one final but to make it to three finals and one medal in each event it's just unbelievable and I'm so happy that it happened, it's one of the best days of my life so far for sure."
For complete results visit the Birmingham 2022 site.